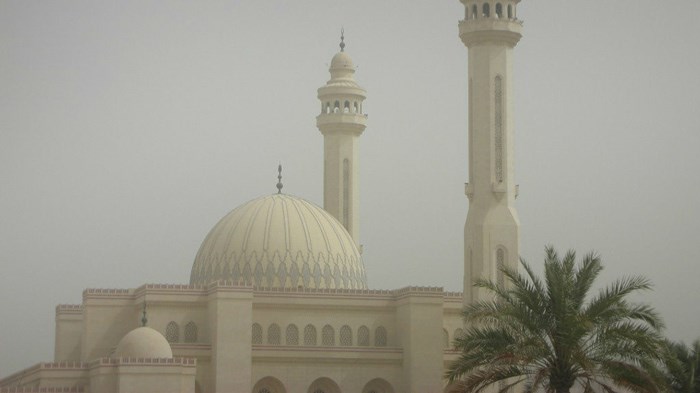 Image: Jason Rosenberg/Flickr
[Editor's note: CT incorrectly referred to Our Lady of Arabia as the "first official church" in Bahrain in its June print issue. Our Lady of Arabia is instead the first Catholic cathedral in the country.]
Bahrain, the small island country nestled between Qatar and Saudi Arabia in the Persian Gulf, will gain a Catholic cathedral, a step some see as an increased interest in Christianity in the heart of the Islamic world.
King Hamad bin Isa Al Khalifa donated land for the project recently — the only church he has done so for, Northern Arabia vicar Bishop Camillo Ballin told Real Clear Religion, though Bahrain's cathedral is not the first church that the country's rulers have supported.
"The king has a special appreciation for the Catholic Church," he said.
Our Lady of Arabia will serve the 2.5 million Catholics in the Northern Arabian Peninsula with its $30 million, 2,600-seat cathedral and auxiliary buildings.
The new Catholic cathedral will join a handful of other faith communities in the midst of a predominately Muslim culture. In 2011 the country hosted 19 officially recognized churches, including the National Evangelical Church, which has served primarily an expatriate community of Christians since 1906. During negotiations and disputes over what was to become the National Evangelical Church's campus, the ruler at the time—Sheikh Isa bin Ali Al Khalifa—supported the project and sold the land himself, according to the church's website.
Fewer than half of the island country's residents are citizens and an estimated 70 percent are Muslim, according to the U.S. State Department and the CIA. Fourteen percent are Christians, but few Christians are indigenous, according to the Reformed Church in America, which supports Bahrain's National Evangelical Church. There are few evangelical congregations on the peninsula.
However, The Boston Globereports that the Arabian Peninsula's Catholic population is one of the fastest growing in the world. There are estimated to be 350,000 to 400,000 Catholics in Kuwait and Qatar, 1.5 million in Saudi Arabia, and 140,000 in Bahrain. Most of them are expatriates and migrant workers from the Philippines, India, Sri Lanka, Pakistan, and other countries.
Ballin, who has been raising funds for the project in the U.S., told Real Clear Religion that Catholics and Christians worship in private in Saudi Arabia, but Bahrain is more accepting of different religions.
Meanwhile, Bahrain's Christian population has exhausted the space in its 623-plot cemetery, reports the Gulf Weekly. Christian officials have taken their "urgent need of land" to the authorities, who are looking for a feasible solution.
[Photo courtesy of Jason Rosenberg - Flickr]