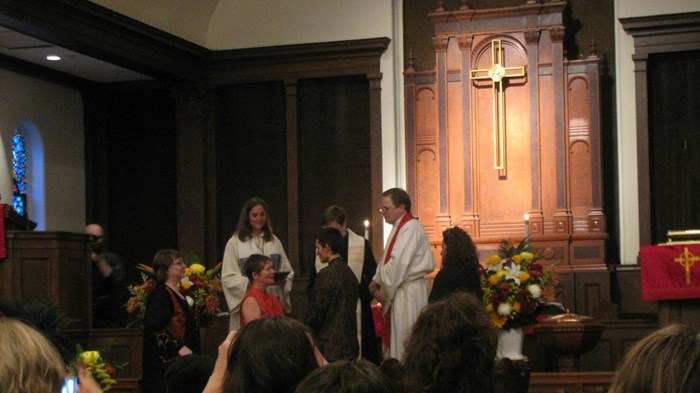 Image: Janine and Jim Eden/Flickr
Update (June 25): A United Methodist Church (UMC) minister who was defrocked in November for performing a same-sex marriage ceremony has been reinstated by the church. An appeals committee decided Tuesday that Frank Schaefer's dismissal as a minister was an unlawful attempt to punish Schaefer based on the fact that he may perform similar marriage ceremonies in the future.
According to the Northeastern Jurisdiction Committee on Appeals: "Our clergy can only be punished for what they have been convicted of doing in the past, not for what they may or may not do in the future."
The committee suspended Schaefer 30 days without pay for knowingly violating church procedure by performing a marriage ceremony between his son and another man in 2007.
"Today there was a very clear and strong signal from the church, and that message is, 'Change is on the way,' " Schaefer toldThe New York Times. "One day we will celebrate the fact that we have moved beyond this horrible chapter in our church's life."
-----
The trial of a United Methodist Church (UMC) minister who performed a same-sex marriage ceremony has been halted by a bishop before it began. Meanwhile, a retired UMC bishop may face a trial of his own for a similar ceremony.
Bishop Martin McLee of New York committed this week to stopping all such trials in his region. The New York Timeshas the details.
Meanwhile, Religion News Service reports on the latest (and highest-ranking) dissident to potentially face punishment, and assesses how geography is shaping the "emerging dynamic that allows some pastors in the country's second-largest Protestant denomination to skirt rules banning clergy from performing same-sex wedding, while others risk costly church trials and the loss of clergy credentials."
"The just resolution provisions of the Book of Discipline are clear in voicing just resolution as the preferred response in Judicial Administration," McLee wrote in a statement. "Church trials produce no winners."
McLee committed to "a cessation of church trials for conducting ceremonies which celebrate homosexual unions or performing same-gender wedding ceremonies and instead offer a process of theological, spiritual and ecclesiastical conversation."
It was welcome news for Thomas W. Ogletree, the minister on trial who performed a marriage ceremony for his son and partner in 2002. But it was frustrating for those who support the Methodist Book of Discipline, which affirms "the sanctity of the marriage covenant … between a man and a woman."
"The impact of this settlement today will be that faithful United Methodists who support the church's teachings will feel ignored and will face their own crisis of conscience, as to whether they can continue to support a church that will not abide by its own rules," Randy Paige, one of the pastors who brought the complaint against Ogletree, wrote in a statement. "Far from avoiding schism, today's settlement increases the probability that schism will take place."
Tom Lambrecht, vice president of the conservative Good News ministry, agreed. "When certain parts of the church decide they can no longer live according to church teachings, you've got an intolerable situation in the church," he told the Boston Globe.
Ogletree's trial was one of many plaguing the UMC as ministers across the country perform ceremonies for homosexual couples.
Most recently, Frank Schaefer was defrocked in Pennsylvania in December for performing the 2007 same-sex wedding for his son, and retired bishop Melvin G. Talbert could be next. Stephen Heiss of Tabernacle United Methodist Church will likely face a trial in New York for performing his daughter's same-sex marriage, and Sara Thompson Tweedy faces a church trial for being in an open same-sex relationship in New York. Tweedy is in McLee's jurisdiction.
The denomination was quick to clarify that Ogletree's charges were not "dropped" but rather "resolved," and that this case does not set a precedent. "This does not equate to a blanket dismissal-in-advance of every complaint filed against those performing same-gender weddings," cautioned McLee's assistant Robert Walker.
(For his part in the resolution, Ogletree is required to reflect "theologically, spiritually and ecclesiastically" on the nature of "the covenant that binds us together" in an upcoming forum.)
Paige wrote the trial resolution was like "a green light to disobey" the Book of Discipline without consequences.
Two proposals to soften the Book of Discipline's language around marriage at the General Conference in 2012 were defeated, largely due to the UMC's more conservative—and growing—African contingent. International Methodists are expected to comprise an even greater percentage of delegates at the UMC's next conference in 2016.
Petitions that favor and oppose gay marriage have been signed by thousands of Methodist pastors.
CT noted the UMC vote to keep marriage heterosexual and the ensuing trials for pastors who officiated at same-sex weddings. CT also noted when the Presbyterian Church (USA) voted to allow gay and lesbian priests, and when the Episcopal Church approved same-sex blessing rites.
(Photo courtesy of Janine and Jim Eden/Flickr)