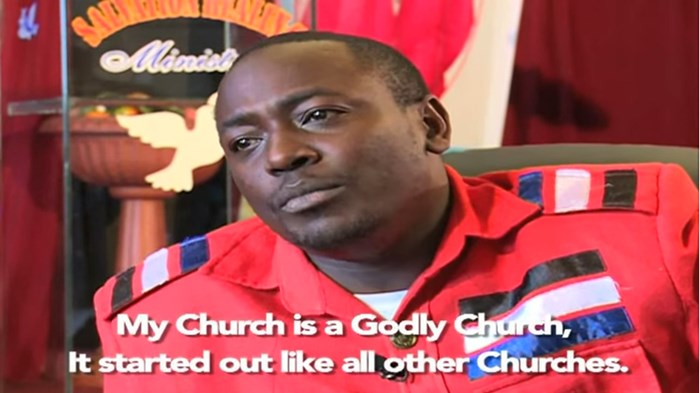 Image: KTN Kenya (YouTube screenshot)
Prompted by news coverage of alleged illegal activity by pastors promising miracles, Kenya's attorney general has banned new religious organizations from registering as the East African nation moves to enforce stricter regulations on churches, mosques, and temples.
The registration ban will be in place indefinitely, and existing religious organizations must file details of their registration status and financial returns, according to the Daily Nation. Meanwhile, Kenyan attorney general Githu Muigai will meet today with religious leaders from organizations including the Kenya Episcopal Conference, the National Council of Churches of Kenya, the Hindu Council of Kenya, the Supreme Council of Kenya Muslims, and the Inter-Religious Council of Kenya to discuss what new regulations might look like, according to First Digital TV.
Mark Kariuki, chairman of the Evangelical Alliance of Kenya, said in advance of Friday's meeting that Muigai's move to stop church registration and regulate churches amounted to persecution, according to Kenya's Standard.
"We call on all Christians to support us and stand with us," he said. "When it comes to matters of faith, people are willing to die for the faith and we will stand firm with the church."
The government response came after TV station KTN's Jicho Pevu and Inside Story broadcast a "Prayer Predators" exposé of preacher Victor Kanyari, whom the station claimed had been making money from his followers by asking them for advance payment for prayers and miracles [see video below]. Kanyari, who preaches at Salvation Healing Ministry, continued holding services but hired security to screen out visiting journalists, according to the Standard.
Kanyari admitted he coached members of his church to give false testimonies, but said many people had been "healed and blessed in many ways" by his ministry. He will be investigated for obtaining money by false pretenses, according to Kenya's director of public prosecutions.
The government will also attempt to amend the Societies Act, an act "for the registration and control of societies" that regulates Kenyan clubs and other organizations, to protect people "seeking religious nourishment," according to allAfrica.com. Muigai said he wants increased accountability to curb pastors' "miracle-faking spree." His proposals will regulate and manage religious communities, including churches, mosques, and temples, in an attempt to gain transparency and accountability, according to People Daily.
In Kanyari's case, police plan to first interview worshippers who claim they were conned.
This is not Kenya's first attempt to regulate rogue preachers: In March 2013, CT reported on another controversial proposal to weed out "fake pastors" in Kenya, where "tales of dubious healings and questionable behavior" are common.
And in 2012, the Standard reported how evangelical groups in Kenya, including the Evangelical Alliance of Kenya, banded together in an attempt to self-regulate against pastoral deception and criminal activity, which were "critically hurting the image of the Church."
CT has previously reported on faith in Kenya, including uproar over proposed pay-to-preach laws, pastoral involvement in a campaign to circumcise millions of African men, and a wave of violence over the summer that targeted Christians.