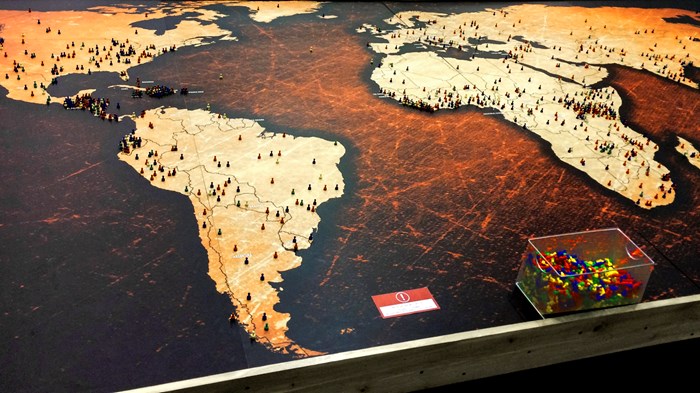 Image: Courtesy of Kristen Miele
After contracting the world's most deadly virus while serving as medical missionaries in Liberia, both Kent Brantly of Samaritan's Purse and Nancy Writebol of SIM became household names—as did Ebola itself.
They survived. As did Rick Sacra, an SIM missionary doctor from Massachusetts also serving in Liberia. But this week, Martin Salia, a Maryland surgeon serving in a United Methodist hospital in his native Sierra Leone, did not.
He joined the World Health Organization's tally of 329 health care workers (out of 584 infected) who have died from Ebola so far. The disease has now killed more than 5,400 people out of 15,000-plus reported cases—mostly in Liberia, Sierra Leone, and Guinea.
Brantly, Sacra, and Salia were all affiliated with the Christian Medical and Dental Association (CMDA), which reports a surge in interest in medical missions. But will we see another Brantly? Christian ministries are no longer letting American physicians get so close to Ebola patients.
Brantly was one of about 900 doctors that Samaritan's Purse sends to Africa each year to work in missionary hospitals. In Liberia, the Christian relief organization had its expatriate staff switch their focus to Ebola in June, but soon pulled about 60 people back to the US after Brantly and Writebol contracted the virus in July.
Samaritan's Purse returned American workers to Liberia in September. But their focus is now not on Ebola patients themselves, but on managing the health of nearly 400 Liberian staff running 15 community care centers on the front lines.
"After Dr. Brantly got Ebola, we just thought there's got to be a better way of doing this," said Franklin Graham, Samaritan's Purse president and CEO, explaining the "different philosophy." "We believe if you're going to fight Ebola, you're going to have to train Liberians to save Liberians.
"You can bring the expats in," he said. "But when Ebola is gone or diminishes, then the people leave, and nobody's there to fight it."
Underscoring Graham's point: Liberia lost 150 of its 200 doctors after "95 percent of the expatriate doctors" left the country following the Ebola outbreak, SIM urologist Frank Glover testified to Congress in August.
Samaritan's Purse is not alone. George Salloum, vice president of SIM, doesn't know of any Christian group which has expat physicians work directly with Ebola patients. (Earlier, Mercy Ships canceled planned visits to the region.)
"Our philosophy is not to Americanize," he said of SIM, which has approximately 20 percent of its global force involved in health care. In the wake of Ebola, SIM has reduced the numbers of expatriate health care workers in Liberia from six to one or two on a rotating basis.
"SIM has decided that direct care of Ebola patients is not where we can provide the greatest benefit to the Liberian people," said Salloum. SIM does host a Doctors Without Borders' Ebola unit on its property, and partners with the Liberia Ministry of Health on the ELWA Hospital's Ebola unit, which is run by a SIM-trained Liberian doctor. But SIM has its North American doctors focus on caring for other urgent health needs.
"What is critically needed and is missing from the public view is the need for basic and emergency health care that is not Ebola-related," said Salloum. "The death rate of other untreated diseases is higher than the Ebola death rate."
The Ebola outbreak comes amid booming interest in medical missions, said David Stevens, CEO of the CMDA, which trained 60 new missionaries in August, joining 700 already in the field. The CMDA recently registered 1,500 student residents planning such careers (it expected less than 300).
"We're seeing a huge renaissance in medical missions," said Stevens. "We're not seeing any drawback because of Ebola, at least not yet. What I hear the residents saying is, 'We want to go where people are in need, and if we have to sacrifice, we will.'"
A few weeks ago, nearly 3,000 people—including Ebola survivors Brantly and Sacra—met in Louisville, Kentucky, for the Global Missions Health Conference (GMHC), billed as the world's largest gathering of medical professionals, students, and organizations dedicated to medical missions. Attendance has ballooned more than tenfold over the past 16 years. "But perhaps a greater engagement point," said GMHC executive director Will Rogers, "is how we're seeing over 165,000 unique individuals engaging the www.medicalmissions.com platform to find organizations, opportunities, and people like them."
Meanwhile, attendance at the Christian Community Health Fellowship conference has quadrupled over the past four years. And the Southern Baptist Convention's International Mission Board reports an all-time high of 300 medical missionaries on the field.
Even so, missionary nurse Kim Kargbo, who grew up in Sierra Leone and led an Ebola breakout session at GMHC this month, said that many she spoke with traveled there to find a Christian group involved in Ebola treatment on the frontlines: as doctors, nurses, physicians assistants, or in other capacities that would place them in direct contact with patients. Attendees, however, learned that the only groups now operating Ebola treatment facilities that accept expat volunteers are secular, such as Doctors Without Borders.
Kargbo is president and CEO of Women of Hope International, which ministers to women with disabilities in Sierra Leone. She said that she spoke with a woman at the conference for more than an hour, trying to help her connect with a small Christian group fighting Ebola in Sierra Leone that would have allowed her to directly work with Ebola patients. (Ultimately, said Kargbo, that group did not receive essential funding, so the work did not move forward.)
"At what point in time did we determine that following Jesus was supposed to be safe?" Kargbo asked. "How do we show the love of Christ to people who are in crisis? Even if that puts our own lives at risk."
Engaging the Ebola issue and training indigenous doctors requires balance, said Rogers. "We constantly express the tensions that exist in medical missions," he said. "One of these tensions is the balance of long-term medical missionaries and equipping indigenous people. The win is for both to be fully engaged.
"The Great Commission clearly communicates a call for us to reach the ends of the world and to go. But we also must do this in a manner that dignifies those we serve," said Rogers. "Engaging with Ebola is a tricky venture, but one that our partners are not shying away from."
From an isolated outbreak, Ebola quickly exploded into an epidemic that Samaritan's Purse lacked training and expertise to address, Graham said. "Médecins Sans Frontières [Doctors Without Borders] does the Ebola treatment centers better than anybody else, and they have the most experience," he said. "We decided to turn over the work we were doing at the ELWA Hospital because they could do it better."
The approach of Samaritan's Purse has drawn praise from Nicholas Kristof of The New York Times and other observers. "Pretty much everybody has screwed up Ebola response, from WHO to Dallas hospital to TV. Two heroic exceptions: MSF and @SamaritansPurse," he tweeted last month.
Anne Peterson, former head of global health for the US Agency for International Development (USAID) and a former missionary doctor, agrees with the Samaritan's Purse strategy to defer to those with the most experience in Ebola care. She warned that Ebola is "the most complicated disaster/health situation I've seen," so while the need for doctors remains great, "volunteers require a lot of training before they can contribute more than the cost and risk they are to take on."
While some missions-minded health care professionals may be disappointed that no Christian mission remains in actual patient care, Graham said demand didn't exist earlier.
"Just a few months ago, nobody was interested in fighting Ebola. It wasn't til Dr. Brantly came back that people began to be interested in Ebola," he said. "At that time, when we made that shift [to training Liberians only], there were no volunteers standing in line to help with the Ebola fight." Today Samaritan's Purse can connect interested volunteers with Doctors Without Borders, with whom it places doctors regularly.
Does this mean there will be no more Brantlys—American Christians who serve on the frontlines of medical missions in Ebola-stricken countries?
"There are a lot of Dr. Brantlys out there right now who are focused on missionary medicine, that are focused on healthcare," Graham said.
Susan Hillis, a Christian who is part of the US Centers for Disease Control and Prevention's Ebola response team in Sierra Leone and Liberia, agrees. "There are and will be many Dr. Brantlys. They may be serving in missions hospitals or they may be serving in Red Cross or Save the Children or MSF centers," she said.
"There are also many national persons of deep faith who are serving God in their own countries by caring for those who are infected with Ebola," Hillis said. "More attention needs to be devoted to these local heroes."
Peterson said she has seen a preponderance of Christians "even within the government employees who volunteered to deploy." She said that faith-based organizations with established presence in these countries are not primarily "clinical entities." The health care needs in West Africa were staggering well before the appearance of Ebola, she said, citing World Vision and Catholic Relief Service as examples of Christian groups that don't regularly do clinical care. "They are appropriately focusing their efforts in other areas," she said.
"There are many, many other ways Christians can contribute to the impact on Ebola," Peterson said. "Serving the urgent health and other needs of the people of West Africa doesn't require an FBO [faith-based organization] vehicle—just a willing and obedient heart."
With additional reporting by Ruth Moon.