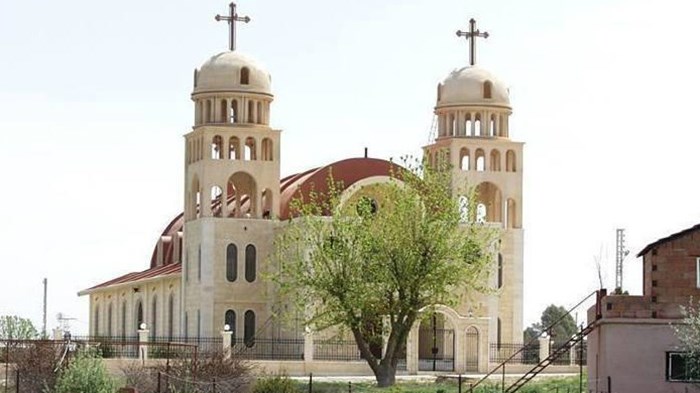 Image: Courtesy, AINA
New York Roman Catholic Cardinal Timothy Dolan and AD: The Bible Continues miniseries producers Roma Downey and Mark Burnett have assembled a diverse group of mostly US church and ministry leaders to intensify their advocacy on behalf of the persecuted church in the Middle East.
Dolan, Downey, and Burnett penned an op-ed piece calling for Christian leaders worldwide to pray and advocate for the Christian minorities in the Middle East, two months short of the June anniversary of the fall of Mosul, Iraq, where a large community of Christians was driven out violently.
"Rarely since the first century has the church in the East faced persecution on this scale. Christian communities that took 2,000 years to build, and that were started by the apostles themselves, lie in ashes between the Tigris and the Euphrates," they wrote.
"Whether they be Catholic, Orthodox or Protestant, Christian communities are united in what Pope Francis has called an 'ecumenism of blood,' recognizing that Christianity is experiencing more martyrdom today than in the first century."
On June 10, Islamic State (IS) terrorists captured Mosul, Iraq's second largest city. About 500,000 people fled the city at the time. IS has ruled the city since then. By the end of July, 2014, IS had destroyed, damaged, or occupied all 45 churches, schools, and other institutions, according to AINA, the Assyrian news agency.
There are more than 80 signatories to the joint statement, released on Good Friday, including Nina Shea, Hudson Institute; Jo-Anne Lyon, Wesleyan Church; Jerry Falwell Jr., Liberty University; Wilfredo "Choco" de Jesus, New Life Covenant Church; Joel C. Hunter, Northland Church; Archbishop Vicken Aykazian, Armenian Orthodox Church; and Jim Daly, Focus on the Family.
The leaders concluded, "This crisis escalated substantially last summer when ISIS swept like lightning through Iraq's Nineveh province, capturing the country's second-largest city, Mosul; a city that was until 2014 a home of a thriving Christian community, there centuries before Islam. ... now the inconceivable has happened: Iraq's Nineveh Plain has been emptied of its ancient Christianity community, which existed there for more than 1,500 years."
In Rome, Pope Francis spoke out on Easter Monday that international political leaders should be doing more to resist IS and aid Middle East Christians. "I hope that the international community doesn't stand mute and inert before such unacceptable crimes, which constitute a worrisome erosion of the most elementary human rights. I truly hope that the international community doesn't look the other way."
Earlier in 2015, a group of about 20 Christian groups (including CT) created a 40-days-of-prayer website, called 21martyrs.com. The site features a two-minute video focused on the day IS beheaded 21 Christians from Egypt. The sponsors call on churches to play the video for members of their congregations, followed by a time of silence and prayers of reflection. IS killed the Christians on a beach in Libya, to worldwide outrage.
Also, Downey and Burnett are working in partnership with the Institute on Global Engagement (IGE) through The Cradle Fund. This effort is designed to provide humanitarian relief to displaced Christians in the Middle East. So far, $1 million has been distributed for the rescue, restoration, and return of Christians to their homes and communities.
During a recent conference call, Chris Seiple, head of IGE, spoke about his recent visits to the region. "We need a global strategy providing a positive vision, working with local leaders. We are still closing out World War I. That war is not over." He said the animosities between peoples in the region can be tied historically to political and governance issues, dating to World War I. The Ottoman empire, modern-day Turkey, ruled much of the region before World War I and was responsible for the genocide of Turkish Armenians.
Seiple said, "What's the big picture? There is no clash of civilizations. There are violent extremists who are manipulating their religion to validate violence against innocent people from Nigeria to Central Asia."
He said, "We need a Goldilocks solution here." Such a solution, he said would strike a balance between the Bush's administration's "boots on the ground" warfare and the Obama administration's inability to decide on a strategy and follow through.
"Governance is a key issue. Arab governance--sacred, secular. socialist--all have failed." He said Arab peoples have a deep-rooted humiliation when they look at the golden age of Arab culture, generally dated from 786-1258. Seiple said more Arab leaders believe they should "stop blaming others and look in the mirror" when looking to solve their political and governance problems.
Sunday, April 12, is the date the global Orthodox church will celebrate Easter Sunday, according to the Julian calendar. For the first time, perhaps in centuries, Iraqi and Syrian Christians, many of whom are Orthodox, will not celebrate Easter in their home churches, but rather in camps for refugees and displaced people.