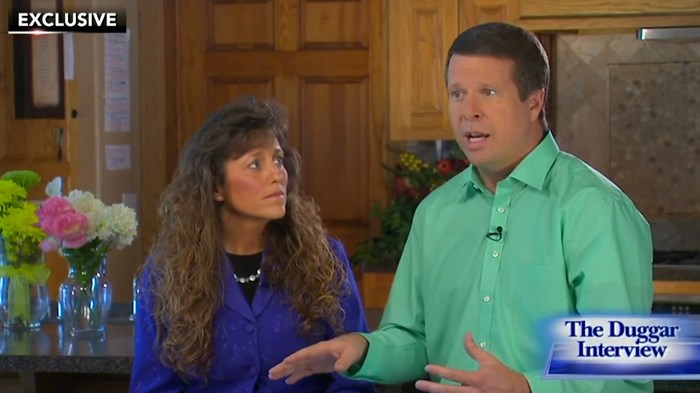 Image: Fox News
Jim Bob and Michelle Duggar called media coverage of their son's molestation as a teenager "an unprecedented attack on our family" and an illegal exposure of sealed juvenile records.
During their first TV interview on the scandal, the 19 Kids and Counting parents told Fox News' Megyn Kellywhat happened when they learned more than a decade ago that their oldest son touched four of his sisters and the family babysitter while they were sleeping. Josh resigned from the Family Research Council when the news came out in late May.
The Duggars assured viewers that Josh, then 15, confessed his abuse to the Arkansas State Police (who they say failed to follow up on the crime) and that their entire family received help from professional counselors afterwards. Josh, they said, returned from a Christian counseling program "completely changed." The abuse happened five years before the family debuted their TLC reality show.
They said that the police reports released by tabloid magazine In Touch represent an effort to slander and punish their conservative Christian family, while purporting to defend the victims.
"They didn't want this out," said Jim Bob. "Every victim should have the right to tell their own story, not the tabloids." His wife added that their daughters—including 24-year-old Jill and 22-year-old Jessa, who will be interviewed by Kelly on Friday—"have been victimized more by what has happened in these last couple weeks" than the incidents of abuse.
Michelle said they were "devastated" and "as parents, we felt like we were failures" when Josh confessed to them that he had touched the five girls, all minors, over their clothes while they slept in the family's Arkansas home.
Following Josh's treatment, they put restrictions into place, including not allowing males to babysit their daughters and ensuring their kids were visible, not alone in rooms or "playing hide-and-seek."
Jim Bob and Michelle Duggar told Kelly they believed Josh's confession and the reports from the victims would be sealed; they said they did not fear their family's reality TV exposure would reveal these incidents. Now, the Duggars are considering legal action against the authorities who released the documents to In Touch and want to become advocates for protecting juveniles' records.
TLC has stopped airing 19 Kids following the news, and critics have called for them to cancel the show. The Duggars say regardless of whether they return to TV, in Michelle's words, "God is going to use all of this for good."