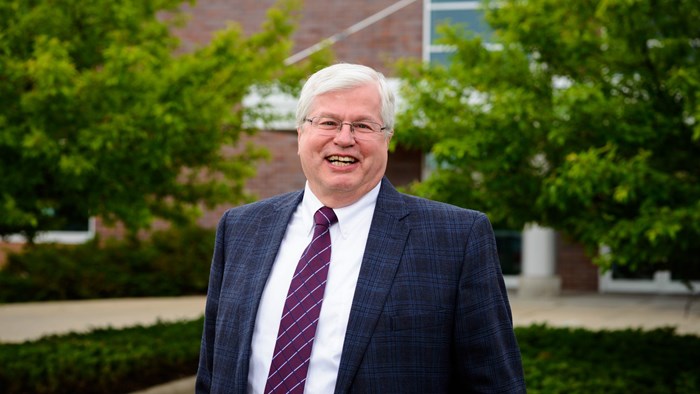 Image: InterVarsity Christian Fellowship
While the longtime leader of campus ministry InterVarsity Christian Fellowship steps down to start cancer treatment, a fellow executive will serve as interim president.
One of the nation's largest campus ministry organizations announced Monday that its senior vice president and director of collegiate ministries, Jim Lundgren, will replace Alec Hill, who served as president for 14 years before being diagnosed with bone cancer.
"With all of you, I am saddened by Alec's illness and his need to leave his presidency prematurely. When InterVarsity's Board asked me to serve as the interim president until the next president is chosen, Mary Beth and I experienced God's call to say yes," Lundgren said in a statement. "I look forward to serving InterVarsity and keeping our focus on Christ's mission on campus."
The transition comes in the midst of a time of reinvention for InterVarsity, as campuses across the country begin to challenge the faith groups' belief requirements for leaders. IVCF was derecognized by the California State University system last year, and has also been moved off campus at Vanderbilt University.
Lundgren has 42 years of experience with the organization, dating back to his days as student leader at University of Illinois at Urbana-Champaign and a campus staff member at University of Wisconsin.
"His knowledge of campus ministry at every level of InterVarsity, his deep care for those he leads, and his experience in senior leadership have prepared him well for this new role," said InterVarsity board chair Ron Williams.
The group also continues its commitment to diversity, efforts Lundgren helped lead while a regional director for InterVarsity. "You can't do multiethnicity unless you have a high value for reconciliation," he told CT. "You have to be willing as an organization to go back in your history and deal with areas where people have been hurt by the organization or by other people in the organization—white people on white people, black on black, whatever the case may be, and not just cross-ethnically but also within ethnic groups."
InterVarsity has 949 chapters on 616 campuses across America, and is moving its national office to a bigger facility in Madison, Wisconsin. Before his bone marrow cancer diagnosis, outgoing president Hill had planned to announce his departure later this year and leave the organization next spring. An internal task force is searching for a new president.
Hill's predecessor, Steve Hayner, recently persevered publicly through his own bout with cancer before passing away on January 31. Mark Labberton interviewed Hayner for CT on "following Jesus through cancer."