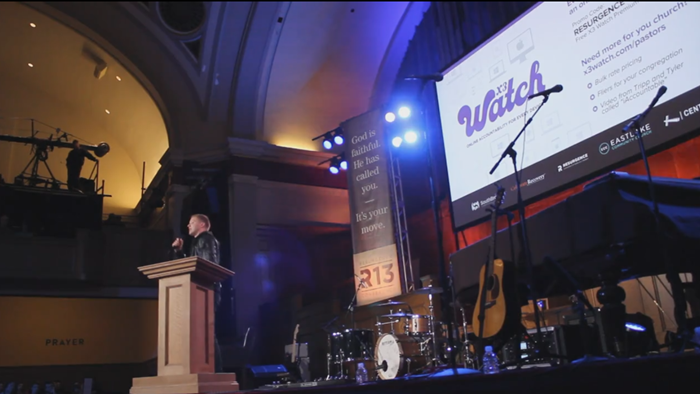 Image: Facebook screenshot / XXXchurch
Update (Apr. 1): A Mars Hill-owned mailing list at the heart of a failed direct marketing campaign last week was apparently sold illegally.
Justin Dean, a former Mars Hill staff member who apologized for distributing the Resurgence list of 90,000 church leaders, now admits he had no authority to do so. He warns that any use of the list would be illegal.
"I want to be clear that what I did was wrong, and that I did not work in concert with or in cooperation with anyone else, including current or past employees of Mars Hill or Pastor Mark Driscoll," Dean posted on his blog Tuesday. "I operated on my own accord, without their knowledge, and without their authority. I exercised terrible judgment and I regret my decisions."
Craig Gross, founder of xxx.church.org, says he bought the list at Dean's urging. He said it was first offered for sale in January, along with a Twitter account, a series of websites, and other assets from the Resurgence conferences run by Driscoll. At that time, the price was $100,000.
Gross says Dean was actually selling the list. He checked with American Express after receiving the refund, which traced the funds back to Dean's cell phone. "This guy took my money," he said.
In his second apology, Dean said that he has been in contact with the volunteers in charge of shutting down Mars Hill and selling its assets.
"Under no compulsion other than my conscience and the Holy Spirit, I have admitted in detail my wrongdoing and repented to current Mars Hill leadership, and by God's grace I have received their unconditional forgiveness," he said. "I am also very sorry to everyone on the email list and I please ask for your forgiveness as well."
He added: "Please note that any further use of this list is forbidden and would be illegal without the permission of Mars Hill Church."
-----
[Original deck: Craig Gross on XXXchurch email blast to Resurgence list: 'They sold us your email for a penny.']
Among the assets left over from the collapse of Mars Hill Church were several church buildings, a legacy website, and an email list with tens of thousands of church leaders and pastors.
Selling off the buildings has proved successful—as the church recently made deals to sells its Sammamish and Ballard campuses.
The email list, with 90,000 names from Mars Hill's Resurgence conference, became a headache yesterday.
The list showed up on a new website called churchleaderlist.com this past month, on sale for $1,500—or $1,350 with a coupon. Craig Gross, founder of xxxchurch.com, bought the list in order to promote his anti-porn ministry's book and accountability software. His ministry had sponsored the 2013 Resurgence conference for "a lot of money," but felt the group remained one that his ministry was "least connected with."
Gross, who learned about the list from Justin Dean, a former Mars Hill staffer, sent out what he thought was a clever email on Monday.
"Most of these people would be people who had never received an email from us so we thought something with 'Mark Driscoll' in the subject would get read," Gross wrote on his blog today.
That's when thing turned ugly.
The header on the email read: "Mark Driscoll—The Real Story."
It began with a brief intro from Gross, then a list of the sins of failed pastors: "extramarital affairs, flirting, porn addiction, gambling addictions, and a whole mess of other stuff."
Those sins, Gross said, all stem from a lack of accountability—the same root issue he claims felled Driscoll.
Gross's overall message: buy our software, or you might end up like Driscoll.
"As a leader, if you don't have accountability, your time is coming. You will fall," he wrote.
Gross closed with an offer for half off the software, using a "resurgence" coupon code.
The response was immediate and visceral, mostly on Twitter.
Some responses were outraged, like @seanpritzkau, a student at Northeastern Seminary.
"A prominent church leader bought Mark Driscoll's email list to associate his negative press to promote a book. #ImmoralMarketing101" he tweeted.
Others were disappointed, like Aaron Gray, a Seattle-area pastor.
"I can't speak for everyone in Twitterland, but dozens of people I know and love here in Seattle were deeply hurt by the email," he tweeted.
In the aftermath, Gross noted, "I should have realized the Mark Driscoll supporters are as loud if not louder than the Mark Driscoll haters."
For the most part, Gross was unapologetic. "I stand by what I wrote and the message we sent," he wrote on his blog. "This was an aggressive approach which is our normal style on a conversation that we believe is important."
"Still sticking up for Mark? They sold your email for a penny," he tweeted to several online critics.
James MacDonald, pastor of Harvest Bible Chapel, was drawn into the fray, though he later deleted his tweets and spoke to Gross by phone, according to Gross. "[MacDonald] said he thought my email was truthful but didn't see the need for it," wrote Gross. "I tried to explain the 'why' behind it and we agreed not to tweet at each other but had a great phone call."
On Tuesday, Dean apologized for his part in the drama over the list. He admitted that he'd been involved the initial sale of the list to churchleaderlist.com.
"I was involved in distributing a list of church leaders to a couple of people who I assumed would only use it to spread the gospel and bible teaching," he wrote on his blog."… Pastor Mark and I love each other very much and I am very distraught over the pain I have caused his family because of this, but thankful for his grace and forgiveness. I ask that those reading this would also forgive me, as it was never my intention for the list to be used in this way, nor was it my place to let it get into the hands of people who would use it this way."
Not long after Gross's email went out, the churchleaderlist.com website and Twitter handle were erased. He later received a refund.