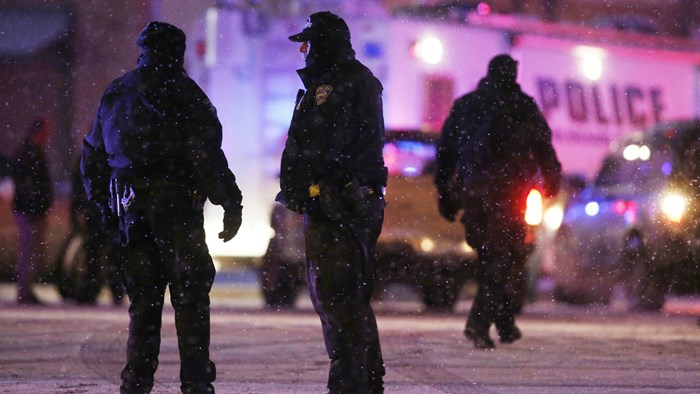 Image: David Zalubowski / Associated Press
Members of Hope Chapel in Colorado Springs gave thanks on Sunday for the life of Garrett Swasey, a church elder and police officer who was killed on Friday in a shooting at a Planned Parenthood clinic [see original post below].
The congregation of about 100 people watched a video clip of Swasey, a former competitive ice skater, and recalled fond memories of his role as preacher and guitar player for the church's worship team.
"You don't realize how much you love someone until you can't tell them anymore," said Hope Chapel co-pastor Scott Dontanville, according to The Gazette.
Church members also prayed for Robert Lewis Dear, who is accused of killing Swasey and two others in Friday's shooting.
"God, we forgive him. We can't not," Dontanville prayed, according to TheDenver Post. "You've forgiven him. Garrett's forgiven him."
Bloggers began circulating the words of Swasey's last sermon, given two weeks ago. "Our objective is not to bring glory to ourselves but to bring glory to God," he said. "How? By transforming our lives through the gospel. Apart from that it can't be done, not in our own strength."
Dear is scheduled to appear in court this afternoon to face charges in the shooting, which also injured nine people.
So far, the motives for the attack remain unclear.
CNN reported that Dear told law enforcement officials that he opposes abortion. He also reportedly made a comment about "baby parts," a possible reference to a series of videos accusing Planned Parenthood of selling fetal tissue to researchers.
Dear reportedly had previous run-ins with the law. According to CNN, he was charged in North Carolina with being a peeping Tom and with animal cruelty, but was not convicted. The New York Times reported that Dear, who grew up Baptist, lived in an off-the-grid trailer in Hartsel, Colorado, and preferred to be left alone.
Amid debate over whether the attack is terrorism or a hate crime and whether political rhetoric inspired the shooter, Claremont McKenna College professor Jon A. Shields argues in TheWashington Post that the attack "may highlight the decline of the violent wing of the right-to-life movement, not its resurgence." (The Los Angeles Timeschronicles past attacks.) Meanwhile, Focus on the Family's Kelly Rosati argues on The Exchange that, amid the lauding of Swasey, Christians should remember the imago dei is also in Dear and the Planned Parenthood workers.
-----
[First published on Saturday, November 28, at 12:37 p.m.]
A shooting at a Planned Parenthood clinic in Colorado Springs on Friday wounded nine people and killed three, including a longtime evangelical pastor working as a police officer.
The shooter—identified as Robert Lewis Dear, 57—exchanged shots with police during the five-hour attack before surrendering. Five officers and four civilians were injured, while one officer and two civilians died. The shooter's motives remain unclear.
Among the victims was Garrett Swasey, a 44-year-old campus police officer for the University of Colorado at Colorado Springs.
The Washington Postprofiles Swasey's role at Hope Chapel, a nondenominational evangelical church, where he served as a co-pastor for seven years and played on the worship team.
According to his Hope Chapel bio:
Garrett and Rachel began attending Hope Chapel in 2001. Initially drawn by its small size, they have grown to love the fellowship and teaching at Hope Chapel. As they raise their son, Elijah and daughter, Faith, they view the members of the church as their family. Both have been granted a servant's heart by God, and are a demonstrative evidence of God's grace to Hope Chapel. Rachel serves behind the scenes leading and watching the little ones in the nursery. Garrett works full time in Law Enforcement and provides oversight to our Care Groups. Additionally, as an elder, you will find him sharing his teaching gift as part of the teaching team and sharing his guitar skills on the worship team.
The New York Timesinterviewed church members, including fellow co-pastor Scott Dontanville:
Dontanville noted that although Officer Swasey would "disagree with the abortion industry," it would not have been a factor in his actions on Friday.

"I don't think that was on his mind," he said. "He was there to save lives. That's the kind of guy he is."
"May God bless Officer Garrett Swasey and the Americans he tried to save," stated President Obama. "And may He grant the rest of us the courage to do the same thing."
Reuters reports:
The Colorado Springs clinic has been the target of repeated protests by anti-abortion activists, and in recent years moved to new quarters on the city's northwest side—a facility derided as a "fortress" by critics of Planned Parenthood.
...
At least eight abortion clinic workers have been killed since 1977, according to the National Abortion Federation—most recently in 2009, when abortion doctor George Tiller was shot to death at church in Wichita, Kansas.
USA Todayreports:
One anti-abortion group of about 70 people holds prayer vigils on Thursdays and Fridays, but had left this week by 10 a.m., about an hour and a half before the shooting spree began.
The Gazetteinterviewed one longtime pro-life protester:
Although [Joseph] Martone is a familiar and adamant protester at the Planned Parenthood clinic—he has been arrested three times for trespassing and served jail time and paid fines for those transgressions—Martone said he prefers prayer over violence.

"It's a really sad thing, no matter what the reason," he said. "No matter how much I despise Planned Parenthood, no one deserves to go through this, and I pray for everybody involved."
America's largest pro-life group, the National Right to Life Committee (NRLC), condemned the shooting, as did Operation Rescue and other groups.
"[NRLC] unequivocally condemns unlawful activities and acts of violence regardless of motivation," stated NRLC president Carol Tobias. "The pro-life movement works to protect the right to life and increase respect for human life. The unlawful use of violence is directly contrary to that goal."
NRLC noted:
"[We have] always been involved in peaceful, legal activities to protect human lives threatened by abortion, infanticide and euthanasia. We always have and will continue to oppose any form of violence to fight the violence of abortion. NRLC has had a policy of forbidding violence or illegal activity by its staff, directors, officers, affiliated state organizations, and chapters. NRLC's sole purpose is to protect innocent human life.