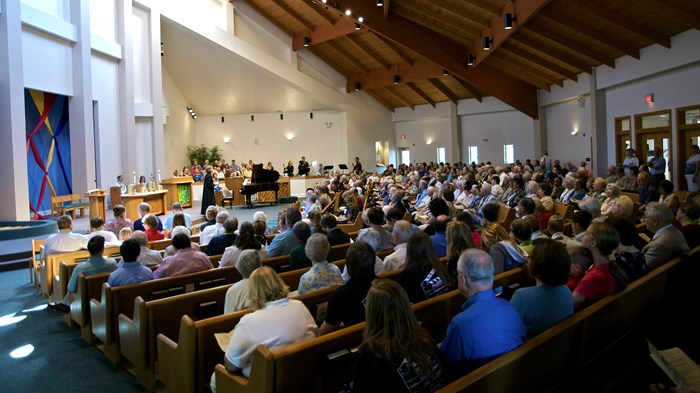 Image: Warren Lynn / Flickr
Seventh-day Adventists are more successful than any evangelical denomination at involving members in the local church, according to the Pew Research Center. But all evangelical denominations fall short of the engagement levels found among Mormons and Jehovah's Witnesses.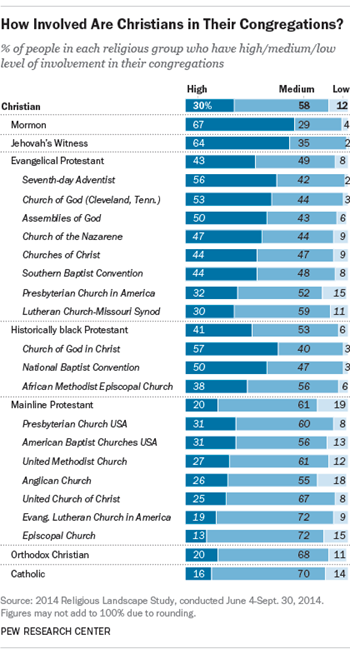 Pew's new ranking (right) comes from the second half of its 2014 US Religious Landscape Study, an attempt to address the problem that the main methods for measuring American faith are flawed. The seven-year study was designed to "fill the gap" left by the United States census (no questions on religion), the self-reporting of denominations ("widely differing criteria"), and smaller surveys (too few questions or people).
While most surveys rely on sample sizes of 1,000 or 2,000 people, Pew interviewed 35,000 adults in English and Spanish in 2007 and again in 2014 for the landscape study. CT covered the first half of the results in May, which found that evangelicals stayed strong while Christianity crumbled in America. Earlier this month, CT covered how the second half explores how US Christians changed from 2007 to 2014.
According to the latest analysis, more than half of Seventh-day Adventists (56%) are highly involved in their congregations, which Pew defines as officially joining the church, attending services at least weekly, and attending a prayer group or Bible study at least monthly.
The Tennessee-based Church of God (53%) and Assemblies of God (50%) also have a narrow majority of highly involved members, while the Lutheran Church–Missouri Synod (30%) and Presbyterian Church in America (32%) have fewer.
The Church of the Nazarene (47%), Churches of Christ (44%), and the Southern Baptist Convention (44%) land in the middle.
Overall, 43 percent of Americans who attend evangelical churches are highly involved. Historically black Protestant denominations are right behind them with 41 percent of members highly involved.
The Church of God in Christ boasts the highest percentage of highly involved members (57%), followed by the National Baptist Convention (50%) and the African Methodist Episcopal Church (38%).
That places members of evangelical and historically black Protestant churches squarely between the highest involvement levels of Mormons (67%) and Jehovah's Witnesses (64%) and the lowest levels of mainline Protestants (20%), Orthodox Christians (20%), and Roman Catholics (16%).
Overall, only about 12 percent of Christians have a low level of church involvement, which Pew defines as attendees who aren't members and seldom or never attend worship services, small group Bible studies, or prayer groups. About 8 percent of evangelicals and 6 percent of historically black Protestant church members have a low level of involvement, compared to 2 percent of Jehovah's Witnesses and 19 percent of mainline Protestants.
The medium level of involvement category—where Pew lumped everyone who fell between its high and low involvement categories—was strong even in denominations with lower levels of high involvement. Pew explains that this is "in part because while many of their members attend religious services, they do not participate in a prayer or Scripture group on a weekly or monthly basis."
CT reported how Pew's massive survey found that even though America's "nones" keep losing their faith, religious Americans remain stable in devoutness. One example: Evangelicals are just as likely to attend church weekly (58%) in 2014 as they were in 2007, slightly more likely to pray daily (80%, up from 78%), and slightly more likely to participate in a weekly prayer or Bible study group (44%, up from 41%).
[Photo courtesy of Warren Lynn / Flickr]