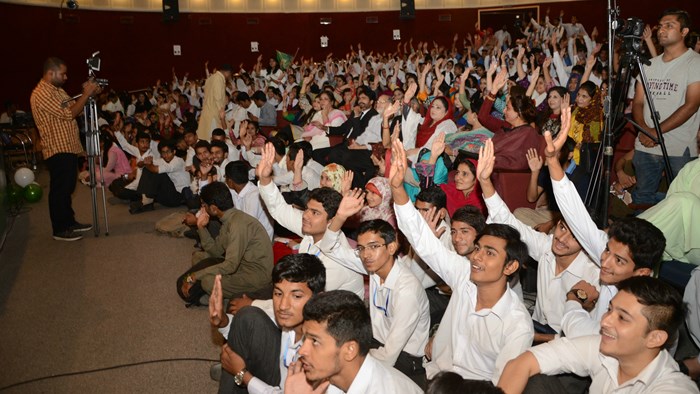 Image: World Watch Monitor
One of Pakistan's largest Muslim youth organizations has pledged to change how members refer to Christians.
In Pakistan, Christians are known by the Urdu word Isai. It's a derivation of Isa, the Arabic word for Jesus used in the Qur'an. First used during colonial times, Isai now carries pejorative overtones of street sweeping and other occupations done by the lowest castes.
To confront these stereotypes, Pakistan's biggest youth development NGO, Bargad, has created a program to teach an alternative word. Last month, more than 500 Muslim students from around the country took an oath to call Christians Masihi (People of the Messiah), which Pakistani Christians say has a more positive connotation.
"Why can't we Muslims just call the Christians by the word they think is more respectable for them?" said Bargad executive director Sabiha Shaheen. "Today we are sowing a seed for social harmony and change. … All students have taken an oath to share this message with 100 other people. Though there is a law in place to outlaw name-calling, as responsible citizens we need to take a step towards this change."
Many Pakistani Christians are descendants of the low caste Chuhras, a Hindu group which moved to Pakistan after the 1947 partition, according to a Human Rights Watch report. These "untouchables" took jobs regarded as "impure," such as scavenging and sweeping and were segregated from the rest of society.
Christian leaders in recent years have tried to distance themselves from Isai. Some spread a message that the Isa of the Qur'an does not refer to the biblical Jesus. Others have stressed that, since the disciples of Jesus were called Christians in Acts 11:26, so their name should be derived from the word Christ and not from Jesus.
Bargad's event took place in Lahore, one week after Muslim and Christian leaders gathered in the area to celebrate the Muslim festival of Eid together. The location is significant: suicide bombers attacked Sunday church services in Lahore earlier this year, provoking an unusually violent reaction by the Christian minority.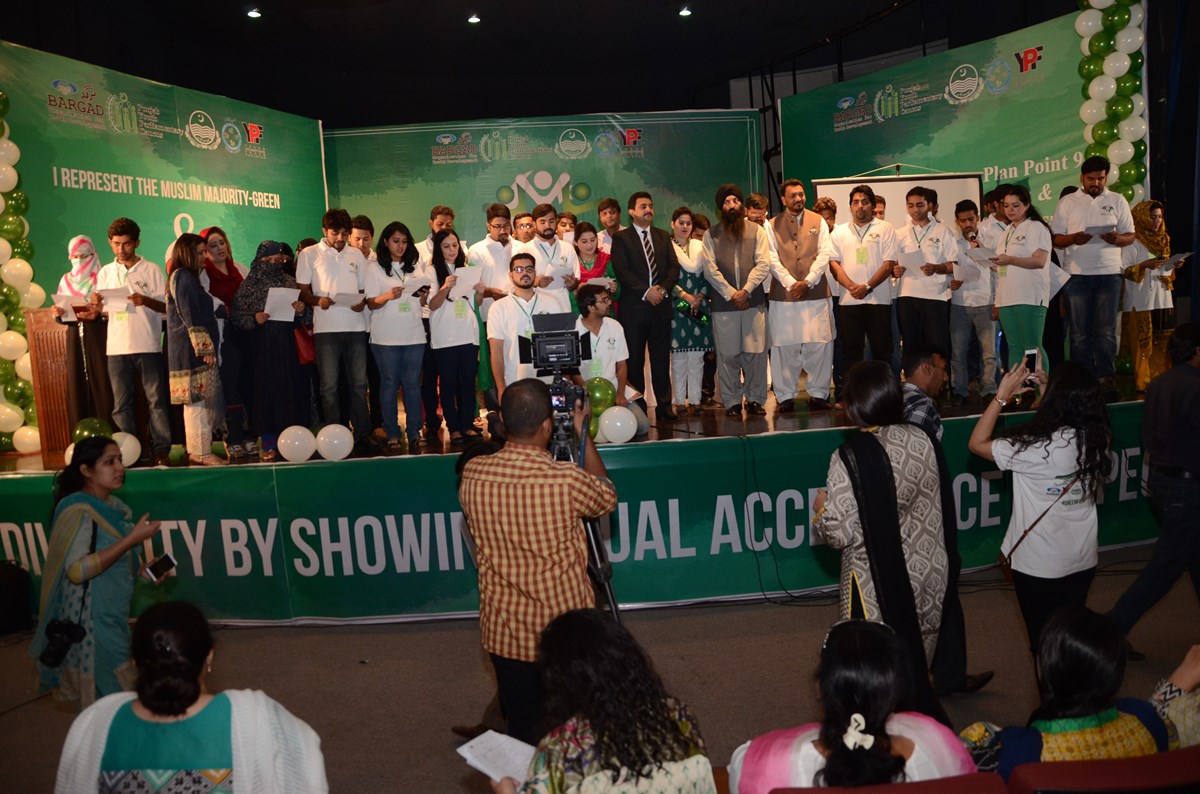 Image: World Watch Monitor
Several government organizations and leaders helped arrange the Bargad program as part of the government's "Green for White" campaign. (The green of Pakistan's flag represents the Muslim majority and the white the non-Muslim minority.) The campaign seeks to motivate Muslims to support the country's religious minorities, who have become the target of religiously motivated discrimination, prejudice, stereotyping, and violence.
"It is important to work on changing social behaviors towards minorities, so that they are duly respected and protected," said Kamran Michael, Pakistan's only Christian senator.
The move may also send a message to lawmakers, since Christians are referred to as Isai in all legal documents, regardless of education or wealth. Even the constitution uses the word to distinguish citizens as Muslims or non-Muslims, though one senator has promised to introduce a bill outlawing its usage.
Minority religious groups only make up 3.6 percent of the country's population of 173 million and are allowed 10 reserved seats in its 342-person national assembly. This population caught a break this summer when Pakistan's top court ruled that the country's minority groups could choose representatives from a secret ballot, and not from a party list.
"Additional seats for minorities are not a matter of grace and benevolence of political parties, but are constitutional requirements so that the legitimate interests of the minorities are provided for," ruled the court, according to UCA News. "It would be equally tragic if minorities come to regard themselves … as second-class citizens or the 'children of a lesser god,' forever to remain subservient to the majority's goodwill and unrepresented by their own chosen representatives."
Still, minority groups remain wary of the government's promises. A job announcement from the government earlier this fall drew criticism for stating that only non-Muslims could apply as sweepers. The posting spurred complaints that authorities have not enforced a rule requiring that five percent of government work go to religious minorities, reported AsiaNews. Many saw the ad as a ploy to help the government meet that requirement—but only by offering religious minorities the most menial jobs.