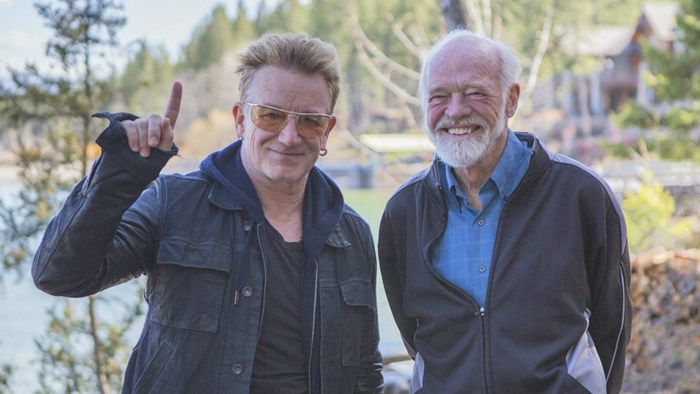 Image: Taylor Martyn / Fuller Studio
Fuller Theological Seminary wants you to read the Psalms more. And it enlisted Bono and Eugene Peterson to make the case.
According to research, many Americans already are.
"What is your earliest memory of the Psalms?" asks Fuller professor David Taylor of the U2 singer-songwriter and the author of The Message.
The two friends were sitting down together at Peterson's kitchen table to talk about why they love the Psalms. The videotaped chat was part of a 20-minute documentary released Tuesday as part of a new Fuller Studio initiative.
"I was totally confused, because I grew up in a culture where every word of the Bible was the word of God literally. Don't mess around with it. That's the way it is," Peterson said. "And I was starting to read that he keeps my tears in this bottle, shields, javelins, rock. 'God is our rock.' Come on."
Bono first remembers the Psalms through hymns at his childhood Church of Ireland congregation.
"I remember thinking, 'Great words. Shame about the tunes,'" he said with a small smirk. "Except for 'The Lord is My Shepherd,' which is a great tune."
Multiple U2 songs reference the Psalms: "Gloria," "With a Shout," "Magnificent," and, most famously, "40," which refers to Psalm 40.
Peterson and Bono aren't the only ones who love the Psalms. Almost a quarter (22) of the 100 most popular Bible verses searched for in 2015 came from the Psalms, according to Bible Gateway.
Leading the way at No. 5 was Psalm 23:4, which in The Message [which CT will cite throughout this post, instead of the usual NIV] reads, "Even when the way goes through Death Valley, I'm not afraid when you walk at my side. Your trusty shepherd's crook makes me feel secure."
In fact, the Psalms were the most popular book of the Bible that readers chose last year, Bible Gateway's content manager Andy Rau told CT.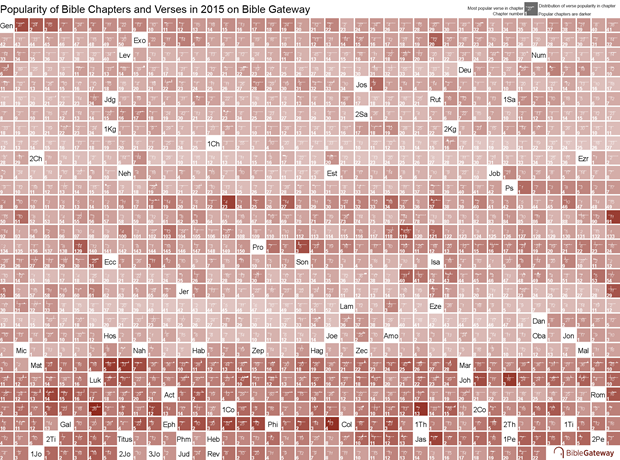 One verse, Psalm 56:3 ("When I get really afraid I come to you in trust"), made the top 10 Bible verses shared on Twitter in 2015.
Psalm 118:24 ("This is the very day God acted—let's celebrate and be festive!") was the most shared verse of 2013, according to YouVersion.
About a quarter of Americans have a favorite scripture, reported a Mark Noll-endorsed study drawn from the General Social Survey and the National Congregations Study. And a quarter of those people said their favorite came from the Psalms, more than any other book.
"Historically, this may be explained for Protestants, anyway, by Luther, Calvin, and other early reformers, all of whom held the Psalms up as special—indeed, elevating it practically to the status of gospel," project advisor Thomas Davis stated.
Of the Psalms, the 23rd was most popular, the report said.
"It is possible this passage was named most often simply because it is so frequently memorized or quoted," the researchers wrote. "But it is worth noting that this soothing chapter, which for centuries has been read aloud at funerals and in other times of trouble across Christian cultures, fits well with another of our findings: more people read the Bible for personal prayer and devotion than for any other reason."
Indeed, two Bible reading plans—the M'Cheyne and the "Old Testament in a year"—have the most impact on people circulating the Psalms on Twitter, according to an analysis by Stephen Smith of OpenBible.info.
Conversely, the Psalms also comprise half of the least-popular Bible verses on Twitter, with 13 of them receiving only a single, solitary tweet in 2015.
"The psalms … showed me that imagination was a way to get inside the truth," Peterson told Bono on the Fuller video.
Their friendship began with Bono's admiration for Peterson's Bible translation, which the singer read to his dying father and quoted before "Where the Streets Have No Name" during U2's 2001 Elevation tour.
The rawness of the Psalms is missing in a lot of Christian music, Bono said.
"The psalmist is brutally honest about the explosive joy that he's feeling, and the deep sorrow or confusion, and it's that that sets the Psalms apart for me," he said. "And I often think, 'Gosh, why isn't church music more like that?'"
Christian art could use more of the naked abandonment of David, who gave himself over to emotions, Bono said.
"I would love if this conversation would inspire people who are writing these beautiful gospel songs to write a song about their bad marriage, write a song about how they're pissed off at the government. Because that's what God wants from you—that truth," Bono said. "That truthfulness … will blow things apart. Why I'm suspicious about Christians is because of this lack of realism, and I'd love to see more of that in art, and in life, and in music."
The imprecatory psalms lay out examples of how Christians can be angry and hurt by the violence of this world—in order words, how they can "cuss without cussing," Peterson said. "We've got to have some way in context to tell people how mad we are."
Bono said U2's "Raised by Wolves," about a triple bombing in Dublin in 1974, tries to do that.
"I don't see God as a violent God, but I think the world is a violent place," he said. "It's a terrifying thing—some of the Old Testament. But it is real. And in a way I kind of prefer it to the airy fairy stuff where we don't get real."
Taylor compiled 11 quotes from Bono on the Psalms and a list of resources on Psalms and prayer to supplement the documentary.
CT's past coverage of the Psalms includes five ways to pray them, why the psalms scare us, and how psalms of lament offer hope.