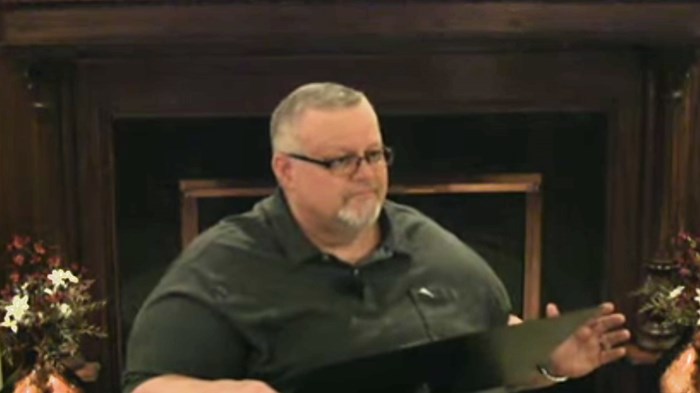 Image: YouTube screenshot
Wayne "Pop" Jolley, founder of a cult-like group in Franklin, Tennessee, has died.
The controversial leader of The Gathering International passed away at home Wednesday night after a prolonged illness. He was 64.
Jolley, an Alabama native, spent most of his career as an itinerant evangelist in the Church of God and the Church of God of Prophecy.
His ministry was floundering—with $6,064 in the bank, $33,000 in assets, and a $15,000 budget deficit—before he met up with a small Bible study in Franklin in 2004.
Before long, he'd installed himself as the group's leader, and was taking in $1 million a year in donations from a handful of followers.
Among his disciples was Ed Cash, the celebrated Christian music producer best known as cowriter of "How Great is Our God."
Jolley's followers called him a prophet, and referred to him as their spiritual father. They answered his sermons with "yes sir" and showered him with gifts.
"[He] became our god," former member Mike Pugh told a Nashville television station earlier this year.
Along with financial support—in some cases, donating 20 percent of their income—members also gave Jolley say over where they worked, where they lived, and who they associated with. Those donations were used to buy a million-dollar home for Jolley and his wife, Linda, as well as more than $400,000 in improvements to the house.
Anyone who questioned Jolley's authority was labeled as being possessed by a demon and cast out of the group. In some cases, husbands left their wives to follow Jolley. Parents were cut off from their children.
Jolley publicly scoffed at his critics. He ruled with an iron hand and taught that other pastors should do likewise.
Congregations that are run by church boards, rather than a pastor, are controlled by a demon called "Jezebel," he told followers.
"That's why we don't have boards," he told his followers in a sermon from November 2014. "We just don't. … I am criticized for that. I am looked down upon for that. And I am called a cult leader. I really don't care."
He also boasted of having a worldwide radio ministry that reached 5 billion people.
But Jolley's ministry began to unravel last year, after CT reported on a series of troubling allegations against him.
The allegations include:
That he sexually and physically abused his step-daughter and other former followers.
That the worldwide radio ministry did not exist.
That he had misused ministry funds for his own benefit.
That he ran both an unaccredited online homeschool and a diploma-mill seminary.
That Wayne Jolley Ministries Inc. violated state nonprofit laws by having only two board members.
Jolley, who was ill for some time, declined to be interviewed by CT last year.
In the wake of CT's report on December 14, 2015, the Gathering scrubbed all of Jolley's former sermons from its website, and stopped broadcasting its weekly services. (The sermons were later uploaded to YouTube by a CT reader.)
About two dozen members left the group after CT's report ran. Among them: Ed Cash and his brother, Scott.
"We find all the allegations against Wayne Jolley to be very troubling and are grieved by the pain others have endured," they wrote in a statement explaining their departure. "We're praying for the Lord's total healing and restoration for everyone involved."
Jolley's ministry has also drawn the attention of state officials who have received a number of complaints, according to a local Nashville television station.
Pugh spoke out against Jolley after leaving the group. While a part of the Gathering, Pugh had split from his wife, Debbie, after she angered Jolley. The couple later reconciled.
He hopes that other families will soon be reunited with loved ones who'd been part of the Gathering.
Pugh said that he hopes Jolley made peace with God before his death.
"I pray that he prayed and received forgiveness for all of the destruction he caused," he told CT. "And also that our friends that were caught up in this horrible situation can now be free."
Debbie Pugh said that Jolley had once prophesied that he'd live to more than 100. That, she said, like his other prophesies, proved false.
"I am so glad Wayne Jolley cannot deceive anyone else," she told CT. "I hope he found God."
Freeman Hodges, whose daughter left the Gathering after CT's story ran, said that Jolley's own family suffered from his teaching.
"I feel very sad for his family because based on what he taught, he probably never reconciled with his son and never got to know his daughter-in-law or grandchildren," he said. "Wayne and his teachings of shunning family for their imperfections was never biblical. My daughter and son-in-law have started talking to us, and did visit Easter weekend."
Jolley's death leaves the future of the Gathering unclear.
The ministry had about $1.3 million in cash in the bank and $2.5 million in total assets by the end of 2014, according to its latest tax return. Those assets remain under the control of Linda Jolley, Wayne's widow. She is now the sole remaining board member. (Tennessee law requires nonprofits to have at least three board members).
Ben Zeller, assistant professor of religion at Lake Forest College, said that groups like the Gathering often fail once their founder dies.
"They face the problem of the 'routinization of charisma,' as sociologist Max Weber called it," Zeller told CT. "If the leader successfully put into motion ways to institutionalize the leadership, then they stand a chance. But generally, such groups fade—especially if the leader died unexpectedly or didn't make any plans for succession."
A call to the Gathering on Thursday went unanswered.
Glenn Chambers, whose estranged daughter remains part of the Gathering, said he was sorry to hear of Jolley's passing. He hopes that the group's troubles will soon be sorted out.
"I offer my condolences to Linda, his wife," he said. "I hope that the people who remain will have some discernment, and that things will become clear in the future."
[Image courtesy of Ben Matthews – YouTube]