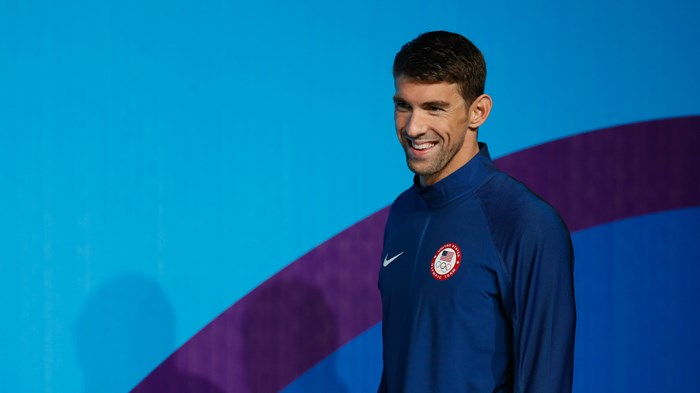 One of the 40 million copies sold of The Purpose Driven Life ended up in the large, paddle-like hands of Michael Phelps.
In between winning Olympic golds, Phelps made headlines for very different reasons: repeated DUIs, parties and pot, weight gain and rehab. A couple of years ago, fellow athlete and friend Ray Lewis (aka "God's linebacker") gave the champion swimmer Rick Warren's bestseller.
"I basically told him, 'Okay, everything has a purpose, and now, guess what? It's time to wake up,'" the former Baltimore Raven said in The Washington Post.
In an ESPN special, Phelps said the book "turned me into believing that there is a power greater than myself and there is a purpose for me on this planet" and "helped me when I was in a place that I needed the most help." It spurred him to reconcile with his dad.
This summer, the media celebrated 31-year-old Phelps as stronger and more mature than ever; the record-crushing swimmer stayed sober throughout his training and brought along his fiancée and baby son to Olympic competition in Rio. This come-to-Jesus turnaround, as Lewis called it, began with a book that answers the basic question, "Why am I here?" with scriptural truth.
Warren's words also launched boxer Manny Pacquiao's conversion.
"He read The Purpose Driven Life and came to Christ," the Saddleback Church pastor shared in 2012. "He told me, 'Rick, the first time I read through that book I cried through every chapter.' And he said, 'I've given it out to everybody who I know.'"
These top athletes represent just a few of the ways The Purpose Driven Life has reached beyond church Bible studies and pastors' bookshelves. Good marketing and group purchases helped to propel the book onto the bestseller lists. But the main drive behind its popularity, CT wrote in 2004, is that people are tired of looking at themselves. Warren's message—that life isn't about you but about finding God and your life purpose in him—proves a welcome change.
Years after the book topped bestseller lists, it keeps popping up. The Spanish version—Una Vida Con Propósito—became prison reading for Mexican drug lord Joaquin "El Chapo" Guzman when he was serving time in Mexico City in March. Kim Kardashian listed the book as one of her favorites in an Us magazine interview this spring, saying family friend Kathie Lee Gifford gave her a copy.
As the best-selling hardback book in history, The Purpose Driven Life has been name-checked by influential voices in business (longtime GE CEO Jack Welch) and politics (Mitt Romney). "I've probably signed books for, oh, probably 30, 40 different governmental presidents," including Viktor Yuschenko of Ukraine and Fidel Castro of Cuba, Warren said back in 2005.
The book has become simultaneously a mainstream success and shorthand for American evangelicalism. Think of Angela Martin, the conservative Christian accountant on NBC's The Office, who listed the Bible and The Purpose Driven Life as the two books she'd bring to a desert island in a 2005 episode.
Outside of a deserted island, the pair may be the easiest books to track down: Publisher Zondervan said they rank as the two most translated books around the globe. Just a few years after its release, The Purpose Driven Life was one of the youngest titles on Christianity Today's list of books that shaped evangelicals.
The Purpose Driven Life and the bevy of Purpose Driven spinoffs—including a version for kids, a version for grads, a journal edition, and a study guide—launched and cemented Warren's status among the most-recognized pastors in America.
Oprah Winfrey said Warren wrote "the book on purpose" and continues to feature him on her network. Even more inspirational: the 2015 movie Captive, which tells the true story of a hostage who read The Purpose Driven Life aloud to her captor and convinced him to free her.
The book that's circulated from your Christian neighbors to global influencers was never expected to get this popular. Malcolm Gladwell summed up its exceptionalism for The New Yorker:
(Warren) wrote a book called The Purpose Driven Life, a genre of book that is known in the religious-publishing business as "Christian Living," and that typically sells thirty or forty thousand copies a year. Warren's publishers came to see him at Saddleback, and sat on the long leather couch in his office, and talked about their ideas for the book. "You guys don't understand," Warren told them. "This is a hundred-million-copy book." Warren remembers stunned silence: "Their jaws dropped."

But now… it is among the best-selling nonfiction hardcover books in American history. Neither The New York Times, The Los Angeles Times, nor The Washington Post has reviewed it. Warren's own publisher didn't see it coming. Only Warren had faith. "The best of the evangelical tradition is that you don't plan your way forward—you prophesy your way forward," the theologian Leonard Sweet says. "Rick's prophesying his way forward."
In 2013, Warren republished The Purpose Driven Life with fresh material, connecting it to his global outreach effort to reach 3,400 people groups without Christians or a Bible in their own language.