Johnson Amendment Repeal Removed from Final GOP Tax Bill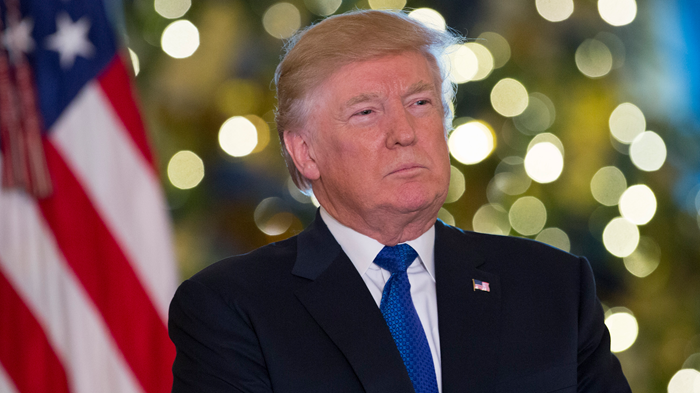 Image: Getty Images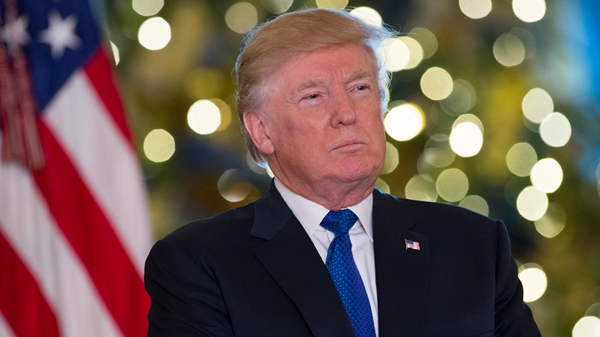 Johnson Amendment Repeal Removed from Final GOP Tax Bill
President Donald Trump's biggest religious freedom policy promise to evangelicals—repealing the Johnson Amendment—will no longer take place via Republican tax reform.
A Democratic senator announced Thursday night that the repeal included in the House version of the tax bill, which would allow churches and other nonprofits to endorse candidates without losing their tax-exempt status, was removed during the reconciliation process with the Senate version, which did not include a repeal.
According to Senator Ron Wyden, the senior Democrat on the Senate Finance Committee, the Johnson Amendment repeal was blocked by the Senate parliamentarian. Because of a requirement called the Byrd Rule, reconciliation bills—which are passed through a simple Senate majority—cannot contain "extraneous" provisions that don't primarily deal with fiscal policy, The Wall Street Journal reported.
Trump made political speech by churches a major part of his president platform, and since taking office has repeatedly brought up his pledge to "totally destroy" the 1954 tax code provision named for Lyndon B. Johnson. Trump saw the Johnson Amendment as a restriction on religious groups' free speech rights, since it prevents any nonprofit from opposing or endorsing a political candidate—therefore keeping political contributions from becoming tax-deductible.
Democrats have opposed the measure, and Wyden said he was pleased they prevented the repeal and would "continue to fight all attempts to eliminate this critical provision."
Republican Senator James Lankford, a Southern Baptist and religious liberty advocate, criticized the move to block the measure.
"The federal government and the IRS should never have the ability, through our tax code, to limit free speech; this tax reform bill was an appropriate place to address this historic tax problem," the Oklahoma senator said in a statement to The Hill.
"Nonprofits are allowed to lobby Congress or their local elected officials, but the ambiguity of the current tax code keeps nonprofits in constant fear that they might have crossed a line that no other organization has to consider."
The President assured evangelicals that the Johnson Amendment was dead in his remarks at the National Prayer Breakfast in February and the National Day of Prayer in May, when he unveiled an executive order addressing free speech and religious liberty.
"This financial threat against the faith community is over," Trump said. "You're now in a position to say what you want to say. … No one should be censoring sermons or targeting pastors."
While campaigning, he had characterized the Johnson Amendment appeal as his greatest contribution to the faith. "My greatest contribution to Christianity—and other religions—is to allow you, when you talk religious liberty, to go and speak openly, and if you like somebody or want somebody to represent you, you should have the right to do it," he said.
Some of Trump's top evangelical backers, including Liberty University president Jerry Falwell Jr. and Family Research Council president Tony Perkins, championed the change as a way to keep the government from controlling what pastors could say from their own pulpits. (Pastors are already free to endorse candidates outside of their official role at a religious nonprofit.)
The amendment's main critic, the Alliance Defending Freedom (ADF), is confident it would not withstand judicial scrutiny, and has ironically tried to make the IRS punish pastors in order to prove it. Their effort gained an unexpected ally in the Commission on Accountability and Policy for Religious Organizations, a congressional advisory panel led by the Evangelical Council for Financial Accountability. Meanwhile, the Pew Research Center has been surprised how many Americans want religion back in politics—including religious nones.
But overall, most evangelical leaders—and most people in the pews—did not want to see pastors endorsing politicians. Among the National Association of Evangelicals (NAE), 90 percent of its board of directors, including the leaders of major denominations and ministries, said they opposed pulpit endorsements in a survey conducted earlier this year.
A LifeWay Research survey conducted during the 2016 campaign found that 73 percent of Americans with evangelical beliefs said pastors should abstain from endorsing candidates, and about 65 percent said churches overall should abstain.
"Americans already argue about politics enough outside the church," said LifeWay executive director Scott McConnell. "They don't want pastors bringing those arguments into worship."
Yet fewer than half of Americans—and just 33 percent of evangelicals—want churches to be punished if they do endorse candidates.
John Inazu, a professor at Washington University School of Law, told CT earlier this year, "When it comes to challenges to religious liberty, the Johnson Amendment is just about the least important issue I can think of."
Though the Johnson Amendment has been in place for decades, the Internal Revenue Service very rarely uses it against churches—even when pastors blatantly violate the rule. ADF rallies more than a thousand pastors a year to bring political speech into their sermons on its annual Pulpit Freedom Sunday.
The Washington Postreported this week that opponents to the repeal were concerned about rich donors using religious institutions and nonprofits as a channel "to quietly funnel money to political candidates." The Joint Committee on Taxation estimated that the government would miss out on $2 million due to write-offs for such donations.
Johnnie Moore, cochairman of Trump's evangelical advisory group, thinks concerns over "dark money" flooding into churches are misguided.
"This is actually not about money at all. Those who oppose the Johnson Amendment primarily do so not because they want to endorse candidates. They oppose it because they view this as a violation of freedom of speech," he said. "Pastors can choose not to be political at all or otherwise, and people will go to whatever church they choose."
Moore said that while the IRS rarely if ever enforced the Johnson Amendment, the provision was still used to threaten conservative groups. "I can't tell you how many times Liberty University was threatened during my 13 years there because of this amendment," he said. "Every time we had a Republican candidate speak on campus, we would receive tax-exemption threats on the basis of it—despite the fact that we never endorsed a candidate institutionally and had always invited 'the other side' though they almost never accepted our invitations.
"Pastors ought to be able to speak openly and freely without fear or intimidation," he said. "In America, we believe in free speech and we foster a marketplace of ideas, and the pulpits of America—liberal or conservative—should not be any less free than the street corners."
In 2008, Indiana pastor Ron Johnson Jr. explained for CT why he participated in Pulpit Freedom Sunday, while editor in chief Mark Galli editorialized why pastors are tempted to make such endorsements.
Editor's note: This blog has been updated to clarify that relevant surveys have focused on the issue of pastors endorsing politicians, and not specifically on the Johnson Amendment itself.
12/15/2017