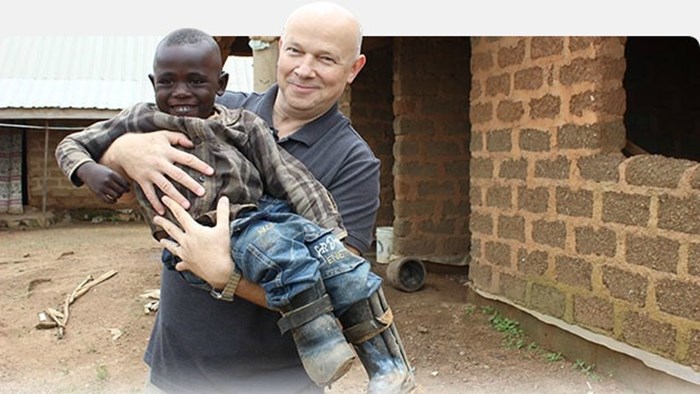 Image: Voice of the Martyrs
Last month, missionary Petr Jasek was sentenced to life in prison by Sudan for allegedly spying and waging war against the state.
This weekend, he returned to his native Czech Republic as a free man.
The Czech Republic had broken off relations with Sudan in protest of Jasek's sentence, so its ambassador to Egypt helped negotiate his release.
"President [Omar al-Bashir] has pardoned Czech national Petr Jasek because of good relations between Sudan and the Czech Republic," Sudanese foreign minister Ibrahim Ghandour said. The Czech foreign minister escorted Jasek back to Prague on Sunday.
The two Sudanese pastors who were sentenced to 12 years for allegedly helping Jasek with his work are still in prison.
"Logic would dictate they should also be freed—perhaps on similar grounds," the Sudan advocacy officer for Christian Solidarity Worldwide (CSW) told Premier, a UK Christian media company. "The use of a presidential pardon is a discretionary power—it's not connected with a legal position as such, so we are really in a position of just waiting and seeing."
"It is deeply regrettable that the amnesty granted to Mr. Jasek was not extended to his co-defendants, particularly in view of the fact that the case against them was predicated on his alleged actions and conviction," CSW CEO Mervyn Thomas told World Watch Monitor (WWM). "These men remain in a maximum-security prison despite the evidence against them being so weak that the case should not have proceeded to trial, let alone resulted in such lengthy convictions."
Jasek, who has been the Voice of the Martyrs (VOM) Africa regional director for 16 years, was on his way out of Sudan when he was arrested in December 2015. The items he carried included a laptop, cell phone, and video camera.
Jasek waited eight months before charges were filed. He then was accused of entering the country illegally, conspiring against the state, espionage, entering and photographing military areas, inciting violence against the state, provoking hatred among sects, and publishing false news. Some of the charges carried the death penalty.
VOM explained:
In November 2015, Mr. Jasek, Rev. Hassan Abduraheem, and Rev. Kuwa Shamal attended a conference for Christian leaders where Rev. Abduraheem was a presenter. While speaking on his work as a church leader in Sudan, Rev. Abduraheem showed a picture of a young man from Darfur who had been badly injured during a demonstration. Mr. Jasek later met with the injured man in Khartoum and donated [$5,000] toward the man's medical treatment. As Mr. Jasek left Sudan, he was searched by the National Intelligence and Security Service (NISS), who discovered a receipt for the donation to the injured man. They then confiscated his personal belongings, including his mobile phone, laptop, and camera.

Nine days after arresting Mr. Jasek, NISS officers arrested Rev. Abduraheem, who had signed the receipt, and Rev. Shamal. Charges were officially filed in August 2016. At least three court dates have been delayed because a translator failed to appear in court.
Sudanese officials also arrested Adbulmonem Abdumawla, the injured man's friend who was collecting funds for his care, and accused all four of supporting South Sudanese rebels. Shamal was found innocent and released in January. Lawyers have appealed the cases of the other two.
During his 445 days in prison, Jasek was moved to five different prisons, each worse than the last, he told World Watch Monitor (WWM). In one, his cell mates humiliated and beat him. In another, he was constantly blasted with frigid air. He ended up losing more than 50 pounds.
But the hardest part was hearing of the death of his father, Jasek said.
During a press conference in Prague, Jasek thanked his government, the Swiss ambassador to Sudan who attended all of his hearings, and the Christians who have been praying for him, WWM reported.
Sudan is the world's 8th hardest place to be a Christian, according to Open Doors' World Watch List.