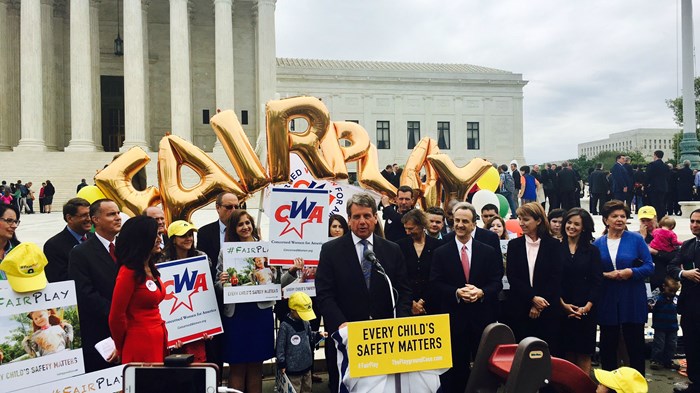 Image: ADF / Facebook
Update (July 11): GuideStar removed its controversial "hate group" designations in late June, a week after the backlash.
The Evangelical Council for Financial Accountability (ECFA) followed up with a letter issued in early July, stating, "While we are pleased to learn that GuideStar has apparently reversed its course, at least to some extent, we nevertheless feel compelled to express our deep concerns regarding GuideStar's consideration of the practice of assigning such a label or any kind of similar practice in the future."
"Faith-based organizations that espouse beliefs held for millennia and based in the Bible do not hold their views as a result of 'hate,'" said ECFA president Dan Busby. "Rather, they hold them because they believe God himself has decreed the beliefs in his word."
-----
Several Christian organizations known for their advocacy on behalf of traditional marriage and families were recently labeled hate groups on one of America's top charity research sites, GuideStar.
In response to "hateful rhetoric" during a "highly politicized moment" in American history, the portal began incorporating designations from the Southern Poverty Law Center (SPLC) this month. Profiles for Christian nonprofits like the Alliance Defending Freedom (ADF), Liberty Counsel, the Family Research Council (FRC), and the American Family Association featured a banner saying they had been flagged as a hate group.
The SPLC's "hate group" label, though often-cited, is controversial, particularly among conservatives. The Alabama-based watchdog charity applies the term to organizations that oppose same-sex marriage and certain LGBT rights as well as to violent and extremist groups like the Ku Klux Klan, Aryan Nation, and Nation of Islam.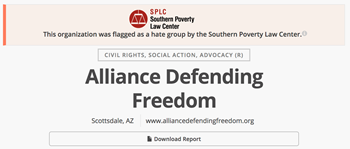 Image: GuideStar.org
More than 40 organizations listed on GuideStar now have the label on the top of their pages, which prompted dozens of conservative leaders to write GuideStar in protest this week.
In response, a spokesperson for the site told The Daily Signal that GuideStar would be reconsidering how SPLC data will be displayed, and groups can expect to see changes in a few days. (The Daily Signal is operated by the Heritage Foundation, a conservative organization that didn't get the "hate group" label.)
Meanwhile, the leaders of nonprofits impacted by the new policy have accused the site of favoring the SPLC's agenda over GuideStar's role as a neutral source of information for people researching charities.
"The only purpose of providing the SPLC false and dangerous 'hate group' label is to push a liberal political agenda designed to hurt good organizations," said Mat Staver, founder and chairman of Liberty Counsel, an evangelical group representing clients like Kim Davis, the county clerk who refused to sign same-sex marriage licenses.
FRC vice president Jerry Boykin called the GuideStar policy "another attack on conservative Christian organizations and individuals."
Groups that take issue with the "hate group" label see it as fuel for the kind of divisive extremism and violence the SPLC itself aims to decry, as the conservative leaders pointed out in their recent letter.
The FRC, a pro-life, pro-marriage group that works to "advance faith, family, and freedom … from a Christian worldview," blamed the SPLC designation in part for a 2012 attack on its headquarters. The SPLC released a statement following last week's shooting at a GOP baseball practice since the gunman in that incident had also liked the organization on Facebook. The SPLC displays organizations on a "hate map" on its site.
Some evangelical groups that share an opposition to same-sex marriage and abortion do not appear on the SPLC list. For example, Focus on the Family has not been designated as a hate group, though the SPLC sees it among the organizations behind a "dangerous new narrative that portrays Christians who object to homosexuality on biblical grounds as victims of religious persecution."
In recent years, the SPLC has become increasingly concerned with religious freedom advocates and has "reached really deeply into the mainstream" by including US Supreme Court advocates like ADF among the latest batch of hate group designees, said ADF spokesman Greg Scott. ADF, which sponsors Pulpit Freedom Sunday and represented clients in religious freedom cases such as the photographer who refused to photograph a same-sex couple's ceremony, was just added to the list in February.
"Normally we wouldn't waste time talking about it, but some mainstream news organizations take what the SPLC says as gospel. We see it more as tabloid," he told CT. "It's so unfair. It's obviously a highly partisan organization."