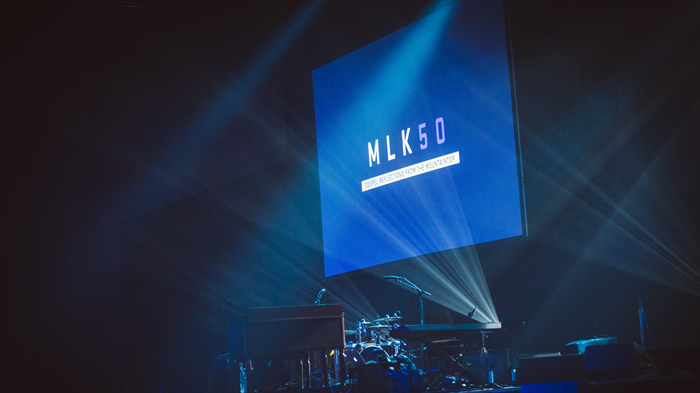 Twenty Christian colleges, universities, and seminaries have raised $1.5 million in scholarships to offer minority students in Memphis as part of a new initiative in honor of Martin Luther King Jr., who was assassinated there 50 years ago today.
Organizers for MLK50: Gospel Reflections from the Mountaintop, a joint conference by The Gospel Coalition (TGC) and the Southern Baptist Ethics and Religious Liberty Commission (ERLC), will announce the "MLK50 Dream Forward Scholarship Initiative" this morning before 3,700 attendees at the Memphis event.
The program, which offers full and partial tuition scholarships to minority students "who demonstrate a heart for Christ and a potential for academic excellence," is a way to extend the local impact of the commemorative two-day conference long-term.
"As we were planning and preparing for this event, we have been given wise counsel by a local advisory board consisting of pastors and ministry leaders. Early on, they asked if we would consider creating a legacy item, consistent with Dr. King's work, specifically for the city of Memphis," Brent Leatherwood, ERLC director of strategic partnerships, told CT.
"Time and again, the issue of education was consistently voiced as the one to engage. We agreed."
The 20 participating schools—including several Baptist seminaries and evangelical colleges such as Wheaton and Gordon—raised the $1.5 million in available financial aid for the scholarships. Interested candidates can learn about eligibility and other details through the MLK50 Conference site following the conclusion of the event today.
There's a possibility of offering scholarships to minority students in other cities as the program grows.
"We believe, for a number of schools, it actually will have a catalytic effect in that it will extend to other areas," Leatherwood said. "But our hope is that Memphis will serve as both the anchor for this program and the starting point to launch it to other areas."
The participating schools include:
Southeastern Baptist Theological Seminary, Wake Forest, NC
Southern Baptist Theological Seminary, Louisville, KY
Wheaton College, Wheaton, IL
Dallas Baptist University, Dallas
University of Mobile, Mobile, AL
Bethlehem College and Seminary, Minneapolis
Oklahoma Baptist University, Shawnee, OK
Union University, Jackson, TN
Trinity Evangelical Divinity School, Deerfield, IL
North Greenville University, Tigerville, SC
Gateway Seminary, Ontario, CA
New Orleans Baptist Theological Seminary, New Orleans
Blue Mountain College, Blue Mountain, MS
Shorter University, Rome, GA
Ouachita Baptist University, Arkadelphia, AR
Missouri Baptist University, St. Louis
Hannibal-Lagrange University, Hannibal, MO
Gordon College, Wenham, MA
Boyce College, Louisville, KY
Midwestern Baptist Theological Seminary, Kansas City, MO
The Dream Forward scholarships follow ongoing efforts by evangelical institutions to better engage, recruit, and support students of color, who have historically been a minority on campus.
Enrollment of undergraduate students of color at schools belonging to the Council for Christian Colleges and Universities (CCCU) nearly doubled between 1999 and 2015, from 17.8 percent to 34.1 percent, according to a report released this year.

Image: CCCU
Most CCCU schools have increased their diversity levels into the double-digits, and a growing number have enrollments where students of color outnumber white students, according to Pete Menjares, who works at Vanguard University and serves as a CCCU senior fellow for diversity.
"The single greatest change in the CCCU over the last decade is the increase in students from diverse backgrounds," said Menjares, a contributor to the 2017 book Diversity Matters: Race, Ethnicity, and the Future of Christian Higher Education.
Last year, Reformed Theological Seminary (RTS) announced a new scholarship program covering half the costs of tuition for eligible African American students going into ministry. The African American Leadership Scholarship aims to make RTS education accessible to the sizeable black populations in the cities where the seminary has campuses, including Memphis as well as Jackson, Mississippi, Atlanta, Washington D.C., and Charlotte, North Carolina.
For several years, the National Hispanic Christian Leadership Conference (NHCLC) has brought together pastors and Christian higher ed institutions through the Alliance for Hispanic Christian Higher Education in an effort to boost Latino enrollment in advanced degree programs.
Among the 20 schools participating in the new MLK scholarship program, "all of these institutions understand that and agree diversity is a kingdom principle," Leatherwood said.
"Some have developed a strong minority engagement program and others are taking deliberate steps to get there. We strongly support those efforts. Furthermore, they all recognize we need to be purposeful in creating pathways for minority students."
In addition to featuring pastors and ministry leaders from Memphis, the #MLK50 conference lineup includes ERLC president Russell Moore, civil rights activist John Perkins, TGC president Don Carson, hip hop artist and Atlanta pastor Trip Lee, and dozens of others.