Trump Tells Nigeria's President Church Attacks Must Stop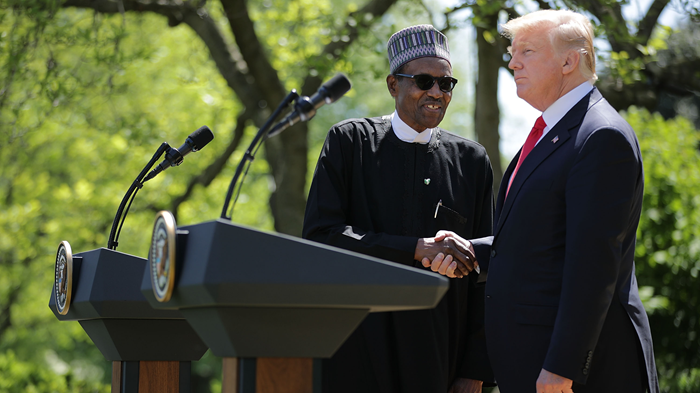 Image: Chip Somodevilla / Getty Images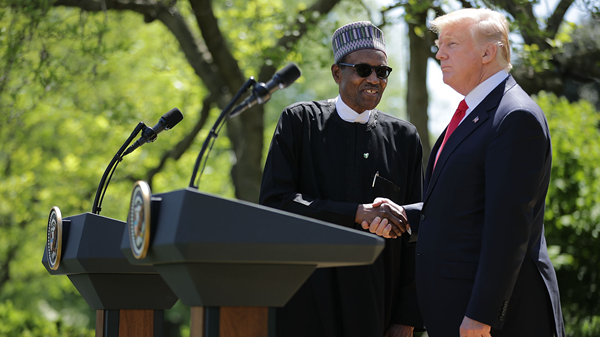 Trump Tells Nigeria's President Church Attacks Must Stop
President Donald Trump repeatedly spoke up for beleaguered Christians in Nigeria at a White House meeting today with the country's president, Muhammadu Buhari, who's currently under fire for not doing more to stop ongoing sectarian attacks by militant Fulani herdsmen.
"We are deeply concerned by religious violence in Nigeria including the burning of churches and the killing and persecution of Christians. It's a horrible story," Trump said in a joint press conference.
"We encourage Nigeria and the federal state and local leaders to do everything in their power to immediately secure the affected communities and to protect innocent civilians of all faiths including Muslims and including Christians."
The President praised Buhari's efforts to fight ISIS and Boko Haram in the West African nation, but Fulani herdsmen have recently outpaced both as the deadliest terror force in Nigeria.
Officials believe the nomadic majority-Muslim herders are responsible for last Tuesday's attack that killed 19 people during a Catholic mass and destroyed dozens of homes. The violence in Benue state continued last week with fatal late-night attacks on Christians' homes and another church, where Christians were taking refuge. Hundreds have been killed so far this year.
Trump's meeting with Buhari comes just one day after the Christian Association of Nigeria (CAN) organized national protests "asking the federal government and the security agencies to stop the unending killings and bloodshed in the country."
Christian leaders have accused Buhari—who is Muslim and whose family is Fulani—of failing to prevent or prosecute the ongoing attacks, which the Nigerian president ...
04/30/2018