Nigerian Mass Becomes a Massacre: Herdsmen Kill 18 Worshipers, Adding to Hundreds of Victims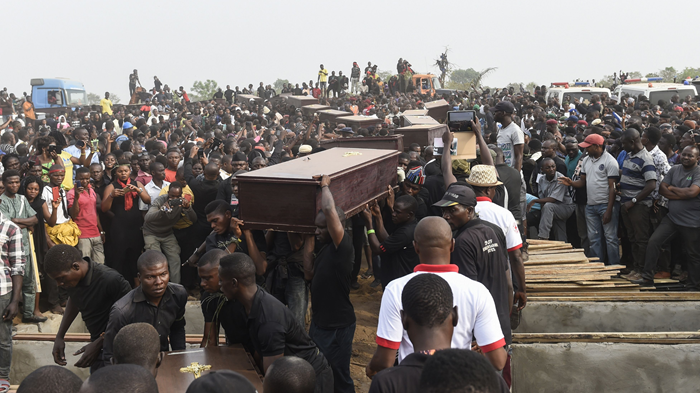 Image: Pius Utomi Ekpei / AFP / Getty Images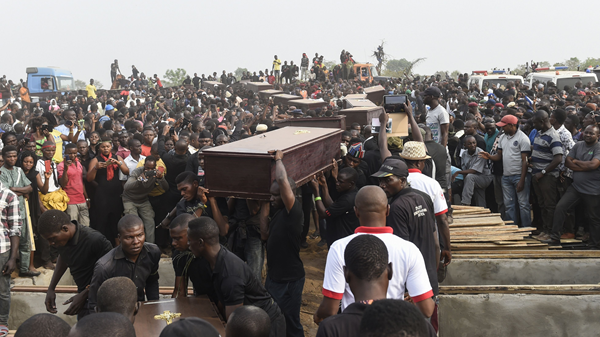 Nigerian Mass Becomes a Massacre: Herdsmen Kill 18 Worshipers, ...
[Editor's note: CT visited the attacked Benue church months later and interviewed survivors for an in-depth examination of the crisis.]
An attack on morning Mass at a Catholic church in central Nigeria yesterday left 2 priests and at least 17 parishioners dead, adding to the hundreds killed by herders in the region so far this year.
Police suspect Fulani herdsmen were responsible for the shooting rampage at Saint Ignatius Catholic Church in Mbalom, where about 30 attackers also ransacked a burial ceremony and burnt dozens of homes in the community, according to reports.
A local source contacted by the Nigerian Vanguard newspaper described a scene of horror:
"The services had barely started and worshippers were still coming for the Mass, after which a burial ceremony would take place, when sounds of rapid gunshots rent the air.
"People started scampering and wailing: 19 persons, including Reverend Fathers Joseph Gor and Felix Tyolaha, who were holding the morning Mass, were gunned down in cold blood, while many sustained injuries, including bullet wounds.
"After attacking the church, the invaders descended on the community and razed over 60 houses, farmland, food barns, after carting away what the people had in their barns.
"As usual, after killing the helpless worshippers and razing the community, the attackers fled from the scene."
Terver Akase, a police spokesman, said officials expect arrests to be made because the herdsmen "are becoming more brazen."
The village is located in Nigeria's Benue state, in the tense "Middle Belt" between the nation's predominantly Muslim north and predominantly Christian south.
In areas like Benue, most of the settled farmers living ...
04/25/2018