US Puts Scores of Iranian Christians at Risk of Persecution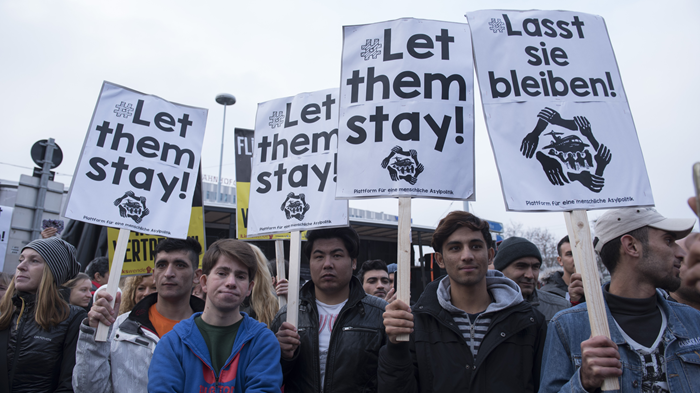 Image: Omar Marques / Anadolu Agency / Getty Images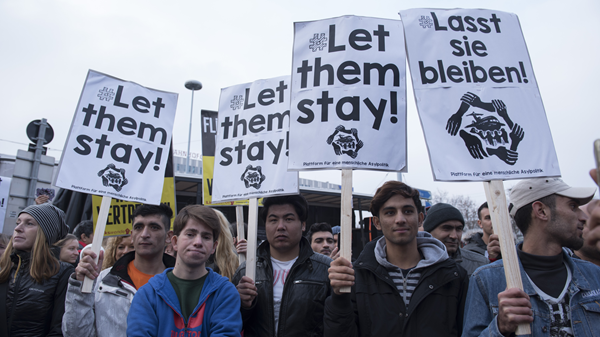 US Puts Scores of Iranian Christians at Risk of Persecution
A group of 100 Iranians, most of whom are Christians, are currently marooned in Vienna, Austria, and have been for the past year. They're caught in limbo between the American Dream they were promised and the threat of being forcibly returned to Iran.
Their fate took a grave turn this month, as the US State Department confirmed that a number of the stranded refugees would not be granted resettlement in the US under the Trump administration's tighter requirements for refugees, leaving them with just weeks to leave Austria and return to Iran.
On Wednesday, Austrian police raided the building where some of the Iranians have been staying, reported WORLD magazine. Travel and identity documents, including passports, were seized in the operation.
"These individuals were subject to the same rigorous process for resettlement as all refugees and, following input from all relevant departments and agencies, the applications for resettlement were denied," a department spokesperson said in a statement provided to CT.
"The United States will not force anyone to return to Iran," the statement continued. "The United States, the government of Austria, and others are working together on protection options for denied applicants that could include resettlement or asylum elsewhere."
The bad news comes after a year of uncertainty for the refugees in Vienna, which was meant to be only a stopover point as the refugees traveled from Iran to the United States. They arrived in the European capital city last January, granted passage to the West under the Lautenberg Amendment. A Cold War-era law passed by the US Congress to help Jews escape persecution in the Soviet Union, the policy was updated in 2004 to accommodate other persecuted religious minorities.
Expecting to quickly move on to the US to unite with family and friends already living there—a third were to be resettled in California—their case stalled due to a hold enacted for unreported reasons toward the end of the Obama administration.
The threat of denial notices from the US emerged as early as the first week of 2018, said Ann Buwalda, executive director of Jubilee Campaign, an organization that advocates for persecuted religious minorities. Now, a majority of the 100 refugees in limbo are believed to have officially received their rejections.
"The US has broken its promise to Iranian religious minorities," said Buwalda.
"They traveled to Vienna at the invitation of the United States, with the understanding that they would soon be reunited with their American families. Instead, the refugee applicants in Vienna today have been forced to wait there for more than a year with no explanation for their delayed departures. They have no source of income, and many have spent down their life savings."
End of a long wait
Since 2001, nearly 33,000 members of religious minorities from Iran have been welcomed to America under the Lautenberg Amendment. Each of them passed through Austria, a longtime partner in the US immigration and family reunification process. All participants arrived in Vienna pre-screened and thoroughly vetted and, before 2017, the average wait-time for these individuals was less than three months, said Buwalda.
For these 100 Iranians, however—most of them from heavily persecuted communities of Armenian and Assyrian Christians—something changed.
"High-level administration officials are monitoring the progress," a White House official toldThe Washington Free Beacon last month. "Certain complexities exist that the administration has to work through, including human-rights concerns and national security. But the administration is certainly engaged."
Back in January, a spokesperson with the State Department emphasized the vetting process these refugees must undergo.
"The safety and security of the American people are paramount," she said. "For individuals who cannot be resettled in the United States, the US government-funded Resettlement Support Center (RSC) provides counseling on options, and the US government may also work with international partner organizations to identify other potential resettlement locations. In some cases, applicants who have been denied voluntarily choose to return to Iran."
With the latest State Department update, the decision has been made for them; they are forced to return.
"The Iranians in Vienna are in desperate circumstances," Hans Van de Weerd, vice president of US programs at the International Rescue Committee, told Foreign Policy. "Without income or the right to stay in Austria, they have but no choice to be deported to Iran, unless another nation steps up or Austria grants them asylum."
Persecution and revival in Iran
The prospect of going back to Iran is a daunting one for religious minorities who flee. According to Open Doors, which tracks the persecution of Christians around the globe, Iran comes in at No. 10 on its annual World Watch List.
Violent protests have erupted in Iran in recent weeks. When demonstrations over the struggling economy and political oppression flared at the end of 2017, anti-regime sentiment flared as well, and quickly spread across the country. In a style Iranians had seen before, as recently as 2009, hardliners in the government cracked down. Thousands of protesters have been arrested and dozens injured and killed.
Despite its poor human rights record and extreme persecution of Christians and other religious minorities, Iran is also home to one of the fastest-growing Christian populations in the world, according to David Yeghnazar, executive director of Elam Ministries.
"Iranians have become the most open people to the gospel," he said.
Rampant government oppression hasn't managed to stifle explosive growth in the Iranian church. Last year, Christmas services were overflowing with worshipers, while Christian television and a network of underground churches are flourishing.
Still, persecution under the Ayatollah is very real—and deadly. Now that travel to the US and asylum in Europe haven't panned out, going back to Iran bodes ill.
'A death sentence'
"These deportations, during a human-rights crackdown in Iran no less, could be a death sentence for these persecuted Christians and other minorities," Nina Shea, director of the Hudson Institute's Center for Religious Freedom, told the Free Beacon in January. "They would undermine the important statements against Iran's repression by President [Donald] Trump, Vice President [Mike] Pence, and UN Ambassador [Nikki Haley]."
From the early days of President Trump's campaign, he has vowed to protect Christian refugees. On January 16, designated Religious Freedom Day, President Trump called the US a "champion for religious freedom around the world."
He also said, "We will be undeterred in our commitment to monitor religious persecution and implement policies that promote religious freedom." Vice President Pence, too, has promised to aid persecuted Christians, especially in the Middle East.
Indeed, in the first year of the Trump administration, a plain reading of the resettlement data suggests that Christian refugees were prioritized. More than 53 percent of refugees admitted into the US during that period were Christians, while 32 percent were Muslims. By contrast, of the refugees admitted under President Barack Obama in 2016, 45 percent were Muslims and 44 percent were Christians.
But it's not that simple. While President Trump has admitted a higher percentage of Christians, he has also admitted far fewer refugees overall—Christian or otherwise. In 2017, less than 30,000 refugees came to the US; in 2016, more than 93,000 were resettled.
Assisting persecuted Christian refugees is made more complicated by the fact that, of the top 10 countries with the worst record of persecution against Christians (according to the World Watch List), citizens from seven of them face restrictions from entering the US under President Trump's "travel ban"—the third iteration of which came into effect this past December. This means the Christians who live in the most repressive countries for religious minorities are the least able to find refuge in the US.
Iranians are among the restricted groups. In the last two months of 2017, State Department data shows only two Christian refugees from Iran were resettled, though the State Department said it has resettled more than 800 Iranian religious minorities under the Lautenberg Amendment since last January.
As for the Iranians trapped in limbo in Europe, far from their families in the US and Iran, the Trump administration will still have to decide how to proceed. The move in Europe to grant asylum may buy the US government time; but eventually, it must choose whether or not to unify the refugees with their families.
"The administration needs to act fast to stop this travesty," Shea told the Free Beacon.
Additional reporting by Kate Shellnutt.

02/23/2018