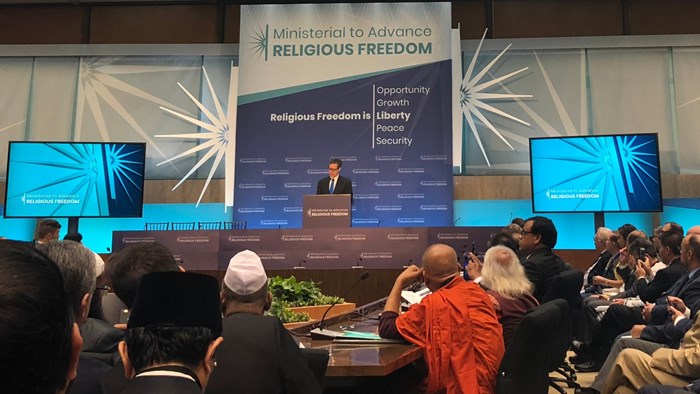 Image: Morgan Lee
WASHINGTON, D.C. – The first victim of religious persecution to share his story today at the US State Department's first-ever Ministerial to Advance Religious Freedom couldn't share it in person.
Chinese pastor John Cao is currently serving a seven-year prison sentence, a punishment handed to him from the Chinese government after he helped build 16 schools for the Wa people, an impoverished minority group in Myanmar.
Cao's wife, Jamie Powell, shared her husband's story to a room full of dozens of religious civil society leaders from around the world.
"Spreading education wasn't just the side goal of my husband," said Powell. "It was his call from God. Education was the vehicle with which to enable freedom from poverty and moral wrongs."
Her husband began to be harassed by the Chinese government when he built schools in Guizhou and Yunnan, two provinces in southwestern China. Surveillance and questioning by officials persisted, despite Cao eventually turning the schools over to the government.
While he is a US green-card holder who moved to the States to attend Alliance Seminary in Nyack, New York, Cao nevertheless kept his Chinese citizenship to continue missions work in his homeland, World reported last year.
Cao grew passionate about working with communities across the Chinese/Burmese border after visiting the Kachin people in 2012.
"He was shocked by the poverty he saw," said Powell. "Children without clothes, child mortality rates really high, a makeshift school with a pigpen adjacent to the classroom."
Cao worked with fellow Chinese Christians to open schools in the community, ones that served around 2,000 students in Wa state.
Cao was arrested last March.
"It is clear to us now that John was set up for arrest because of his faith-driven work and accused of facilitating organized border crossing," said Powell. "This charge is often used to prosecute human traffickers."
Cao was convicted this spring. His time detained has left him a shell of his former self. Cao has lost more than 50 pounds, said Powell. He has not been able to communicate with Powell or their two sons.
Last fall, Representatives Robert Pittenger and Chris Smith pled Cao's case to then-Secretary of State Rex Tillerson. ChinaAid and World Watch Monitor have more details on Cao's case.
Cao was not the only victim of Chinese religious persecution spotlighted at the ministerial. A representative from the predominantly Muslim Uyghur group followed Powell by sharing his own story.
Another religious persecution victim whose story was highlighted at the State Department was Shahbaz Bhatti, one of Pakistan's few Christian politicians, who was assassinated in 2011. Peter Bhatti represented his brother and described him as "not afraid of speaking out" against the country's blasphemy laws.
Peter said his brother expressed a deep conviction before he died in how he had decided to live out his faith.
"I want to share that I believe in Jesus Christ, who has given his own life for us. I know the meaning of the cross," Shahbaz said, according to Peter.
Peter called the United States "a champion of human rights" and called for funds coming into his native country to be used for education and economic development with "the consultation of local and international human rights organizations."
"Shahbaz's sacrifice will not go in vain no matter how much we will have to pay the price," he said.
Peter's comments were followed by Razia Sultana, a Rohingya lawyer, who advocated for a bill placing sanctions on Myanmar because of its harsh treatment of the Muslim ethnic minority. She also said she would not advocate for repatriation unless the Rohingya were guaranteed full citizenship.
The middle of the day included a discussion between cable news personality Greta Van Susteren, Hollywood producer Mark Burnett, and religious freedom advocate Johnnie Moore.
Burnett, the producer of such hits as Survivor, The Voice, and The Bible said he confronted Vice President Mike Pence last year about the lack of aid to Iraqi Christians. Through a relationship with Nina Shea at the Hudson Institute, Burnett had been given a map of the Nineveh Plains that showed where aid from the United States had been promised but "had not at all reached the right people."
Burnett wasn't sure if the map was accurate, but said: "I felt an obligation [to say something] as a morally conscious person."
The conversation led to a realization that "the aid, authorized by our tax dollars, hasn't actually reached the right people." One thing led to another. "I am now directing USAID to make sure that this money is going to the right people," said Burnett.
"I say all of this to all of you, that even when it feels uncomfortable and you're a bit embarrassed, it's so worth [speaking up]," said Burnett, who had initially felt uncomfortable about confronting the vice president.
Burnett also noted that International Religious Freedom ambassador Sam Brownback, former US representative Frank Wolf, and USAID's Mark Green visited Iraq earlier this summer as part of ensuring that the funds were on their way to the communities that needed them most.
Burnett and Moore credited Jordan's Muslim King Abdullah with initially bringing this issue to their consciousness. Through this relationship, Burnett and Moore began to spend time with the persecuted religious minorities in the Middle East, who told them over and over again that they "felt forgotten."
Moore recalled meeting a nun in Mosul—which until last year was an ISIS stronghold—who asked him, "Why are you so quiet in the face of our genocide?"
The faith and devotion of the religious leaders that Moore encountered in these intense situations left an impression on him.
"Religious leaders are often the only leaders left in fragile societies that can make any difference whatsoever," he said. "If they were Christian, they weren't just serving Christians. They knew what could make the most difference with the least investment in the shortest period of time."
Over Easter 2017, Van Susteren traveled to Iraq with Franklin Graham of Samaritan's Purse, which has a hospital based outside of Mosul.
Van Susteren also visited a church burned by ISIS. "Incredibly, in the ashes and debris, we discovered one of our Samaritan's Purse Operation Christmas Child shoeboxes that had been given to a child there at some point," she wrote on Facebook. "I couldn't help but wonder where the child who received this box is today."
The ministerial's first day ended with the story of Andrew Brunson.
During the nearly two years Turkey has imprisoned the American pastor, he has missed his daughter's wedding and his sons' years in college and high school. In his letters, he's said the hardest aspect of his time in prison has been that separation from his family.
It's the same for his daughter, Jaqueline Funari, who on Tuesday spoke emotionally about the confusion and pain that her father's time in prison has elicited in her.
"Every single thing in his life centers around his faith, which is why seeing these absurd charges brought against him has been extremely painful for my family to witness," she said. "… I'm still waiting for my father to walk me down my aisle. I'm still waiting for my father-daughter dance."
Funari and her brothers lived most of their childhoods in Turkey. This year will be their father's 25th year there.
"I grew up in a mixture of Turkish and American culture, and I loved seeing the beauty in both," said Funari. "My family loved and respected the Turkish people. My parents were dedicated to serving them as long as they could."
Yet her last trip to Turkey, in 2017, was painful. It included a visit to see her father in prison—the only time she has seen him in the last two years.
"I remember how broken and tired and desperate he sounded as he tried to fight with every fiber of his being to be in a room where he could at least hug us and hold us for the only hour he would have seen us for the entire year," she said.
Despite the visit coming during the summer, Brunson mentioned to Funari that he was already apprehensive about enduring the cold winter in the prison. But while depression and anxiety have plagued Brunson over the past few years, he has not walked away from his faith, said Funari. Instead, in court last week, he declared that he had forgiven those who have falsely accused him.
"'It is a privilege to suffer for the sake of Christ,'" Funari quoted her father. "'Blessed am I as I suffer for him. Blessed am I as I am slandered. Blessed am I as I am lied about. Blessed am I as I am imprisoned. Blessed am I as I share his suffering.'"
"Even when this ordeal is over, he'll never be the same person he was," she said. "That said, I cannot tell you how proud I am of my father and what an example of Christ's love he continues to be to the world as he is wrongly imprisoned for his faith."