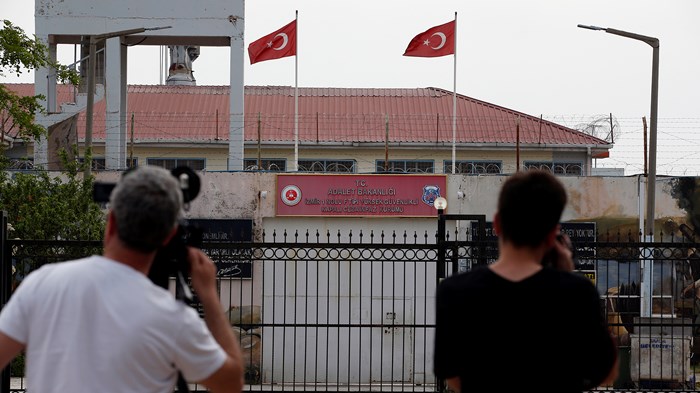 Image: Lefteris Pitarakis / AP Images
After nearly two years in a Turkish prison, hopes for the release of American pastor Andrew Brunson have been deferred. A Turkish court ordered 50-year-old pastor to remain behind bars until at least his next hearing on October 12.
On Wednesday, the court heard testimony from members of Brunson's church who made "vague, unsubstantiated accusations" against Brunson, reported World Watch Monitor. When the judge asked how Brunson would respond to the testimony of the prosecution's witnesses, he said, "My faith teaches me to forgive, so I forgive those who testified against me."
Bill Campbell, a North Carolina pastor whose church belongs to the Evangelical Presbyterian Church, the same denomination as Brunson's church, was among several supporters of the pastor who attended the trial.
"As usual, there was much spurious testimony against Andrew," Campbell told EPConnection after the trial. "Andrew's testimony was absolutely powerful. He presented the gospel with confidence and defended himself with boldness."
Notably, the court heard a defense witness for the first time, although the witness Brunson initially requested to testify was not permitted to do so.
Many of Brunson's supporters had been cautiously optimistic about his release—Turkish President Recep Tayyip Erdoğan and US President Donald Trump had been photographed smiling and fist-bumping each other at last week's NATO summit in Brussels. Senators Jeanne Shaheen (D-NH) and Lindsey Graham (R-SC) had also met with Erdoğan in Ankara the last week of June, though the focus of the meeting was to discuss US sanctions.
On Twitter, Freedom House's Nate Schenkkan called the Turkish court's decision a "cruel, political decision, just like his imprisonment."
"Case study in the absurdity of the present Turkish justice system," tweeted the author of several books about freedom in Turkey. "Brunson is charged with being part of a conspiracy of evangelicals, Mormons, & Jehovah's Witnesses embedded among American service personnel in Turkey who conspired to divide the Turkish state on behalf of the PKK and Gulen movement. It would be a farce if it weren't so serious."
"Keeping him in prison is a political decision," he continued. "… Letting him out would have been a simple, cost-free way for the Turkish government to show it was concerned about the relationship with the United States. Holding him for at least 3 more months is a new low."
Brunson's imprisonment has attracted worldwide attention and prompted a massive advocacy campaign, state visits, and hundreds of thousands of petition signatures.
A Presbyterian preacher from North Carolina, Brunson ministered in the Muslim-majority nation straddling the border of Europe and the Middle East for more than 20 years. Then in October 2016, shortly after a failed coup in Istanbul and Ankara, Turkey's capital, he was detained during a wave of imprisonments and dismissals purging approximately 150,000 officials, judges, teachers, and military personnel.
Held without charges and without bail for months, Brunson was eventually accused of abetting the Gülen movement—under the leadership of Fethullah Gülen, a Turkish Islamic scholar and cleric in exile in the United States. Erdoğan has long opposed Gülen and blamed his followers for the overthrow attempt.
Brunson, pastor of Izmir Resurrection Church on Turkey's west coast and founder of several other churches in the area, refuted the dubious charge. In a letter from March of this year, he wrote: "Let it be clear. I am in prison not for anything I have done wrong but because of who I am—a Christian pastor.
"I desperately miss my wife and children," he continued. "Yet I believe this to be true: it is an honor to suffer for Jesus Christ, as many have before me. My deepest thanks for all those around the world who are standing with and praying for me."
Brunson's wife, Norine, who was initially detained with her husband but quickly released, has remained in Turkey to support him. But the circumstances of the case and the tight hold of the Erdoğan regime have made visits and outside contact difficult for all but a few chosen family members, US consular staff, and Brunson's lawyer.
It was mere weeks before the start of his trial that an official indictment, based largely on the "secret testimony" of unnamed witnesses, formally charged Brunson with membership in Gülen's Islamic movement, support of Kurdish independence, and "Christianization"—all disparate and somewhat clashing accusations.
After 18 months in prison conditions that his daughter, Jacqueline Furnari, says tested his psychological endurance and caused him to lose 50 pounds, the father of three had his first hearing on April 16. A second hearing occurred in May. A lack of resolution at the end of this latest hearing has discouraged many in Brunson's community.
"I am deeply saddened by this morning's ruling," Jeff Jeremiah, EPC stated clerk, told EPConnection. "Thankfully, our Lord was not surprised and continues to be in control of the situation. Our disappointment today is matched by our resolve to continue to pray and advocate for Andrew and Norine."
During the months of his detainment—trading spaces between overcrowded cells and solitary confinement—awareness and support built around calls for Brunson's freedom.
Last February, 78 members of Congress sent a letter to Erdoğan seeking Brunson's release. Earlier this month, 98 European parliamentarians sent a letter to Istanbul condemning Brunson's "wrongful imprisonment" and calling for him to be allowed to return home.
He received a visit from his state senator, Thom Tillis; representatives of the US Commission on International Religious Freedom; and, in February, then-Secretary of State Rex Tillerson. Vice President Mike Pence and ambassador-at-large for international religious freedom Sam Brownback have also been vocal advocates for Brunson and have spoken out in support of his family.
Among those present at the case included US Commission on International Religious Freedom (USCIRF) Vice Chair Kristina Arriaga. The commission has previously condemned the charges against Brunson and called for his release.
On the one-year anniversary of his detainment, October 7, the Evangelical Presbyterian Church issued a call for a weekend of prayer and fasting on behalf of Brunson, a member of the denomination. And in the last three months, a petition from the American Center for Law and Justice—the organization helming the campaign for Brunson's release—urging UN intervention gained more than 580,000 signatures.
The European Center for Law and Justice (ECLJ) has fought for Brunson in front of the United Nations Human Rights Council, condemning the evidence against him as based on "hearsay and conjecture."
"Turkey has made it clear that this is a sham trial, and, as indicated by President Erdoğan's multiple demands to swap Pastor Brunson for Fethullah Gülen, Pastor Brunson is undoubtedly a political prisoner being held as a bargaining chip for Turkey," ECLJ stated.
Indeed, the Turkish president openly called for a swap with the United States. "You have one pastor [of ours] as well," Erdoğan said last year. "The pastor we have [Brunson] is on trial. [Gülen] is not—he is living in Pennsylvania. Give him to us. You can easily give him to us. You can give him right away. Then we will try [Brunson] and give him to you."
The bargaining and statecraft has hurt the United States' relationship with Turkey, a NATO ally. Brunson's story plays out at a time of increasing nationalism and persecution in Turkey.