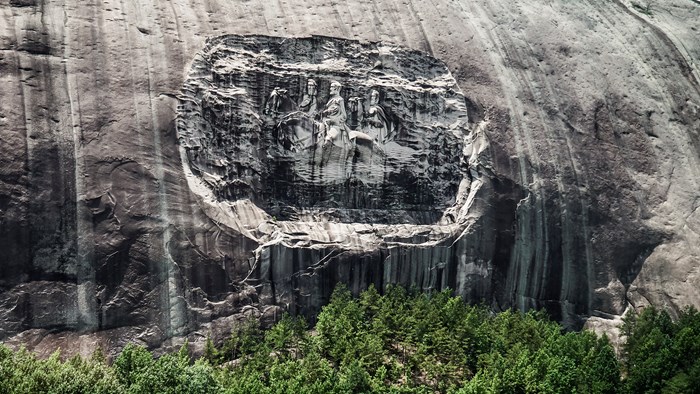 Image: ReDunnLev / iStock / Getty
Rising 825 feet over the skyline of Atlanta, Stone Mountain is the most-visited destination in the state of Georgia. On its north face, a carving in the granite wall depicts three figures central to the Confederacy: Robert E. Lee, Jefferson Davis, and Stonewall Jackson.
Against this backdrop, observers might have puzzled over the scene unfolding on a recent Saturday at the top of the monument. An ethnically diverse crowd of more than 3,000 people, the majority under age 30, sang as a full rock band led the crowd in Christian praise songs.
Nearly all lifted their hands, shouted, and even danced as pop-rock worship music blasted from speakers. Then a black man in a bright red shirt with white letters reading Reconcile took the mic.
"Heaven is among us," said Jonathan Tremaine Thomas, a young pastor from Ferguson, Missouri. "The kingdom of heaven is at hand."
Thomas was followed by civil rights leader John Perkins, who was followed by apologies from Christian leaders to two Jewish leaders for the history of Christian anti-Semitism, who were followed by declarations of forgiveness for Dylann Roof by family members of Charleston church shooting victims. And this was all in the first 150 minutes.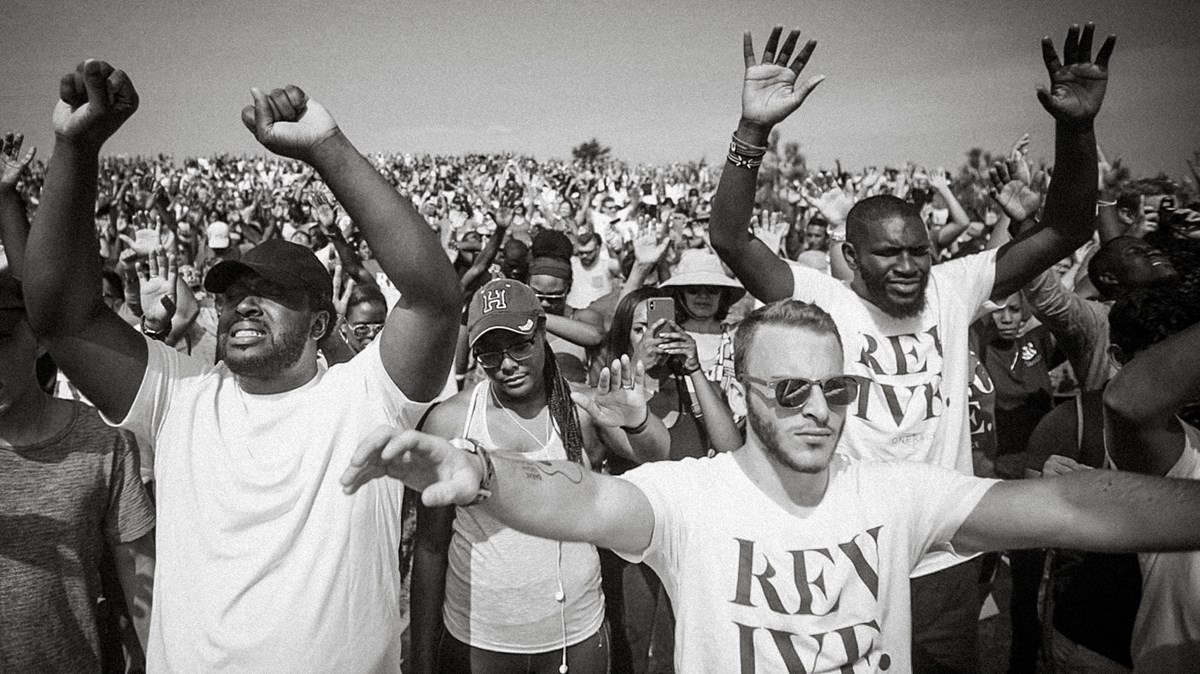 Image: Ashley Stephens / Courtesy of OneRace Movement
Over the rest of the day, at the base of the mountain, gospel artists performed and local pastors prayed at an assembly that lasted eight hours. Park officials estimated that the entire event attendance drew between 22,000 and 25,000. At the end, the crowd took communion together at the "table of brotherhood," a nod to Martin Luther King Jr.'s 1963 speech.
The day marked the climax of two years of preparation by the OneRace Movement, a group that has brought 560 Atlanta-area pastors together in pursuit of reconciliation and revival.
"We believe we are in a divine moment," said Billy Humphrey, co-director of OneRace. "The Lord wants to eradicate racism and dead religion in every form in the church. He wants to expose blind spots of prejudice, privilege, bitterness, and fear. The answer to division and hate is the gospel of Jesus Christ."
"A Divine Moment"
OneRace began in spring 2016 when Bishop Garland Hunt, who leads the Father's House, an Atlanta-area congregation rooted in the black Protestant tradition, hosted a few local pastors following a small conference for young adults.
Hunt has strong ties to the civil rights movement. Growing up in Atlanta, he knew Martin Luther King Jr.'s children and was close friends with the son of King's Christian mentor Ralph Abernathy. As a student leader at Howard University in the late 1970s, Hunt introduced black icons Kwame Ture, Ron Karenga, and Nation of Islam leader Louis Farrakhan when they spoke on-campus. He says his allegiance to black power activism shifted when he "gave his life to the Lord" later in life.
Nearly four decades later, Hunt convened a small group of men—both white and black—at his church to discuss how to engage emerging generations with the gospel. The issue of racial unity quickly surfaced.
"To reach millennials, let's start a movement," Humphrey, who is white and attended the initial meeting, later recounted.
Humphrey had long sensed that God was telling him to focus on Atlanta's long-complicated relationship with race and religion. A longtime Atlanta resident, in fall 2003 Humphrey visited the International House of Prayer in Kansas City to understand the vision for 24/7 prayer. While there, he received a phone call from a man encouraging him that he, too, felt God had a special plan for Atlanta's leadership and spiritual revival. This calling felt confirmed when Humphrey was sent an audio tape with the same message.
"I was blown away," Humphrey later said in a video recounting the "prophetic storyline" of the movement.
The director of the International House of Prayer–Atlanta, Humphrey saw a convergence between the vision he had for Atlanta and the hundreds of committed (and mostly young) adults who attended his church.
"Let's lock arms together and lead 300 pastors to the top of Stone Mountain to renounce racism," said Humphrey. "We'll lead millennials in it."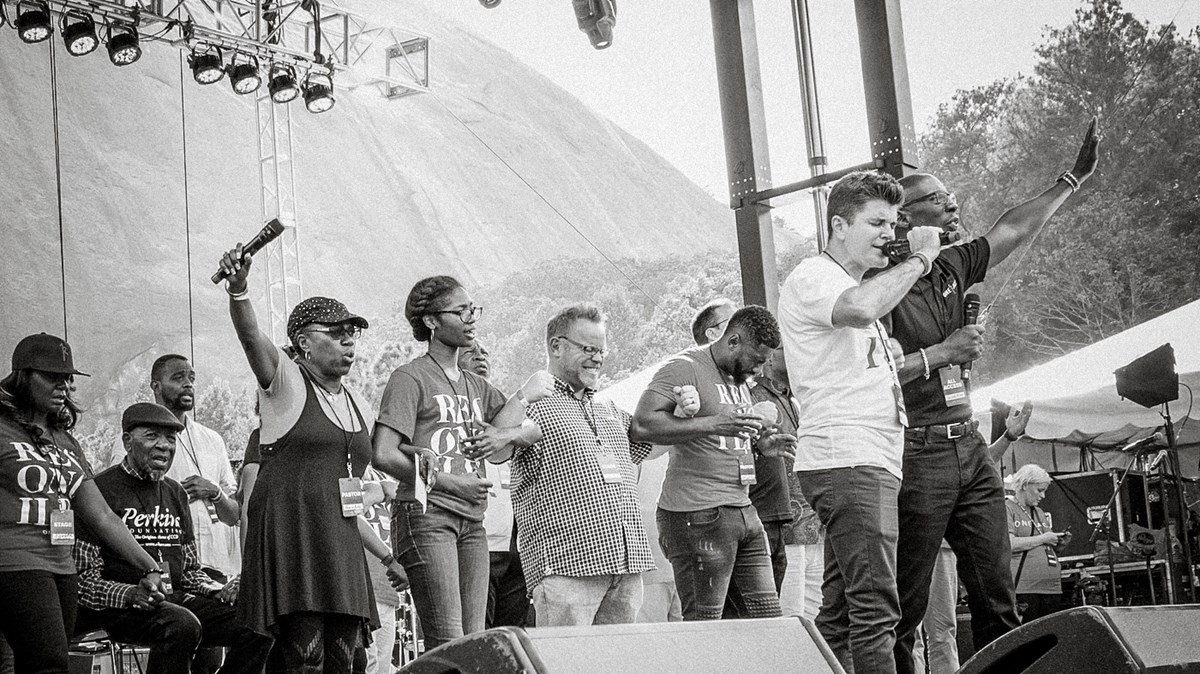 Image: Taylor Foster / OneRace Movement
Hunt liked Humphrey's idea. Over a decade prior, the charismatic minister had been youth pastor to Hunt's son. Soon, the core team, which now included local pastors Scott Free and Corey Lee, two faith community organizers Hazen Stevens and Josh Clemons, and creative talent recruiter Natalie Brown, came together under the leadership of co-directors Hunt and Humphrey. Free's wife Tami came up with the name OneRace, inspired by the mandate in Acts 17:26. Within weeks, a massive effort to mobilize local churches was underway.
"We worked diligently to build relationships through pastors' small groups that meet monthly," Humphrey said. "Personalities took a back seat and Jesus remained the center. From those groups, depth of relationship began to be born. Through prayer, in that context, divine ideas are formed."
The two met weekly with their growing core team, strategizing how to bring other churches into the OneRace fold as they encountered denominational and historic ethnic divisions. The co-directors credited Clemons and Stevens, who knocked on dozens of church doors while looking for partners, as "the feet behind the vision."
Hunt recalled how they sometimes met black, white, and Hispanic pastors who ministered in the same neighborhood but had never met.
"We encouraged pastors of different backgrounds to host lead-up prayer meetings across the region," he said. "Suddenly, they began to eat together, fellowship together, and care about each other. In true relationship, racial healing begins."
By the beginning of 2018, OneRace had connected with over a hundred congregations, including historic Friendship Baptist Church (the city's first black Baptist church), the Anglican Diocese of the South, King Chapel AME, the Vine Methodist, Creflo Dollar's World Changers Church, and several Hispanic congregations including Iglesia del Dios Vivo.
"As we pursued the racial healing message, we tried to be sensitive to the orthodoxy of the different groups," Hunt said. "A very large Presbyterian church in our area hosted meetings with pastors, which did not have a charismatic flavor at all. They ended up being a major supporter of what we did."
Unifying Across Division
As Hunt and Humphrey continued to push for church unity, their prayer and ongoing dialogue together guided them deeper into civil rights history. In February, Hunt led more than 60 pastors on a tour through the Center for Civil and Human Rights in Atlanta.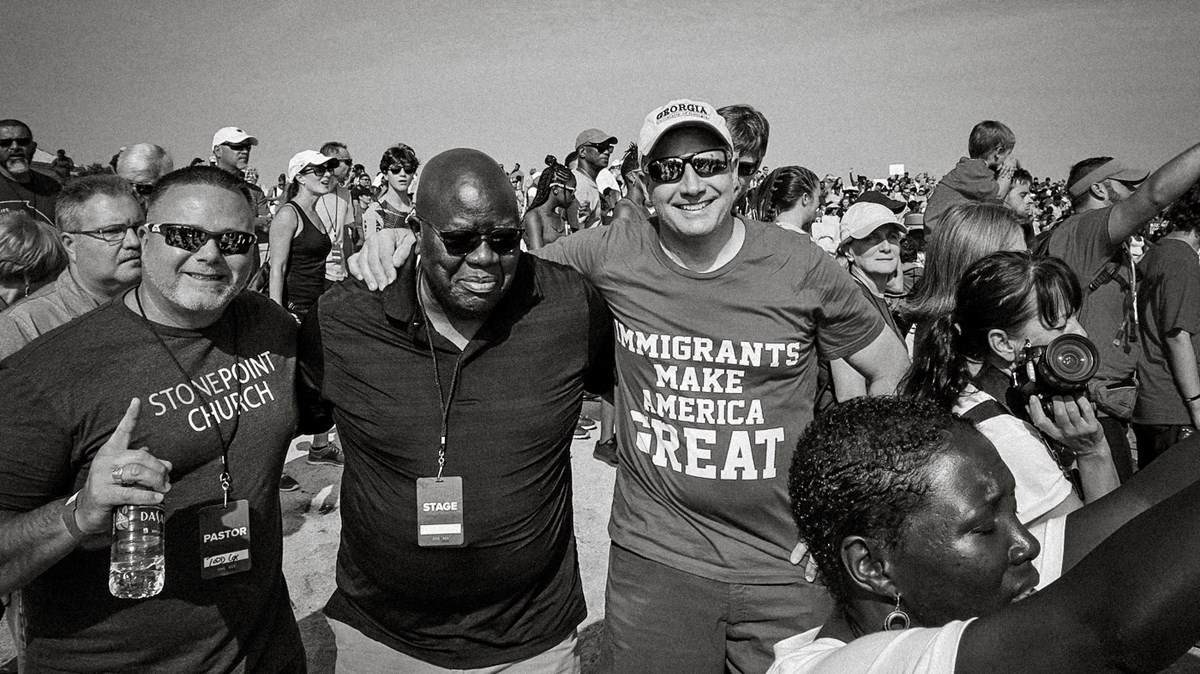 Image: Josh Shepherd
The location of the summit also drew attention. OneRace's leaders had a Christian vision behind their decision to meet at Stone Mountain. But even a few pastors were perplexed. Some noted that Stone Mountain celebrated the legacy of the Confederacy and local media described the event as "an effort to depoliticize the world's largest Confederate monument."
The gathering was meant to address "a stronghold and declaring the very opposite from a biblical Christian perspective," Hunt said.
"OneRace Stone Mountain wasn't about the carving, but rather the unaddressed history," Humphrey said. "Where church leaders led people into the sin of racism, church leaders have now repented of that sin and set a new narrative in place. The answer to what's dividing us as a nation across cultural and religious lines will not be found in politics or merely social movements."
Confederate monuments weren't the only controversial issue surrounding OneRace. During the main event, the organizers made the decision to acknowledge police brutality and the toll it had taken on the black community.
"We did acknowledge the pains and cries for justice out there," said Hunt. "There were several police shootings of unarmed black men, then unwarranted retaliation and attacks on police afterwards. You couldn't ignore the growth of white supremacy. We addressed not so much the politics as the extreme social actions, which showed a real divide in our nation."
One issue largely in the background was abortion. A number of pro-life activists spoke, including Christina Marie Bennett, Will Ford, Alveda King, and Matt Lockett, though racial unity was their primary topic. The crossover could hardly be missed, however. Many in the crowd, having been to other events with Lockett's anti-abortion prayer ministry, wore red wristbands with the word Life.
Other prominent voices who addressed the August gathering were more open about where they aligned on national concerns—with both left and right clearly present.
After Perkins led prayer atop Stone Mountain, one black woman approached to get a picture with him.
She mentioned her prayer ministry in Washington, DC. "Y'all are Daniel in the lion's den!" Perkins half-joked.
Later, after he had finished preaching about the need for church unity, the civil rights icon hinted at his skepticism of President Trump and faith advisers surrounding him.
"We got some leaders who need Jesus Christ," Perkins said. "[Trump's faith advisers] are making people Christians without discipling them. 1 John says we are to be discipled into oneness."
Yet, in a sign of the breadth of the event, one of Trump's faith advisers also attended and prayed at the event. After his remarks, Harry Jackson, a conservative black pastor in Maryland and spiritual adviser to Trump, urged an alternative approach to engagement.
"We are the prophetic voice saying, 'This is the way, walk ye in it,'" said Jackson, alluding to Isaiah 30:21. "Hypocritical, self-centered Christians need to stop trying to out-game and be more famous than one another. Stop talking and do something."
"If white pastors were working together with black and Hispanic pastors, we could put enough political pressure on folks to make something happen," he said, specifically referring to a delayed prison reform bill that he had helped advocate for. "We need to come together at the table of brotherhood and declare the way of the Lord to those who are carnal and secular."
After the Mountain Top
Since the event, queries from pastors and leaders have poured in, asking the OneRace team how they can replicate this experience.
Their advice: pray.
"Everyone has to go low and meet at the cross if we're ever going to have reconciliation and revival," Humphrey said. "You have to start with humility and seeking Jesus himself—not a denomination or political party. From that place of prayer and relationship, the Lord will begin to clarify his desires for their city."
Humphrey's advice echoes that of African American theologian Howard Thurman, a forerunner of Martin Luther King Jr., who "saw spiritual cultivation as a necessary accompaniment to social activism" according to one historian. King paraphrased Thurman's ideas in speeches and came to see prayer as essential to the nonviolent civil rights movement.
Image: Ashley Stephens / Courtesy of OneRace Movement
Their other tip: building relationships.
"If you're going to do it, it's got to be genuine," says Hunt. "OneRace started from six pastors and leaders coming together with our wives in a personal retreat so that we could pray together, learn about each other, know our family members' names, and legitimately have relationship one with another before we try to do an activity."
The long-term fruits of the Stone Mountain event remain to be seen. At the event, attendees had the opportunity to learn more about the work of Be the Bridge, an organization which facilitates local discussions of race issues in churches, and the And Campaign, a group which seeks to help urban Christians politically organize. All attendees were invited to sign The Atlanta Covenant, a five-part declaration against racism drafted in advance by leaders.
Such opportunities reflect the ambitious goals laid out by OneRace leaders. Specifically, one of four objectives is "to inspire 100,000 cross-cultural relationships and 1,000,000 acts of kindness."
For Perkins, the vision of OneRace is achieved when the church is brought together.
"God is bigger than any issue," Perkins said. "The only litmus test is that they know we are Christians by how much we love."
Josh M. Shepherd covers culture, faith, and public policy issues for media outlets including The Stream. A graduate of the University of Colorado, he previously worked on staff at The Heritage Foundation and Focus on the Family. Josh and his wife live in the Washington, DC, area.