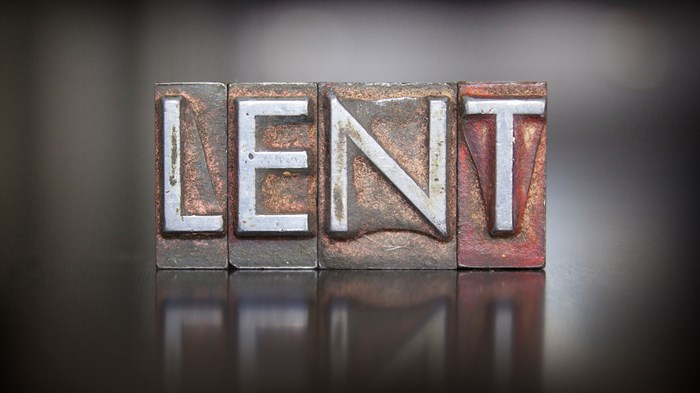 Image: elinedesignservices / iStock / Getty Images
[Updated March 13 with Stephen Smith's final analysis]
Once again, you can follow in real time what Twitter users say they are giving up for Lent, which this year begins on Ash Wednesday, March 6.
As in 2018, food items are two to three times as popular to abstain from as technology items or personal habits, according to 44,291 tweets (excluding retweets) analyzed by OpenBible.info's Stephen Smith during the week of Ash Wednesday 2019.
Topping the list was social networking, followed by perennial favorites alcohol, Twitter, chocolate, Lent, meat, and swearing.
"With the absence of a major political or social event, 2019 was a fairly typical year for what people said they would give up for Lent," wrote Smith, who has tracked Lenten tweets since 2009, in his final analysis. He noted that ideas with increases this year included Brexit, depression, anxiety, and gossip.
Last year's biggest increase was plastics, a trend reported by The Washington Post last week. This year the popularity of abstaining from plastics was relatively flat, but Smith noted its 464 tweets "almost bring it into the top ten."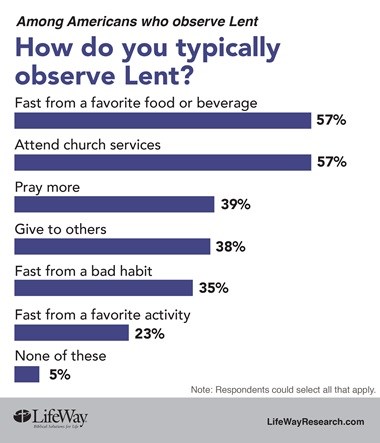 CT previously reported how LifeWay Research offered a chance to compare Twitter's serious vs. sarcastic sharers via a 2017 study on what Americans who observe the Lenten season before Easter say they actually give up:
Of note: 3 in 10 Americans with evangelical beliefs (28%) say they observe Lent; of these, 42 percent typically fast from a favorite food or beverage while 71 percent typically attend church services.

Catholics remain the most likely to observe Lent (61%), with 2 out of 3 fasting from a favorite food or beverage (64%).

Overall, 1 in 4 Americans observes Lent (24%), according to LifeWay. Most American observers fast from a favorite food or beverage (57%) vs. a bad habit (35%) or a favorite activity (23%).

Hispanics were the most likely ethnic group to observe Lent (36%), and were more likely than whites to abstain from a favorite activity (34% vs. 17%) or a bad habit (50% vs. 30%).
Smith made a word cloud of the top 100 results of 2019:

Image: Stephen Smith / OpenBible.info
For comparison, here are the top 100 ideas of 2018, 2017, 2016, 2015, and 2014.
Here are how the top 7 ideas have trended over time: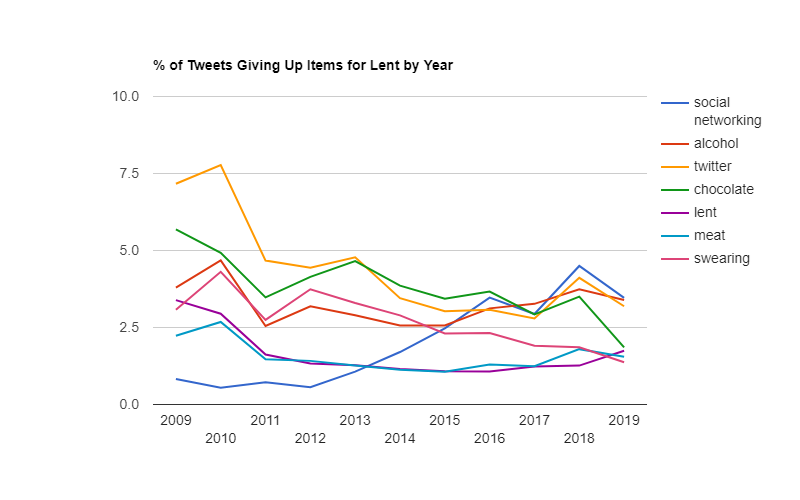 Image: Stephen Smith / OpenBible.info
CT regularly reports on Lent, including three views on why bother celebrating Lent, the best books to read for Lent, Lent in Narnia, and the argument for lengthening Lent. CT editor-in-chief Mark Galli offered his thoughts on "giving up self discipline" for Lent.
Below is Smith's final tally of the top 100 most-mentioned Lenten sacrifices (both serious and cynical) in 2019, as well as their change in rank from 2018. (This list cover all tweets from March 3–9 that mention giving up something for Lent and, except as noted, excludes retweets.)
Top 100 Things Twitter Gave Up for Lent in 2019 (based on 44,291 tweets)
Top Categories
| | | |
| --- | --- | --- |
| 1. | food | 8,004 |
| 2. | technology | 3,688 |
| 3. | habits | 2,963 |
| 4. | smoking/drugs/alcohol | 2,820 |
| 5. | irony | 2,097 |
| 6. | relationship | 1,800 |
| 7. | school/work | 1,490 |
| 8. | sex | 1,164 |
| 9. | religion | 1,016 |
| 10. | politics | 440 |
| 11. | generic | 427 |
| 12. | money | 353 |
| 13. | health/hygiene | 348 |
| 14. | entertainment | 224 |
| 15. | shopping | 182 |
| 16. | weather | 171 |
| 17. | sports | 165 |
| 18. | possessions | 54 |
| 19. | celebrity | 24 |
| 20. | clothes | 16 |