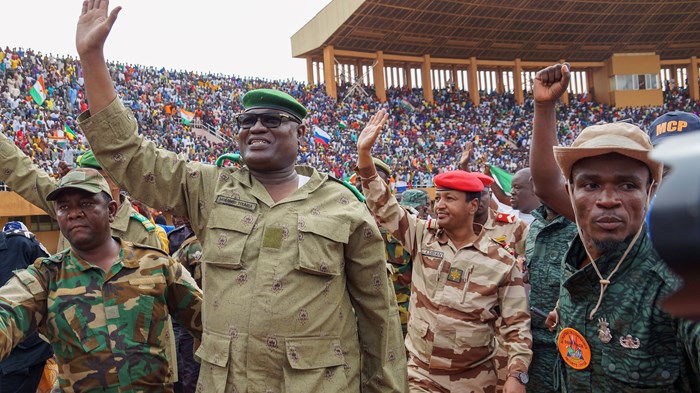 Image: Anadolu Agency / Contributor / Getty
The military coup in Niger has now entered its third week. Four days after the July 26 putsch, the 15-member Economic Community of West African States (ECOWAS) threatened military action if democratic rule was not restored within seven days.
That deadline has passed, and leaders are still mulling their options while imposing sanctions against the junta, the group of military officials that seized power. But worried by the seventh coup in the Sahel region since 2020, the remaining democratic nations in West Africa believe they must draw a line in the sand.
Neighboring countries Mali and Burkina Faso, both with military governments after their own recent coups, have warned that any foreign intervention in Niger will be considered an act of war against them as well.
Niger suffered its last coup attempt in 2021, right before the elected president—now deposed—was sworn in. The former French colony had been the last bastion of Western military cooperation against jihadist militants in the Sahel, amid the expanded regional influence of Russia through its Wagner mercenary unit.
Niger, meanwhile, is the world's seventh-largest producer of uranium.
CT interviewed Illia Djadi, Open Doors' senior analyst for freedom of religion and belief in sub-Saharan Africa. Though he resides in London, he is a citizen of Niger, a nation which ranks No. 28 on the World Watch List of the top 50 nations where it is most difficult to be a Christian.
Djadi provided the regional context, described the difficult but improving situation of Christians, and issued a strong appeal against military intervention [interview also available in French]:
How serious is the situation in Niger right now?
I am very sad. As a Nigerien, I find the situation difficult to watch.
But as an analyst, I can say confidently that what happened two weeks ago plunged Niger into a new era of uncertainty. The country is facing a terrorist Islamist insurgency coming from Nigeria, Mali, and Burkina Faso. And Niger is also one of the poorest nations in the world, with unemployment making it easy to radicalize our youth.
We are not in heaven.
But compared to our neighbors, we had been in a much better situation. For the first time in our history we had a president complete two terms in office before ceding power in democratic elections. And President Mohamed Bazoum did a lot to stabilize the country and improve security. I can't remember the last time we suffered a terrorist attack.
And despite its poverty, Niger is home to 300,000 refugees from other nations—because it has been safe. All this shows there was no justification for the coup, which is a major political setback. Active militants will take advantage of the resulting instability.
So why did the coup take place?
Personal ambition. The junta claims the coup was for security and because of economic deterioration. But some say the president was ready to appoint a new head of security. Having held his position for the last 12 years, the head of security needed to go—but he refused and deposed the president in order to keep his power.
Do you connect this coup to others in the Sahel region?
Only in two ways: There is an overall regional political fragility, and there's a copy-and-paste mentality. Because coups happened in Mali and Burkina Faso, people anticipated it could happen here also. West African youth widely hold an anti-French sentiment against the colonial past, and some have waved Russian flags during protests.
I don't know if Russia is behind the coup.
But the region is facing external influence exerted from France, the United States, Middle East nations, and more recently, Russia. Niger is the key Western ally in the region. And as a French-speaking country, we have many links. There is a new scramble for Africa underway, seeking its natural resources.
Within this contest, France is often made the scapegoat. Sometimes the scapegoating is valid, but France is not to blame for everything. And it is certainly not right to say, "Let's replace France with Russia." That is what happened in Mali and Burkina Faso, and these nations are moving in the wrong direction.
How so?
Political instability. Since its coup in 2012, Mali never recovered, as one coup led to another. Each new leader promises solutions, but the country is losing the battle against terrorism.
Burkina Faso's social uprising in 2014 also led to a military coup that tried to fix the resulting problems but never did. Again, coup followed coup, and today the nation has lost control over half of its territory to militant insurgencies.
Do you think ECOWAS military intervention is necessary to stem the tide of military regimes and the resulting instability?
No, it would make the situation worse.
Military intervention would create chaos, providing safe haven for terrorists. We don't want another Libya—which borders Niger and wound up exporting the crisis of instability to the whole Sahel region.
Whether Western or African, war would be a similar mistake.
Have Christians expressed an opinion about the coup?
No, as a religious community they don't have to do so. But they were included by the junta when summoning national stakeholders. The point was simply to convey explanations, and they did ask the church to pray for the nation.
The evangelical and Catholic churches have appealed for prayer—for a peaceful outcome to the crisis.
Nigerien Christians have no political opinion, but they do oppose the imposition of economic sanctions against their nation. These will affect everyone, as would war. But for the most part, Christians are concerned, afraid that if chaos continues, they will be among the first to pay the price.
Why so?
Back in 2015 at the time of the Charlie Hebdo protests in France, when the magazine published satirical cartoons of Muhammad, there were protests also in Niger. Muslims burned French flags, they burned a French cultural center—but then they went on to attack Christian churches, homes, and schools.
Many people associate Christians with Westerners, and once again, we see the burning of French flags. So it's raising alarm.
How do Christians fit into the social fabric of Niger?
They are a tiny minority: 1 percent of the population, against the 99. And though Niger is a secular country with freedom of religion protected by the constitution, Christians often face challenges. We have records of Nigeriens who have been denied scholarships to university because of their Christian names, for example.
Catholic Christianity came in the 19th century with French colonialism, but the Protestant church was planted largely by American missionaries. The largest denomination—today's Evangelical Church of Niger—stemmed from the work of SIM, coming up from Nigeria.
There is also a Baptist presence mainly in the western region. And in the 1980s, Pentecostal groups from various part of the world—France, the US, Nigeria, Burkina, and Ivory Coast—came to Niger, and created the Assemblies of God denomination, among others.
But by and large, Christians share the same poverty as everyone else.
What is your story of faith?
I was raised in the evangelical church. My parents went to a Christian school and eventually converted. My extended family includes Muslims and members of traditional religions, and we live in peace together.
In middle school, however, I became aware that I was different. Classmates asked, You are Nigerien, a Hausa, how can you be a Christian? I began to wonder if my faith was something wrong.
But by high school, I had developed strong convictions not only to defend my faith but to challenge others. My friends called me "the pope," after John Paul II, because I was not afraid to face a crowd. One needs to be strong to be a Christian in Niger, and when I reflect upon my current position as an advocate, this is probably how it started.
What is next for Nigerien Christians?
We don't know—the context is very fragile. But just as I said our nation is in better shape than our neighbors, so also the situation of Christians has been improving. After 2015, the government reacted against the riots to strengthen religious relations, and the church joined in the successful national campaign to promote social cohesion. Today, Christians are present in the public sphere, employed in the civil service. We have the freedom to preach—even to hold large open meetings.
When I last lived in Niger, I was the national leader of our youth fellowship, and we organized summer camps in churches and our Protestant schools. But today the camps take place in public settings with high officials in attendance, and are broadcast by public TV and radio services.
The military coup is a setback. But so far there are no indications of rhetoric against Christians. We fear instability and are praying for peace. God willing, this period of uncertainty will come to an end.