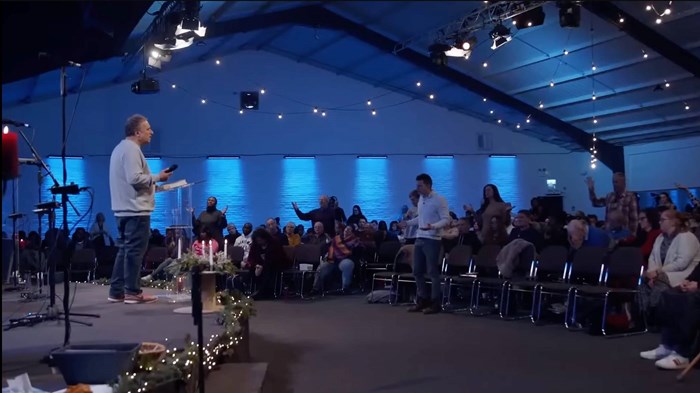 The last Soul Survivor festival, led by popular British evangelist Mike Pilavachi, marked the end of an era.
What began as a gathering of around 2,000 young people at a campsite in southwest England had grown into a movement of tens of thousands, with 32,500 people—mostly teens—attending the final event in 2019.
Pilavachi was the founder and figurehead of Soul Survivor and the driving force behind a movement that had embraced charismatic gifts and inspired a generation of young Brits to pursue Christianity in an age when the country's churches struggled to retain teenage worshippers.
Before this year, the first line in a recent statement from the youth ministry charity Youthscape would have read as a tribute to his legacy: "Mike Pilavachi's influence is such that a significant proportion of Christians in the UK and beyond will feel some connection to the ministry of Soul Survivor."
Instead, it was a warning. As the Church of England conducts a safeguarding investigation into allegations against Pilavachi, Youthscape issued a 2,600-word guide to help leaders respond.
"This news is likely to be disorientating," the charity wrote. "It could be causing us to question memories or experiences of the festivals we hold dear. We might feel disappointed, angry, or betrayed hearing that someone we trust is under investigation in this way."
Pilavachi's case comes as the church faces growing scrutiny over its safeguarding policies and response to abuse, with a string of leaders facing accusations spanning decades.
The claims against Pilavachi first became public in May, when British media published accounts from men who said Pilavachi massaged, straddled, and wrestled with them and others as teens.
Some had been involved in a gap-year program as interns. Alleged victims also described the emotional torment of falling out of favor with Pilavachi, an influential ministry leader.
"Young men were being picked up then discarded year after year. Like me, they would leave feeling like it was them who had messed up," one said. "Mike had the power to break your career … The only doors that would open for you were the ones that he opened for you to go through. For a teenager, it was emotionally devastating."
It is unclear what spurred the reporting of allegations to the Church of England this year. The church initially described the allegations as "non-recent," but the qualifier was later removed. Some said that concerns had been raised as early as 2004.
Pilavachi resigned in July from his church, Soul Survivor Watford, seeking "forgiveness from any whom I have hurt," but declined to comment further.
Pilavachi was ordained in the Church of England in 2012. The allegations against him follow high-profile cases of clergy who have used their position to abuse boys and young men in church. A few years ago, evangelical leader Jonathan Fletcher, who had served for 30 years at Emmanuel Church, Wimbledon, faced allegations of massages and naked beatings.

A review of the church's handling of his case underscored the risk of spiritual abuse by church leaders, noting that "the issue of consent requires further legislative scrutiny in contexts where there is a significant imbalance of power and/or status and/or age, including in a religious context."
Pilavachi began his ministry as a youth leader at St. Andrew's Church, a charismatic evangelical church in Chorleywood. He opened a café—Dregs—to reach young people. That ministry grew into a congregation of its own, Soul Survivor, which opened at a warehouse in nearby Watford.
While the average churchgoer in the United Kingdom is over 60, Soul Survivor Watford bucked Anglican trends and stereotypes. It was a congregation full of teens, led by high-energy lay leaders like Pilavachi. The vicar at St. Andrew's, the Rt. Rev. David Pytches, was Pilavachi's mentor and the church maintained a connection to Soul Survivor.
In Watford, the two pastors who led alongside Pilavachi—Andy Croft and Ali Martin—have known Pilavachi since they were teenagers. Croft, Soul Survivor's senior pastor, was one of Pilavachi's interns, while Ali Martin, assistant pastor, participated in a leadership and discipleship program after attending the first festival in 1993. Both were suspended in June, with a statement from Soul Survivor stating that this related to "concerns over the handling of allegations."
The response to the allegations against Pilavachi has reflected the silos within the broader Church of England—charismatic evangelicals were immediately shocked and shaken by the news and some Anglicans were unaware of Pilavachi's ministry at all.
Within the Church of England, charismatic revival, with its emphasis on baptism with the Holy Spirit and spiritual gifts such as speaking in tongues, has been a major influence in recent decades. The Archbishop of Canterbury is among those shaped by it. But it has not been universally welcomed. Some Anglicans are sympathetic to Joseph Butler, the 18th-century bishop of Bristol, who told John Wesley that "the pretending to extraordinary revelations and gifts of the Holy Ghost is a horrid thing, a very horrid thing."
The debate came before the Church of England's General Synod in 1981, with critics concerned that the charismatic movement was divisive and represented a "flight from the rational and intellectual." But it was also celebrated for having transformed parishes, making worship "warm, vibrant and meaningful for many Christians who had previously felt coolness and aridity."
In Pilavachi's case, his ministry was heavily influenced by John Wimber, the American Vineyard leader and "signs and wonders" evangelist who made his first of several trips to the UK in 1981.
In the same year that the Synod was debating the charismatic movement, this American visitor was having a dramatic impact on leading evangelical parishes in the country, including St. Andrew's in Chorleywood, his first stop.
The vicar, David Pytches, said there was "holy chaos," with people falling down in the pews. A later visit transformed life at Holy Trinity, Brompton, home of the Alpha course, and now a major church-planting force in the Church of England.
Pilavachi's first encounter occurred two years later in 1983, when Wimber addressed a worship conference in London. Pilavachi recalled in his book For the Audience of One being "totally unhinged" by the singing. "I spent a whole part of the week just crying and sniffling my way through songs … Many of the songs were incredibly simple and yet totally intimate. As I worshipped, I found healing for my soul. Intimacy set me free."
In the years to come, this approach to worship would become central to Soul Survivor's ministry. Soul Survivor has served as a stable for musicians worldwide, including Matt Redman and Tim Hughes. (Last month Redman commented on the Pilavachi allegations, revealing that he had "experienced first-hand the harmful behaviors that have been described.")
If music was one part of Wimber's impact, the other was a theology that democratized supernatural ministry. Among Wimber's mottos was "Everyone gets to play." This was the approach that Pilavachi adopted in ministry, preaching that the gifts of the Holy Spirit were for all of God's people, and encouraging young people to pray for one another accordingly.
While he was careful to speak about the dangers of "hype" and encouraged simple prayers and waiting on God, this ministry could have dramatic outward effects from crying to shouting and falling down. It was also a key part of what drew young people to Soul Survivor.
"Soul Survivor is one of the most tangible times where I have been able to meet with God and have seen other people meet with God," one young festival-goer told the Church Times at the final 2019 gathering.
On stage, Pilavachi was a captivating speaker, combining an easy informality and deadpan wit—often entailing self-deprecating confessions—with passionate exposition of Scripture and unabashed accounts of his own relationship with Jesus. In many ways, he defied expectations of Christian celebrity leaders.
In My First Trousers, a book on growing in faith that is part-memoir, Pilavachi described himself as a "swollen-bellied and gently maturing afro-haired bloke from Harrow," a London suburb.
In the same book, he wrote that it was "vital that we Christians perform regular safety checks on ourselves," adding that his own friends "know I want them to tell me anything they notice about my attitudes or behaviour which worries them."
"Mike was not thought to be a Christian celebrity," wrote Lucy Sixsmith, a PhD student at the University of Cambridge, in a blog reflecting on her own experiences of Soul Survivor.
"Vulnerability, self-deprecation: that was Mike's thing … Mike's audiences heard about the brokenness in his youth that led him to Jesus, the bouts of depression that hit during and after the summer festivals, his loneliness, his occasional habit of hiding from his friends … Soul Survivor seemed to be the genuine article. Mike Pilavachi did not seem to be a Christian celebrity."
She went on to suggest that "vulnerability could be toxic, a place to hide, a way to deflect scepticism: if a Christian celebrity sends himself up or strategically reveals some struggle or other, we all ask fewer questions about what power he has in fact, for all his gentleness."
Hers is one of a growing number of stories being shared online of Soul Survivor and Pilavachi. Former staff members, interns, congregation members, and festival-goers have turned to the internet to process their memories and thoughts amid the Church of England's investigation. This has included reflections that have gone beyond the specific allegations to explore the nature of charismatic ministry.
In its guide to healthy discussions with young people, Youthscape suggests, "If the allegations are true, it doesn't undermine everything that happened at the festivals, programmes or church … If you have had an experience of God through Soul Survivor, and this seemed real to you, you don't have to abandon it, whichever humans were involved in leading at the time."
But others have questioned this. Luke Larner, an Anglican priest who served on the "prayer and prophecy team" at the summer festivals, has asked: "What if the intense experiences, what if the incredible emotional highs of being in a big top with thousands of other young people, what if the overwhelming desire to be something bigger than ourselves, what if hearing a 'mission from God'—what if it wasn't real? What if it wasn't God? What would that mean?"
While Christians await the report, it is these accounts that are driving discussion within the Church of England about what happened at Soul Survivor and what the implications are for youth ministry and safeguarding in the future.
Though some had never heard of Pilavachi, they have now, and with so many of the church's youngest worshippers having experienced his ministry, they are forcing the conversation beyond its silos.