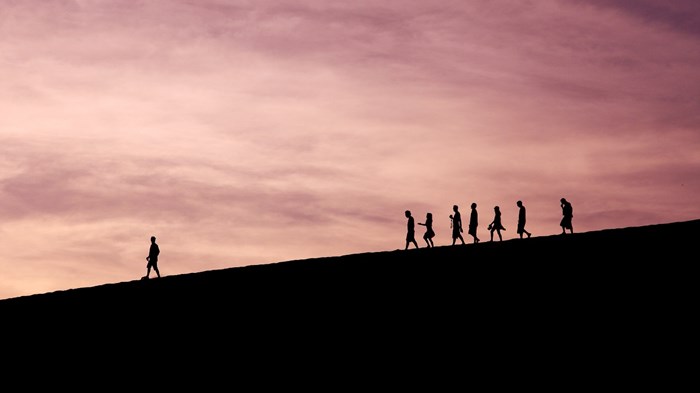 Image: Jehyun Sung / Unsplash
Five solemn-faced people assembled on the other side of the conference table, eyes averted. It was time for my performance review. Nobody seemed particularly festive.
For several months there had been rumblings about my pastoral "performance." Nobody doubted my gifts as a preacher or questioned my commitment to Christ. But everyone at the table that day knew there was a growing discontent with my skills as an administrator and leader. Still, I remained confident, ready to admit my faults and defend my record as their pastor.
A month earlier these members of our staff-parish relations committee had filled out an evaluation form, rating me on a scale from 1 ("needs a great deal of improvement") to 5 ("superior, excellent"). Now, everyone sat stiffly in their chairs, fidgeting with their completed evaluation forms.
Finally, to break the awkward silence, I volunteered to evaluate myself.
I gave myself 3's and 4's on most areas but rated myself a mere 2 ("needs some improvement") in leadership and administration.
"I confess that this area is not my strength," I said. "It's been a tough transition coming from a small church, but I'm willing to grow as your leader." How much more transparent and vulnerable can a pastor get? I thought to myself. Surely they'll have compassion, or at least pity, on me. They'll probably even insist that I be bumped up to a 3 ("fully satisfactory").
Billy, the senior member of the committee, tapped his pen and stared at his evaluation form. "Well, Pastor," he drawled, "actually I was thinking that a 2 was pretty high. As a leader and administrator, I gave you a 1."
I glanced at the full page of notes Billy had written in the comments section. "Poor communication … poor administration … confused leadership" were just some of the phrases that caught my eye.
"Billy, I don't think Pastor Matt is that bad as a leader," said a young woman named Janet. "I mean, if he was really that bad, the church would be falling apart."
Billy glared as if to say, "My point exactly."
After a half-hour of discussion, the committee agreed I wasn't quite bad enough to merit a 1. I squeaked by with a 2.
Confident pastor, insecure leader
Naturally, the entire process was discouraging and painful.
Most days I am a confident pastor. I entered ministry because I love Jesus, and he gave me a burning passion to love others. I love to connect people to Christ. I love to see the Scriptures come alive in people's lives. I love to lead people in worship. By the grace of God, I can do those things with passion and excellence. And God has used my pastoral gifts to touch souls for Christ.
For example, a few days after hearing my sermon on Jacob, "The Power of Surrender," a young man called to say, "I couldn't talk to you on Sunday about your sermon; I thought I might start bawling. You see, before I came to church, I was preparing to leave my wife. Your sermon nailed me right between the eyes. I'm just like Jacob: I keep eluding God and others. I recommitted my life to Christ during your sermon, and now I want to make things right with my wife."
One thing was abundantly clear: the pastor-lover-preacher model of ministry wasn't cutting it.
The week after this call, a new believer in Christ met me for lunch. For the past year he and I have met regularly for spiritual direction and mentoring. Prior to that, he was actively involved in the gay lifestyle for seven years. Now he is pursuing sexual wholeness through Christ.
"Matt," he said, "I can't believe all the junk you've seen in my life—but you've never given up on me. Thank you for being there for me. Thank you for being my pastor."
To me, that is the heart of ministry. For my first eight years as pastor, I kept my focus clear and simple—love Jesus and love people. The people of my small, rural church gave me a challenging but concise job description: "Preach the Word, teach our children, bury our friends, call us by name, drink coffee with us, point us to Jesus, challenge us to share and practice our faith. In summary, tell us the truth and love us." I didn't lead by concocting vision statements, five-year goals, and future staffing plans. I led by being a pastor-lover-preacher.
Now I'm in a church four times the size of my little rural church. Expectations are higher. Communication is more complicated. We have two full-time and five part-time staff. Many of my parishioners run their own businesses and supervise dozens of employees.
My parishioners still need the heart of a pastor-lover-preacher. But now they also want me to manage people, set goals, clarify the vision, help set salaries, resolve conflict, produce results, develop leaders, serve as public relations liaison, raise funds, streamline the organization, accelerate church growth, and promote organization-wide communication. Many of them were specifically trained to deal with these issues.
I'm trained in exegesis, hermeneutics, systematic theology, spiritual direction, and counseling. Billy had a point. My church administration skills are weak.
Two weeks before Christmas, for example, one of our staff members walked out of a church council meeting and resigned the next day. The congregation immediately started drawing lines, tugging on me to get on the right side. "Hire her back," said some. "Let her go," said others. I said, "Leave me out of it, but I sure love you guys!"
One thing was abundantly clear: the pastor-lover-preacher model of ministry wasn't cutting it. They needed a strong leader, a boss, a chief, a pilot. Or as our board chairman said, "Pastor, someone has to quarterback this church. I think that's you!"
Bad leader, bad person
The "good pastor, lousy leader" dilemma strikes at the root of my identity. It hooks my sense of shame. For me, it's a short slide from "I'm a poor leader" to "I'm an inadequate person" to "I'm a failure in my calling and therefore as a Christian."
My friend George pastors a booming church in the southeast. Mentored by some of the finest leaders in our denomination, George is a gifted leader and visionary. Church leadership issues are his passion. He devours books by Bill Hybels, John Maxwell, George Barna, and Rick Warren. George exudes confidence as a leader.
Whenever George shares about his church's growth, I don't feel angry; I just feel leadership-deficient. Why can't I lead a church like George? I say to myself. I devour books by C.S. Lewis, Feodor Dostoevsky, Richard Foster, and St. John of the Cross. Did I miss the leadership boat? Am I an incompetent pastor?
Amid this swirling sense of inadequacy, I phoned my pastoral mentor, 79-year-old C. Philip Hinerman, or as all his proteges call him, "Doc." For 37 years, Doc pastored Park Avenue United Methodist Church in the heart of Minneapolis. Today "Park" has a vibrant witness in the community, preaching the gospel and modeling Christ-centered racial reconciliation. But for nearly the first half of Doc's ministry, the church consistently lost members, dwindling from 1,400 in 1952 to 700 members in 1974.
I thought Doc would identify with my feelings of inadequacy, so I candidly asked him, "During those declining years at Park Avenue, did you ever feel like a failure as a leader?"
For me, it's a short slide from "I'm a poor leader" to "I'm an inadequate person."
"Absolutely not," he said without hesitating. "My church situation, my 'success' as a leader, was never a spiritual issue. It really had nothing to do with my value as a minister or my walk with Christ. I was surrendered to Christ when I started my ministry, and I was just as surrendered to Christ when we lost a hundred members a year."
Doc's perspective helped me separate my leadership struggles from my identity in Christ. I had made it into a spiritual issue: I'm struggling as a leader; therefore I'm a spiritual failure. After my conversation with Doc, the suffocating feeling of inadequacy began to lift.
Minimum leadership requirements
Without the cloud of inadequacy hanging over me, I was able to begin a different approach to these leadership issues. I realized every pastor must exert a certain level of leadership in order to shepherd the flock. I have faced my need for enhanced leadership skills. Although it's a steep learning curve, I'm educable.
"You guys in the ministry today are blessed," Doc told me. "You have books and conferences and videos. Learn all you can. Read like crazy. Pray like crazy. And then preach like crazy."
After my conversation with Doc, I committed my next year's continuing education time solely to pastoral leadership issues. So far it's paying off. I understand now that for me, bringing my leadership up to code means five things.
1. I must keep us focused on our mission as a church. I'm continually steering us back toward the big picture:—the mission, the vision. As we work through decisions, I'm saying to every committee, lay leader, and member, "Remember the big picture. What is our mission? What is God calling us to do?"
A few weeks ago, we gathered eight committed but conflicted lay leaders. Actually they were chewing each other to pieces. I came without a prepared speech or agenda except one: to open my heart and share my passion for ministry and my passion for our church.
With a broken heart, I spoke plainly of our mission: "I believe with all my heart that God wants us to reach out to lost, hurting, and broken people. God wants us to be a sanctuary for Christ's grace and healing. Unfortunately, I think we've grown too comfortable. We've plateaued spiritually and numerically. If we're going to reach out, we can't do it with 'business as usual.' Every believer needs to have a vital connection to Christ. And every believer needs to be equipped and sent out as a minister of Jesus."
After pouring out my heart, I listened to them. I cried with them. I called them to forgive each other and to join me in pursuing God's vision for our church.
2. I view my pastoral strengths as part of my unique style of leadership. Even as I grow in leadership skills, I know I'll never lead like my friend George. I'm not wired that way. But I do have gifts and a focused vision for ministry that the church needs every bit as much as George's gifts and vision.
For instance, my ministry passion—healing of souls through preaching and spiritual direction—doesn't immediately change the organizational structure of the church. By its very nature, spiritual direction notices the small, quiet movements of what God is doing in souls. Shaping souls through preaching isn't always flashy, either. Both are slow works. But when undertaken in the power of the Holy Spirit, they are eventually a powerful agent for change throughout the church.
3. I am making necessary decisions. In situations like the crisis over the staff member's resignation, sometimes a leader must make a decision and weather the storm.
One situation where that has become necessary is with our contemporary worship service. This fledgling service had caused a great deal of tension. Do we really need it? Is it cost productive? Why do we need new sound equipment for it?
I have made an unyielding commitment to support this service. I have explained that it is frontline outreach, and it's a solid, respectable worship service in its own right. I have made it clear that the service will stay, we will support it, and it is part of our mission to see it grow. The how is negotiable, but I'm sending a clear message: let's stop bickering, and whether you like the music or not, let's support the service and reach new people for the Kingdom.
4. I am asking crucial questions of the congregation. I am raising issues and focusing our discussion.
For example, I'm trying to use my current performance review as a launching pad to start extended discussions regarding pastoral roles and expectations. What is a pastor? What is my vision for ministry? What are the congregation's perceptions of what I should be doing? What are my gifts? If the pastor isn't gifted in administration, should we free him to do something else? What does it mean to be the Body of Christ?
5. I am communicating more. I discovered my biggest leadership problem has simply been a lack of communication. For two years I tried to change the culture of our church from a pastor-centered church to a lay-empowered church. Apparently people had no idea what I was up to.
I'm communicating my vision for ministry through formal channels—newsletter articles, placing the vision on meeting agendas, leading devotions that focus on our mission, planning open forums, and sending e-mails to committee chairs—as well as informal conversations.
One member of our church council, for instance, was obviously frustrated with my leadership style. I went to his office and shared my heart for ministry, about my desire not to do all the ministry but to equip the laity for ministry. I looked him square in the eye and said, "Our church is too weak and passive right now." He nodded in agreement. "More than anything I want to make a stronger church by releasing the laity for ministry."
Finally, something clicked for him. "I get it," he said excitedly, "It's like me and my assistant. She's trained to handle 75 percent of what I can do. There are some things only I should do, but we get almost twice as much done when she uses her gifts."
Now Jim and a few others are starting to catch the vision. Lay people are actually joining the front lines of ministry.
Julie excitedly shared, "Pastor, after our Bible study, Susan asked me to pray for her about some personal struggles." There was a fire in her eyes as she talked about God's call to use her in ministry.
Jill approached me about the need for a prayer ministry in our church. I told her, "God has already given you the passion and gifts. Why don't you start it?" Now she's leading a weekly prayer group.
For the past two years I possessed a compelling vision for ministry, but the congregation didn't know what it was. It was a communication failure. They couldn't read my mind.
Now I'm paying more attention to communicating my vision, my style, and my passions as a spiritual leader.
Mine is a unique brand of leadership that may not fit everybody's model of the leader-pastor. But as I grow in Christ and in ministry skills, Christ is beginning to close the rift between good pastor and poor leader.
Matt Woodley is pastor of
Cambridge United Methodist Church
404 North Cypress
Cambridge MN 55008