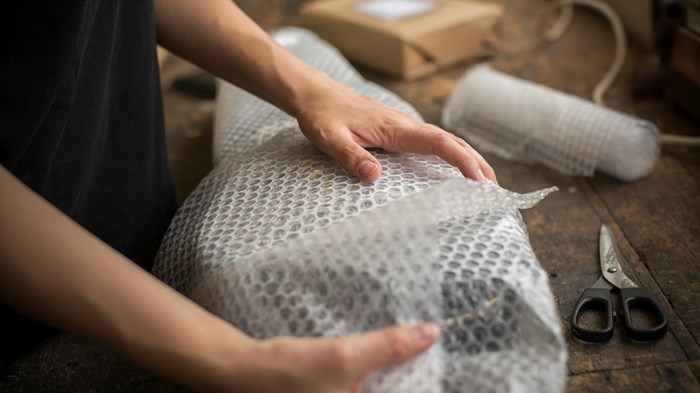 When my wife and I left a traditional church to plant a church by living as missionaries in a new city, we had no idea how deeply embedded we were in the Christian bubble. By "Christian bubble" I mean the subculture Christians create that allows us to conduct our entire life having minimal contact with anything "secular."
Bubble residents choose their activities based on where they can be with other Christians—from small groups, to play dates, to basketball leagues. The "world" is viewed as something to be avoided. We learned the Christian bubble can quickly envelop almost every aspect of life.
Taking a missionary posture with our church plant, we began employing strategies to build relationships with non-Christians. We hung out in coffee shops, invited people to our house, and talked to our neighbors. That doesn't sound like a big deal, but it was a challenge. We had spent our entire lives doing Christian things with Christian people, and engaging people who did not share our faith felt as awkward as a first date.
It turns out the Christian bubble is pretty thick. It took us a couple years to feel like we had fully left the bubble and learned to function outside it.
Baristas and Sinners
One of the things that pushed me out of the bubble was a stint working part-time at Starbucks (a requirement for church planters). When people found out I was a Christian, I could tell they were uncomfortable about it. Some hid their lives from me, while others ramped up the comments that were supposed to offend me. One young woman spent the entire day after finding out I was a Christian saying the f-word in my face to see what I'd do. Not a regular occurrence in the bubble.
The bubble is comfortable. There are unwritten rules about how to be nice to each other, what you can say and what you can't, and the correct answers to life's difficult questions. You know what you're getting. When you go deep with people who don't know about the bubble, you don't know what you'll get and there are no easy answers. It's not easy, as a Christian, to interact honestly with people who are getting hammered every weekend, intelligent agnostics, or guys who spend most of their time at the strip club. In the bubble you don't have to.
Our discomfort with the discomfort keeps us in the bubble, and it has some serious consequences. From inside the bubble, we look at "those people" from a distance. When you actually get close enough to become friends, you are confronted with the complexity of their lives—their struggles, their beauty, their sin, their humanity. You can't stereotype anymore. You start to care about them. You want them to trust and love Jesus because you love them, not just because they're "sinners." That is a tremendous shift.
The Christian bubble can destroy our passion to be part of christ's mission.
Jesus spent a large part of his time with those who made religious people uncomfortable. He was blasted for being a friend of "tax collectors and sinners." That's reason enough to start popping the bubble.
Mission Drift
It's far easier for us to say we care about Jesus' mission of making disciples than to actually do it.
During this season of our life, my wife attended a women's Bible study each week. It was a wonderful time of discussion, but it illustrated the difficulties of the bubble.
One week the leader asked, "Should a woman's close friends be Christians?" Immediately the group began voicing unanimous support for exclusively Christian close friends.
"I pray that my kids will just have Christian friends. It's so easy for them to be polluted by non-Christians," one woman said.
"You become like the people you're around. So of course your friends need to be Christians," another added.
My wife listened, and while she agreed that all Christians need close Christian friends to challenge and support them, she eventually spoke up: "I hear what you're saying, but doesn't the Bible say we're supposed to be salt and light to the world? I don't know how we can be light if we're in places that are always light. And when Jesus tells us to go into the whole world and make disciples, doesn't that mean we need to be in close relationships with people who aren't Christians? I think friends who don't share our faith can teach us a lot about ourselves-who we really are." The response? Silence. Complete silence.
This is not an indictment of those women, but it's an illustration of how the Christian bubble can destroy our passion to be part of Christ's mission.
More Than a Brand
In the bubble, your faith is seldom truly tested. As long as you know how to "look Christian," no one is going to push you too hard. To be brutally honest, the bubble is an environment that allows people to be Christians without being tested to see if they can find their identity in Christ alone.
A while back I got a postcard advertising a new coffee shop in downtown Denver. The logo had a big cross in the middle and the tagline was "the best coffee, tea, and pastries this side of heaven." The card trumpeted the opportunity to be in a "safe, Christian environment" that would only play Christian music, display Christian art, and host Christian groups.
I felt myself becoming angry. Part of my emotion was the sense that the cross was being used manipulatively to market a business venture. But I also sensed an attempt to bubble wrap Christians. Having a coffee shop like this made about as much sense as opening a Christian zoo so we could go look at monkeys without sharing space with those pesky non-Christians. It's one thing to create spaces that serve as an opportunity for mission—I know people who open coffee shops with that in mind—but it's another to create a space meant only for coffee-drinking Christians.
I wanted to get out a pin and start popping.
Bubble Popping Pastors
Getting out of the Christian bubble may be most challenging for pastors, since we are charged with leading and caring for a Christian congregation. At the same time, it may be more important for pastors to get outside the bubble than for anyone else.
Here are three pastors who've found unique ways to get outside the bubble.
Pub Pastor: Gary
It's a regular Wednesday afternoon for Gary. He's sitting at "his table" at a local Denver pub, the same pub he's been coming to since it opened eight years ago, working on his sermon for the Saturday evening contemplative service he leads.
Well, he's trying to work on his sermon. Every couple minutes one of the servers, the owner, or a regular comes by the table to chat. Most conversations are light-hearted, salted with sharing new pictures of kids and grandkids, relationship issues, and requests for advice about decisions being faced. But there's more going on than casual chat.
Gary treats the folks in the pub like family. He says repeatedly that being involved in their lives is a privilege, not an obligation or assignment. He has listened to and loved the people at the pub for years, and they have come to love him as well.
It is Gary's willingness to be there, consistently and without being pushy, that has allowed him to become the unofficial pastor of the pub. That's not to say he doesn't pray for the Spirit to work in the lives of the people he loves at the pub—or that he doesn't listen to what part the Spirit wants him to play in that work. In fact, he celebrates the ways he sees God moving in people's lives.
With a grin on his face he told me about a woman who works at the pub who he's come to know over the years. Recently she brought her whole family to church to hear Gary preach. They were there primarily because of her respect for Gary and a desire to see him "do his thing." They sat in the back row and waved like parents watching their kids in the Christmas pageant. The whole family is showing increased interest in exploring what Jesus is all about—because they've seen Jesus in Gary.
Gary is not a short-term missionary on a day-trip out of the bubble. He is an ambassador of Christ to this outpost of God's kingdom.
City Collaborator: Dave Runyon
When Dave Runyon started showing up at community meetings in the city of Arvada, Colorado, no one paid much attention. When they found out he was a pastor, they wondered what he wanted and their attitude about him ranged from ambivalence to caution.
Three years later I watched as he and the assistant city planner shared keynote speaking duties at a conference called "The Power of Partnership"—an event that brought together people from ministries and government agencies to explore collaboration.
One of the most powerful moments was when they took turns sharing five myths government workers have about pastors and vice versa. Their insights about the way each group stereotypes the other were brilliant. It was clear that these two people were willing to see each other as partners and friends, something that never would have happened if Dave hadn't stepped out of the bubble and into the municipal process.
Dave has worked hard to view the church through the eyes of his city. In the process he's found that pastors and city leaders have a lot in common.
He quips: "As a teaching pastor, I went to an endless parade of meetings trying to serve a large group with a high level of apathy. Now, with government entities I go to an endless parade of meetings with others who are trying to serve a large group with a high level of apathy." Kidding aside, Dave has found that churches and government services have far more in common than they realize and that they can be great allies in working for the good of the cities where they're located.
In the bubble this kind of understanding is impossible.
Biker Pastor: Randy Schoof
Ten bikers strode toward Randy Schoof, pastor at the Warehouse Church in Aurora, Illinois. These weren't health-conscious span-dex-wearing road racers. These were leather-clad, hard-core motorcycle riders.
These bikers form clubs that are more like gangs than hobbyists. As they rolled up, they gathered around Randy and one of them spoke up, "Would you pray with us?" Randy got to spend the next hour praying with them—that's a full-throttle prayer meeting!
This wasn't far from normal for Randy. For more than ten years he has been connected with the world of bikers. His connection to the motorcycle clubs is borne out of his passion for riding motorcycles himself. There's nothing he loves more on a warm sunny day than breaking out his V-twin cruiser and going for a ride.
So it was natural for him to connect with others who loved to ride. He didn't start a "Christian motorcycle club." Randy finds joy in the midst of bikers who aren't necessarily already Christian. He sees God moving in their lives, and through them God moves in his.
He knows he's called to proclaim the love of Jesus through actions and words to people who are unlikely to enter a church building. He loves people who love motorcycles and wants them to know that Jesus does too.
"I'm able to be one of the guys," Randy says, "because I really am." He's not faking anything. He loves motorcycles, people, and Jesus.
Many people, when asked to share their most powerful experience of the presence of God, would describe a time in worship, or their conversion, or their baptism. For Randy, it was officiating the wedding of two members of two local biker clubs.
He stood at the front of the gathering as the two clubs formed an aisle for the bride with their motorcycles. Once she came to the front, Randy stood in front of a large group of bikers, his friends, and shared the love of God for them, even if they are far from him. He was able to do this because of his relationship with the bride and groom and his love for all the people there.
"It was truly the time I most sensed the manifest presence of God in my life," he said.
Yes, God does exist outside the bubble.
Addicts and Bubble Wrap
Two years ago God called me away from the church planting venture to the opposite end of the spectrum: an established church in need of new life.
At this church we work with quite a few addicts. Most of them stay enslaved to the bottle or the pill despite their disdain for them. Becoming free from addiction means living every day intentionally, so they don't fall back into the patterns of life that destroy them.
I realized I too am an addict. I'm a bubble addict. I don't like the bubble, and I know it's bad for me, but for some reason I'm so tempted to go back to it—especially now.
Pastoring a church with a lot of needs on the inside has deeply challenged my commitment to passionately living outside the bubble.
There are many days when the things I need to do within the church take up all my time and energy. When those days string themselves together, I begin to fear I am reconstructing the bubble I worked so hard to escape.
I feel like a guy who loses 50 pounds and then eats a few cheeseburgers—I am terrified of destroying the good work the Spirit has done in me. I fear giving into my bubble addiction.
Two things I've realized while dealing with those fears:
First, the Spirit has helped me to see how he has changed me and my habits. I have developed a number of good relationships "outside the bubble" without consciously trying. That sounds silly, but when I first ventured out of the bubble it was hard work for me to form these relationships.
But these new relationships remind me that God has done good work in transforming me. Like any addict, good habits can replace the bad ones. It doesn't mean there's no danger of going back, but there is real, positive change.
Second, I have been challenged to recommit to living outside the bubble. Our family is once again becoming intentional about knowing our neighbors, and I'm looking for a tennis league (my natural interest) to play in.
Addicts live life one day at a time, sometimes one minute at a time. When sober, they experience freedom, joy, and real life. Yet despite that, the pull of their addiction never totally leaves them. They have to work hard to take hold of the fullness of life they can have when they live free.
Living outside the bubble, for pastors like me, is a day-by-day and sometimes minute-by-minute endeavor. Despite knowing it is best for us to live outside the bubble, we will always experience at least a little bit of an attraction back to its safety, comfort, and convenience.
For the sake of God's kingdom, the sake of our congregations, and the sake of our own faith, we must keep popping that bubble.
Trevor Lee was the pastor of Mountair Christian Church in Lakewood, Colorado.