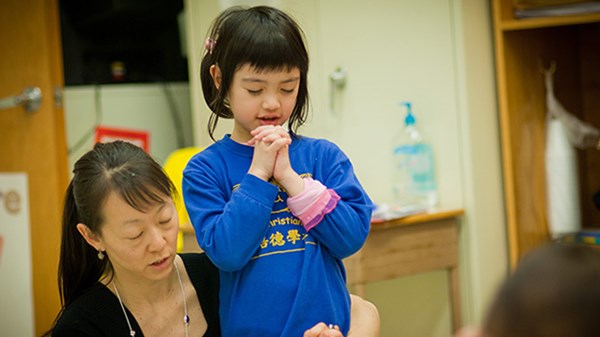 Keeping Christian Schools Alive in Urban Chicago
How Bright Promise Fund helps faith-based educators keep their doors open.
4.22.13
For private Christian schools located in low-income areas of Chicago, tuition payment is always an issue.
"Our school is really, really needy because we are located in an under-resourced area," says Bonnie Ho, principal of Pui Tak Christian School, a PreK-6 school located in the heart of Chinatown. "We don't want to raise the tuition too high, because we want to enable the underprivileged to attend."
But raising money is challenging in urban areas that have seen resources drain out to the suburbs.
"Our schools . . . constantly have to raise money for tuition," says Debra Flores, principal of Humboldt Community Christian School, where annual tuition is about $3,200. "Unlike [at] other Christian schools, a huge portion of it has to be raised."
It isn't easy, especially when administrators have their plates full with providing a safe and secure environment for children from low-income and sometimes dangerous situations.
But Bright Promise Fund for Urban Education makes it a little easier.
"[We fill] that gap for those church-related or community-developed Christian schools that have been struggling, to move them from viability to sustainability, so that they can dream again," says director Dave Larsen. Modeled after the Catholic organization Big Shoulders and the Lutheran organization Good News Fund, Bright Promise raises funds for Christian schools throughout the city of Chicago, advocates for vouchers in Illinois, and researches and writes grant applications for its seven member and two affiliate schools.
Most important, since 2010 Bright Promise has worked to raise funds from corporations, churches, and individuals who see the benefit of private Christian schools in under-resourced communities. Larsen said he'd like to be able to give each member school about $30,000 a year before promising financial support to additional schools.
Bright Promise board member Case Hoogendoorn, a Chicago lawyer whose firm represents charitable and faith-based organizations, goes farther still: "I would really love to see an organization like this get to a point where it could provide support approaching 10 percent of a school's budget. We're probably closer to 2 percent right now."
The plan is simple, says Larsen, whose background is in student development in Christian colleges. "Whatever we raise in a given year, we divide it into seven equal shares." Each of the seven member schools can spend the money how they see fit, though Bright Promise's board likes to see the money go to providing scholarships, says Larsen.
But, "we trust the governing board of local schools to know what their deepest needs are," he says. "They can use it for whatever they want."
Pui Tak uses part of its share—which amounted to about $10,000 in 2012—to assist with tuition payments. The rest was used to "put out fires," Ho says. Sometimes that means paying a bill; other times it means buying supplies or supporting a child whose mother has cancer.
Humboldt uses the money to ensure every family meets tuition. "It's very helpful to every child to keep the tuition where they can stay in," Flores says. "Our kids are a little different in that parents come to us looking for a safe and secure environment. They're families who need the Lord. Any direct and extra help that Bright Promise gives helps keep our school promoting that mission."
Though $10,000 isn't much given Humboldt's $520,000 annual budget, it is still a gift. "It goes directly to being able to provide academic instruction," says Flores. "It's not going out to do extra projects for us. Our budget is salary, keeping the programs going, and insurance on the building."
Being a Bright Promise school also offers Humboldt additional credibility with donors, she says.
"Some people won't care about a little school they've never heard of," Flores says. "But Bright Promise gives us a stamp of approval or stability. It's much like people who want to know if you're part of a group like CSI [Christian Schools International] or ACSI [Association of Christian Schools International]. It gives us some credibility that way."
And while donors still might not give to an individual school they aren't connected to, Bright Promise board member John Hays hopes they might give to a stable of likeminded schools.
"There are some donors—especially corporate donors, but [also] some individual donors—who want to see something bigger than just giving to one school so three kids can come," says Hays, director of congregational life at First Presbyterian Church in River Forest. "Here are seven different schools in seven different neighborhoods who have a similar, but not identical, vision. So it gives some donors the ability to catch that vision and see there is something bigger here."
A Grander Vision
Additional donor appeal is the evidence that stable, faithful Christian education benefits struggling urban neighborhoods.
"Our schools try to address some of the community problems, like crime, poverty, or irresponsible fatherhood, which has an incredible ripple effect when you look at violence in the city," says Larsen. "Kids can learn to be responsible to God and for each other. They can learn what it means to respect others and others' property, and they can learn skills and education to gain employment. We are addressing those things through education.
"A good public school could address that, too," Larsen says. "But a Christian school goes beyond isolation to a grander vision of the kingdom of God."
The kingdom of God comes, in this case, through the love of teachers and administrators.
"People will take their children out of Chicago Public Schools when they are bullied and put them in our school," Flores says. "We see it as a way to bring the love of Christ to many families."
Many of Pui Tak's students are recent immigrants who are facing unique challenges, Ho says. One 5-year-old girl recently had to be taken out of class for crying and screaming.
"She laid on the floor in the lunchroom and cried and talked in Chinese," Ho says. "To be an urban teacher is not just to be an educator. We are the mom, the guardian, the protector, the police, the nurse, the counselor. They come in with no breakfast. We need to attend to them. Unless we do, they can't learn."
And they are learning. Four Pui Tak classes took standardized tests in 2012, placing in the 89th, 92nd, and two 99th percentiles. Pui Tak teachers also focus on character education, spending extra time counseling both students and parents.
Other urban Christian schools have seen similar successes.
The graduation rates of Bright Promise students, both from their Christian elementary schools at 8th grade and from the high schools the students choose, is close to 100 percent, claims Hoogendoorn. "Between the seven schools, you have between 1,200 and 1,500 kids who are going to go on to high school and are going to graduate," he says.
Bright Promise is working to call attention to that achievement in a city where public school graduation rates were about 60 percent in the 2011-2012 academic year.
"One of our jobs is to keep prodding education writers for the Chicago Tribune and Sun-Times to make this more visible," Larsen says. "Test scores demonstrate the success of these schools. Most are accredited by outside agencies. There's no doubt that they're doing the job. They have dedicated teachers, thoughtful curricula, and small class sizes."
They're not unlike suburban Christian schools in that manner, but the reason Bright Promise limits its member schools to city limits comes down to resources.
"You'd be hard-pressed to find a need for this in the suburbs," Larsen says. Most suburban private schools don't operate in poverty communities and thus can cover their costs through tuition and fundraising.
Bright Promise is a model that could work well in other cities, says Hays. "I worked in and around Pittsburgh and Washington, D.C. This would have worked really well there."
Bright Promise has been a godsend, Ho says. "They are helping us to get the word out. I try to do as much as possible, but I can't spend hours on fundraising."
The ministry itself is a message to the Christian body to support and educate and nurture the next generation in God's kingdom, she says.
"I'm sure a lot of us understand the need of Christian education in urban areas," she says. "Bright Promise . . . is joining the team of Christian educators as our encourager and champion. We are educators. We provide excellent education and should not be deviated from what we are good at doing and are called to do. But . . . the reality is, we need finances to produce good education."
Sarah Eekhoff Zylstra is a freelance writer based in the Chicago area.
MORE FROM CHRISTIANITY TODAY