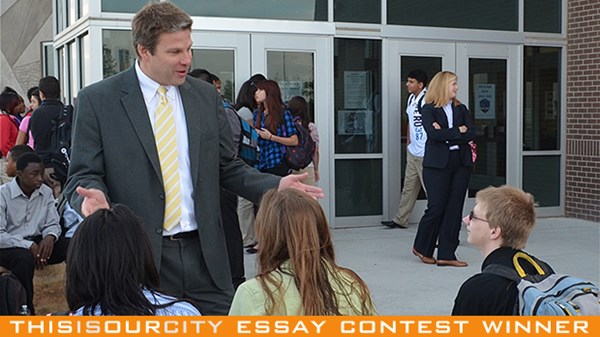 Image: Courtesy of Bill Kurtz
A Growing Charter School Planted in Rocky Soil
Bill Kurtz, founder of the Denver School of Science and Technology, has gained national recognition for his approach.
8.2.13
Ten years ago, a subtle desperation filled the aging halls of Denver Public Schools. In 2003, only 55 percent of Denver high school students graduated on time; that number dropped to 46 percent in 2008. As low-income populations rose, achievement tumbled. Denver, along with cities like Detroit, Chicago, New York, and Oakland, became a "dropout epicenter."
Despite noble efforts from teachers, issues like drug abuse, gang activity, and pregnancy fostered a "what's the point?" attitude among students. Even many of those who did graduate wouldn't go to college or be prepared to compete in a global workforce that was rapidly outperforming American students, especially in science and math. America's high school students were falling behind, and Denver was near the back of the line.
But ten years ago, when most saw hopelessness, Bill Kurtz saw opportunity. A former investment banker with JP Morgan Chase, Kurtz later served as principal of a school in Newark, New Jersey, that gave full scholarships to all students. In 2003, he decided to leave the East Coast and start a new charter school in Denver. Inspired simply by the opportunity to serve and a growing vision of the gospel he absorbed while attending Redeemer Presbyterian Church in New York City, in 2001 he became the founding principal of the Denver School of Science and Technology (DSST). In 2004, the new STEM (science, technology, engineering, and math) high school opened its doors in Park Hill, a neighborhood in northeast Denver.
The modern architecture, sparkling science labs, and newly hired staff of DSST all glimmered with hope. But the challenges of Denver Public Schools (DPS) remained daunting. The student population in Stapleton, an urban neighborhood, was 75 percent minority and 45 percent from low-income households, and DSST was completely nonselective in its admissions, accepting students from any academic, ethnic, or socioeconomic background. Could the students succeed with a rigorous STEM curriculum that included six years of high-school science and math?
MORE FROM CHRISTIANITY TODAY