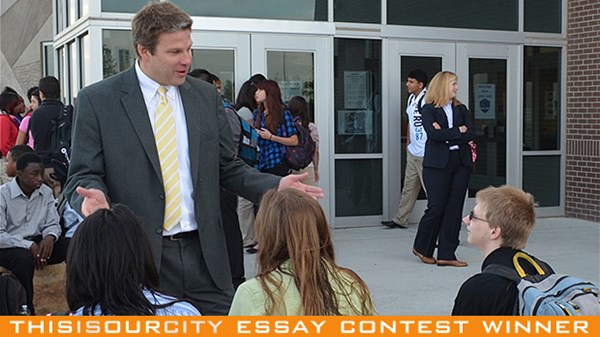 Image: Courtesy of Bill Kurtz
A Growing Charter School Planted in Rocky Soil
Bill Kurtz, founder of the Denver School of Science and Technology, has gained national recognition for his approach.
8.2.13
Ten years ago, a subtle desperation filled the aging halls of Denver Public Schools. In 2003, only 55 percent of Denver high school students graduated on time; that number dropped to 46 percent in 2008. As low-income populations rose, achievement tumbled. Denver, along with cities like Detroit, Chicago, New York, and Oakland, became a "dropout epicenter."
Despite noble efforts from teachers, issues like drug abuse, gang activity, and pregnancy fostered a "what's the point?" attitude among students. Even many of those who did graduate wouldn't go to college or be prepared to compete in a global workforce that was rapidly outperforming American students, especially in science and math. America's high school students were falling behind, and Denver was near the back of the line.
But ten years ago, when most saw hopelessness, Bill Kurtz saw opportunity. A former investment banker with JP Morgan Chase, Kurtz later served as principal of a school in Newark, New Jersey, that gave full scholarships to all students. In 2003, he decided to leave the East Coast and start a new charter school in Denver. Inspired simply by the opportunity to serve and a growing vision of the gospel he absorbed while attending Redeemer Presbyterian Church in New York City, in 2001 he became the founding principal of the Denver School of Science and Technology (DSST). In 2004, the new STEM (science, technology, engineering, and math) high school opened its doors in Park Hill, a neighborhood in northeast Denver.
The modern architecture, sparkling science labs, and newly hired staff of DSST all glimmered with hope. But the challenges of Denver Public Schools (DPS) remained daunting. The student population in Stapleton, an urban neighborhood, was 75 percent minority and 45 percent from low-income households, and DSST was completely nonselective in its admissions, accepting students from any academic, ethnic, or socioeconomic background. Could the students succeed with a rigorous STEM curriculum that included six years of high-school science and math?
But over the next decade, DSST would produce stunning results. Average ACT scores rose to 24.6 (the DPS average is 17.6). Every single senior in DSST's history has been admitted to a four-year college, and DSST graduates have the fifth lowest college remediation rate in Colorado. It's consistently recognized as one of the nation's top charter schools. In 2010, Oprah Winfrey publicly praised DSST by donating $1 million on live TV. As DSST expanded from one school to seven from 2008 to 2013, educational leaders around the country began asking, "How did they do that?"
Values, Community, and the Human Story
As I sat down for lunch with Kurtz at Udi's Bread Cafe in Stapleton, he wasn't quite what I expected of a charter school executive. Soft-spoken, deferential, and clearly reflective, he exuded a humility about DSST's accomplishments, insisting "we're not perfect" and "we have plenty of issues." Between bites of his apple walnut sandwich, I drilled down to the central question. "How have your schools been so successful?"
"We hire great people," Bill said, noting the challenge of hiring 120 new staff this year alone. "I also think it's significant that we have a clear goal for each of our kids, which is to send them to a four-year college." But in addition to goals and hiring practices, Kurtz consistently attributed their success to "the culture we create," a culture sculpted by DSST's core values.
Respect, responsibility, doing your best, integrity, courage, curiosity—the DSST values were originally crafted by Kurtz's leadership team, but now are the tacit background behind all DSST activities. "We create a values-driven culture...We expect our kids and ourselves to live our values, and those values are going to trump self-interest at times." Instead of rigid rules, which Kurtz notes usually aren't even enforced by most schools, or a free-floating relativism that lets students dictate their own morality, Kurtz believes in shaping student character through a set of fixed moral ideals embedded in community. "By creating a community that lives a set of values deeply," Kurtz said—"that is the best character development you can have."
Community is forged daily at DSST. Four days a week at 8am, DSST staff and students gather for "morning meeting" to recognize student achievement, acknowledge the school's values, praise service to others, own up to mistakes, and pledge to put forth their best effort each day. "We affirm you," Kurtz says in a promotional video, "but we'll hold you accountable to be extraordinary." Also, students are graded on upholding the school's values (for instance, one could receive a 1-5 on honesty), and students and teachers alike publicly sign the core values commitment at the beginning of each year. In fact, community is so important, Kurtz has capped enrollment at 500. "Everybody's success is important to everybody else. The bigger it gets, the more impersonal it gets." With such tight bonds, he said, struggling students are less likely to fall through the cracks.
Fertilizing the soil of these communal values is what Kurtz calls the human story. "Everybody wants to be affirmed for their unique gifts and talents, and everybody wants to make a significant contribution to the human story," Kurtz said. In a pluralistic setting of diverse beliefs, "There's a larger story that is part of the work we do, and people want to connect to that. People want to make a contribution that moves our world forward."
A member of Denver Presbyterian Church, Kurtz sees his work as a chance to build God's kingdom. "[Education] is a great opportunity for me to live out my faith. Obviously, public education is a secular space, and this is an opportunity for me to live out my vocation, serving the needs of others and building strong communities."
Mending Our Civic Fabric
DSST's reputation has sprouted in Denver like a conifer growing in rocky soil. A recent report published by nonprofit A+ Denver criticized a decade of failed school reforms in Denver and Aurora. Even though graduation rates rose by 20 percentage points since 2006, first year college remediation also rose while ACT scores stagnated—with one exception. Education News Colorado called DSST "the crown jewel of Denver's high school reform efforts." In Kurtz's view, DSST has brought renewed hope to public education in Colorado: "We've had an impact on what people think is possible in public education [in Denver], regardless of somebody's ethnic, economic, or academic background."
Judging from the opinion of journalists and reformers alike, DSST has ignited a spark of hope in public education beyond Colorado. On April 10, Kurtz testified before the U.S. House of Representatives on "Raising the Bar: Reviewing STEM Education in America." Shortly after, President Obama announced $3.1 billion to further STEM education in America, alluding to schools like DSST as models. Annually DSST hosts visitors from across the country who want to emulate its approach.
Yet for Kurtz, hope is mixed with dire warning. In the past 10 years, the number of high-poverty schools in America has increased 60 percent, from 1 in 8 to 1 in 5. Charles Murray, author of Coming Apart: The State of White America from 1960-2010, sees a class division emerging between wealthy and poor, educated and uneducated. And a 2012 report by three Stanford researchers shows that America's public schools are rapidly re-segregating, particularly in the South.
"The civic fabric of our country is being torn apart," said Kurtz. "We're going to be a majority-minority country in 2040, and our schools are becoming more segregated...If [students] go to schools that are not educating them, that do not provide the values important to a civic society, and they are only with kids that look just like them – we're in serious trouble."
But this is a challenge Kurtz is rising to. This summer, DSST opened its seventh school, with an eighth and ninth slated for 2015. On June 20, the DPS school board approved two new charter applications for two more middle schools and two more high schools. By 2022, Kurtz plans to have seven campuses and 14 schools with a total of 6,500 students. That means nearly 1 in 5 of all secondary students in Denver would walk the halls of a DSST school. "We could just sit back and do one or two schools," Kurtz said, seemingly unaware that leading two schools would be a herculean feat for most. "But we're called to do big things, and I think we can do big things. It will be challenging, but it's worth the difference we can make."
Jeff Haanen is an administrator at Front Range Christian School in Colorado, and previously served as a pastor and missionary. He holds a B.A. in International Economics and Spanish from Valparaiso University and a Master of Divinity from Denver Seminary, and attends Colorado Community Church with his wife and two daughters. He writes at JeffHaanen.com.
MORE FROM CHRISTIANITY TODAY