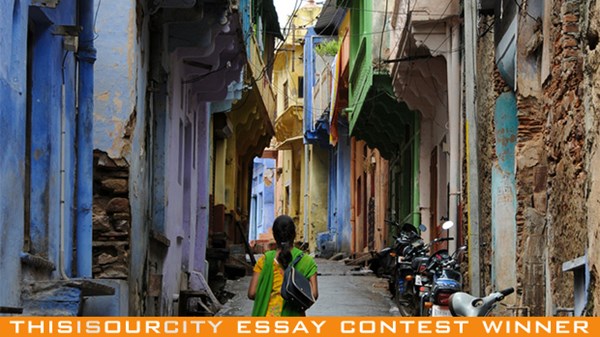 Image: Courtesy of Startracker / Flickr.com
How I Responded to India's Rape Epidemic
I never acted on my angry reaction to news stories. Until Nirbhaya was killed.
8.12.13
By God's grace, I have never been through sexual trauma. Indian by ethnic descent, I grew up in comfort, the child of godly, financially secure parents. The worst that happened to me has happened to nearly every girl in India: I've been sexually harassed by being groped countless times on public transport on the way to school. Those encounters were scary and stay etched in my mind. But they never compelled me to help women who suffer far worse things.
Perhaps it was because I once believed that social change can never really happen (as only the gospel can bring change). Perhaps it was because I didn't know anyone in my church who was passionate about serving suffering people. But for a long time, every time I read about sex trafficking or rape or molestation in the news, I would try to shut out a gnawing in my heart. Time and again, it would strike me that the woman or child who was at the wrong place at the wrong time could have been me. Yet I would resist delving into what she truly went through. There was nothing I could do for them. Who was I? Just a college kid. Later, just a wife. Later, just a mother of three.
And then, Nirbhaya was raped.
In the days following the rape and death of the 23-year-old in December 2012, mass protests broke out in Delhi and other parts of India demanding stricter punishment for rapists. Day after day, reports came out about hundreds of women and children being raped daily. The fact that I had a 4-year-old daughter fueled the flame that was raging in me. Yet this time, instead of feeling useless and slightly guilty, I pored over the reports—not in the objective, hurried fashion that I used to, but in a way that let me absorb, partly at least, their implications. More important, for the first time, I started thinking about whether I could reach out to these women.
Getting My Hands Dirty
It was around that time that a friend, Aravind Pulickel, began talking with my husband about creating a public forum for discussing social issues as a way to connect with not-yet Christians. My husband encouraged Aravind to start an initiative that would allow neighbors to talk about these issues and brainstorm ways to address them.
We live in a small town called Baner in the district of Pune, which is about three hours southeast of Mumbai. In the past five years, Baner's population has boomed, mainly because of the growing software companies and colleges in the surrounding regions. At the end of their brainstorming, Aravind had a plan: he would organize meetings every Sunday evening at a nearby coffee shop. The meetings would focus on one topic: rape and sexual harassment. Unbeliever and believer friends could talk about ways to spread awareness in Baner about sexual crimes against women and children.
To be a part of the initiative would mean getting off my couch and getting my hands dirty. It would also mean doing something I had never done before: joining with unbelievers to help other unbelievers—regardless of whether any of them were open to the gospel.
Up until this time, the idea of doing something for "the common good" was alien. I was brought up in a tradition that looked askance on associating closely with unbelievers—especially to bring social change. I had believed that when Jesus said his followers are the "light of the world," our holiness would set us apart from the dark world of unbelievers. I had not realized that, because of his undeserved kindness to us, we should show a similar heart of kindness and compassion toward others. It is we Christians, more than anyone else, who have the best reason for loving and restoring our communities.
Also new to me was the idea of partnering with unbelievers. Now I believe that when we join with non-Christians, they see at least a part of what redemption looks like, in our lives and in communal living. Because all people bear the image of God, the restoration that we seek in Baner—which is predominantly Hindu, with a Christian population of less than 1 percent—will resonate with at least some unbelievers. They will glimpse what the Father looks like, and will sense the need for ultimate redemption by the ultimate Redeemer.
Serve and Protect
Aravind organized the first meeting of ServeNProtect Baner three months ago. We were a small, motley group of about 10, joined by a common thread: we all wanted to spread awareness about sexual crimes and how to prevent them. Aravind's purposes were threefold: one, to deliberate about concrete ways to protect the women and children in our neighborhood; two, to include unbelievers in these deliberations so that ServeNProtect Baner would be a joint venture; and three, to get the group thinking about the root of sexual crimes.
When experts are decrying a "rape epidemic" plaguing our country, our work is needed now more than ever.
The response during the past months has been encouraging. Someone in the group suggested that we hold awareness drives in apartment complexes throughout Baner. Since then, we have created a Powerpoint presentation that includes practical steps for parents to ensure children's safety, how to talk to their little ones about "uncomfortable people," and what women can do if they are alone at night with a stranger. Word-of-mouth and flyers in the daily newspapers have drawn attention to our talks.
Another friend has started a Facebook page that allows the public to comment on ways to make our streets safer. In the coming weeks, we are meeting with local rickshaw and bus drivers to ask them to assist us (instead of treating them like the enemy). And we approached law enforcement authorities to collaborate on our awareness drives (though unfortunately, we have learned that no government involvement takes place here without bribery). We are speaking with a certified counselor who works with an NGO in Pune to join our awareness drives. Through all this, we hope that strong relationships will be built so that we can work together to protect each other.
One of the main outcomes of the meetings has been discussions about the heart of sin, the source of goodness, and the motive driving sexual crimes. How can true, lasting change come if change does not start in the heart? Questions like these have led to lively, life-changing conversations that have allowed our friends to glimpse the God of redemption.
ServeNProtect Baner is in its baby stage, but relationships are being forged. We hope that eventually, Baner will see the light of Jesus shine brightly and recognize that his followers are as concerned about restoration as their Master is.
MORE FROM CHRISTIANITY TODAY