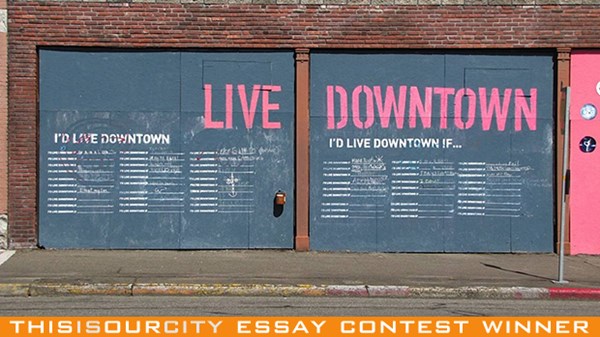 Image: Courtesy of Brandon Rhodes.
A Long Obedience in the Same Downtown
The local, highly ordinary gospel witness of Zoe Livable Church.
8.19.13
I'll never forget the first time Paul Sparks gave me a tour of Zoe Livable Church. He showed me community gardens, coffee shops, a bakery, a holistic health center, nonprofit offices, an intentional community, murals galore, and an expansive library. He told me about Zoe members organizing farmer's markets, block parties, and yarn-bombings. I was astonished by the hundreds of buildings, dozens of acres, and 6,000 residents within the purview of the church.
Most impressive about the scene is that Zoe's membership tallies about 25 in total.
The campus, of course, is not a church campus at all. Nor is any of it "theirs." It's downtown Tacoma, a brick-laden, three-quarter-square-mile quiltwork of splendid theaters, postwar offices, colorful antique stores, and drab parking lots, all steeply sloping some 300 feet toward Commencement Bay. Most of Zoe has sought to work, play, and live here for ten years. They made a decision to radically localize how they practice being church with the common good and the gospel in mind. They still practice most of what we expect a church to do—gathering for prayer, Scripture, the Eucharist, music, and the like. But they take a "nearby-first" approach to living it out. It's like their Prayer of Jabez, but in reverse.
'We're Here to Save the City!'
"When we first moved in, we went down the streets picking up trash, because we didn't know what else to do," says Holly Knoll, a graphic designer who has lived in Tacoma for nine years. "We thought we were changing the city one abandoned needle at a time. … Our vision was like, 'Hey, we're here to save the city!'"
In those days, Zoe's strong suit was musical festivals and Sunday morning innovations, and those assets carried through the transition from multi-county commuter to one-little-neighborhood community priorities. They opened a music venue called Club Zoe, and their Sunday gatherings weren't too different from many in the emerging church movement. "It was pretty silly," says Paul, Zoe's founding pastor. "But we didn't know any better." They moved in with already settled answers for the neighborhood's challenges, a sort of benevolent condescension that everyone I interviewed now reels over.
MORE FROM CHRISTIANITY TODAY