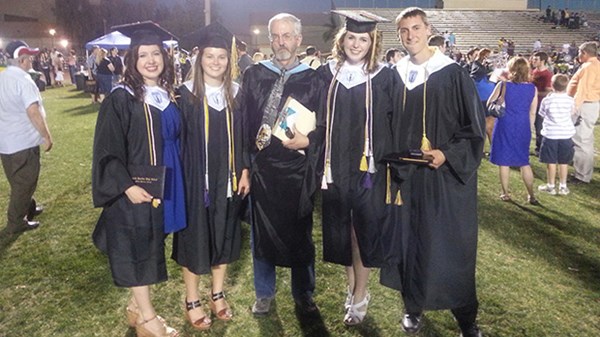 A Teacher Who Transcends the Job Description
When other educators left for better salaries, Thom Olmstead chose to stay for his students.
5.24.13
Thom Olmstead's career as a high-school math teacher got off to a rocky start. In 1976, eight weeks into a long-term substitute teaching assignment, Olmstead became "real sick." That sickness quickly progressed until doctors discovered a tumor next to his brain. Instead of grading final exams, Olmstead spent the last week of the school year having brain surgery.
The tumor was successfully removed. But in the process, the surgeon severed a facial nerve on the right side of Olmstead's face. Left with what looked like "a bad case of Bell's palsy," Olmstead says, "I wasn't sure if I would ever be able to teach. I wasn't sure if I would ever be able to talk right again."
A replacement surgery two months later successfully repaired the severed nerve, and while Olmstead was healing, he received a phone call offering him his first full-time teaching assignment. Then a newlywed, Olmstead says, "I was too sick to come to the phone. But my wife said, 'Yes, he'll be happy to take that job.'"
Thirty-seven years later, Olmstead is still where he started: east of downtown Phoenix teaching calculus at Apache Junction High, a public high school. While the nerve replacement surgery only cured about 50 percent of his facial paralysis, he can speak clearly to his students, many of whom are children of students from years past.
Olmstead acknowledges that a career teaching high-school math is far from glamorous. Yet he learned early on that, as a teacher, he could offer something to students that they might not get at home: a consistent and caring adult presence. "I had kids who lived in buses in a state park," he said. "They would come to school smelling like they were smoking, but it was because they had to sleep next to a fire at night to keep warm. Other kids couldn't do homework at night, because they didn't have electricity in the buses."
It wasn't just the poor kids who needed him. Not far from the state park was a wealthier community whose students fed into Apache High. "You had people who lived in million-dollar homes, being friends with people who lived in buses." Many students were desperate for stability. "A lot of teachers used our school as a stepping stone to teach in other districts, leaving after a few years for higher salaries. I wanted to stick around."
MORE FROM CHRISTIANITY TODAY