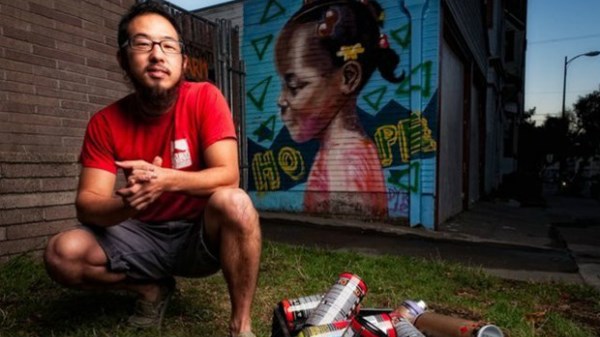 Image: Photo by Matt Beardsley
Shalom at the Tip of a Spray Paint Can
Muralist Dave Young Kim says his art is ultimately his city's, not his own.
8.19.13
All photos by Matt Beardsley.
Earlier this summer, documentary filmmaker Matt Beardsley premiered his film about muralist Dave Young Kim at a sold-out theater. The project came about when a West Oakland pastor asked Kim to paint a mural highlighting the neighborhood's powerful history. Beardsley wanted to make a film about how art can enhance a community, and when he found out about Kim's new project, Eighth Street was born. (The full documentary is available for rental here.)
Eighth Street chronicles the week Kim spent painting and celebrates West Oakland itself. Today it is the home of government housing projects, the BART, and the Port of Oakland. But West Oakland was once a hotbed of jazz and blues clubs frequented by Billie Holiday, Aretha Franklin, and Al Green. It was the center of the Black Panthers in the late 1960s. The mural includes local heroes like C. L. Dellums and A. Philip Randolph (leaders of the first black union), Slim Jenkins and Esther Maybry (blues and jazz club owners), Saunders King (jazz and blues musician), and Marcus Garvey (founder of the Universal Negro Improvement Association).
Laura Joyce Davis, a contributor to the City Project and an Oakland local, attended the Eighth Street screening and spoke with Kim about his story and his public role as an Oakland artist.
How did you come to Oakland, and how did you come to be an artist there?
I was born and raised in LA, went to UC-Davis for college, and then moved to San Francisco with my fraternity brothers. Seven years ago, I was living the high life and had a great biotech job, but my church and community had fallen apart. It was a spiritually dry time.
I started going to a Bible study run by a pastor from Regeneration, a church in Oakland. I saw an interview about the Darfur genocide, and it suddenly hit me that life was about much more than me. I wanted to see what was like Sudan around me. . . . So I quit my job and did a year-long internship at Regeneration. I lived in community, took people to rehab, cleaned the church, read the Bible three times through, and went through a curriculum. It was like being a monk for a year.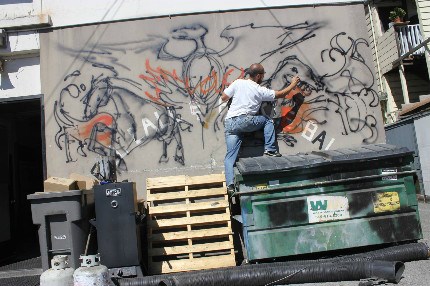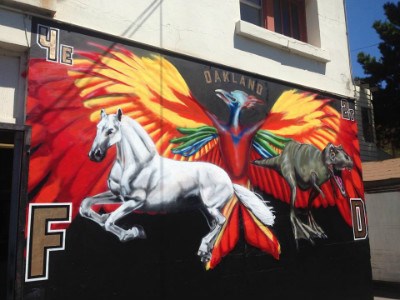 After I moved to Oakland I got a ticket and had to do community service. One of the options was doing art with kids, and I met a guy who invited me to join his tagging crew and do murals. Now I've worked on over 15 murals in Oakland. Most of the time people approach me, but other times I look for blighted buildings or spaces that could benefit from having art there instead. I'll contact the owner, try to get permission to paint there, and then do the work in broad daylight so I can be in conversation with the police while I work. I've never had anyone stop me, because it's clear that I'm trying to improve the space. It's not just painting the mural; it's cleaning the area, getting rid of trash, and leaving it better than I found it.
Do you feel like God called you to be an artist?
As a young kid I was the wildest child. . . . I had ADD, and my mom put me in every activity possible to try and calm me: soccer, keyboard, violin, Little League, piano, Tae kwon do. But it was only in art class that I sat down and focused.
I grew up in a Christian home—went to church, went to the camps, learned the stories. It was fun as a kid, but as I got older I just didn't fit in. I went to this group that met on Wednesday nights, but one night I came home and cried in front of my mom, and I never went back after that. But I kept looking for a place to belong.
In junior high my parents moved us out of the heart of LA to a suburb. When I got my license, I'd drive into LA and hang out with friends. I joined tagging crews that fed into gangs. Gangs were a rite of passage in LA, and one day my friend punched me in the face and then everyone jumped me. That was my induction. But for me it was always about finding a place to belong.
I had friends who got shot, kidnapped, and tortured. One guy overdosed on drugs. I owned a gun and got arrested once, but living in the suburbs saved me from being physically present when the worst things went down.
Meanwhile, I was still going to church, but I didn't fit in. We were the only Asian family, and the Bible didn't make sense to me in the reality of my wild, young life.
Then one day in high school my gang homeboys beat me up. I was being punished, but I never found out why. I was scared and didn't want to die, so I stopped going back to that neighborhood.
'The trick to thinking about any place is seeing it from God's perspective.' ~ Dave Young Kim
In college I joined a fraternity—another place to belong. I made partying a priority over grades and got kicked out. I barged into the dean's office and showed her my drawings and told her I would do art and do better, and I graduated with my BA in art (I'd previously been an animal science major). So art saved me in a lot of ways, but at that point I never thought of it as a career.
After my internship at Regeneration, I thought a lot about the inner urging to be an artist that had haunted me my entire life. After four years on staff at Regeneration overseeing the internship, I got up in front of the church and announced that I was resigning so I could pursue art full-time. It was a leap of faith since I didn't know if I could support myself, but I wanted to try. That was two years ago. I've been doing full-time art ever since.
Describe Oakland for people who have only heard that it has a lot of crime. What does your Oakland look like?
The trick to thinking about any place is seeing it from God's perspective. Every person has worth, inherent dignity, and the same desires that you and I have of wanting to be loved, have purpose, and belong.
Oakland does have crime, but I don't hide from it. I go out and get to know everybody and hear their stories, because until you do that, you feel this entitlement to call yourself the good guy. But nothing in life is ever so yin and yang. The queen drug dealer on my street had a basketball scholarship to a big school and the lady with the cart who tries to sell me things has a master's degree.
Oakland has such rich history, but it's also a history of suffering. With much suffering comes much creativity, which is why Oakland continues to influence and draw so many people.
Does art really make a difference in a city like Oakland?
I think it does. I worked on an old Fosters Freeze that was vacant for a decade, covered in graffiti, and in plain view of the community. I cleaned up the area and painted a mural there, and now the area has a completely different feel. There's a playground where there used to be piles of garbage. There's something that happens when a community takes ownership of a space, and that's easier to do if that space has become beautiful.
The subject of my murals varies, but I almost always try to make murals that people in the community can connect with. I want it to be relevant to them. I also try to invite people in that community to help me while I'm working. Sometimes it's kids. Sometimes it's random people who are interested.
I'm always asking myself if I'm living out my calling or fighting my calling. Am I caring for and connecting with the people while I do this mural? Do I leave an impact that is lasting after it's done? Did they get a sense of Jesus while I was there?
Eighth Street was about West Oakland, a neighborhood known for crime. What was it like working there?
I essentially lived on that corner for a week straight and got to experience the life of that block. After the film crew left, I would stay there by myself until 2 or 3 in the morning, painting. The community welcomed us with open arms. There were very few negative moments. . . .
The kids especially had a blast, and I let them help me every day after school. I remember as a kid those moments that shaped who I am today. I hope this could've been that for them.
I live in West Oakland, so any time I'm running, that street is part of my route. The last time I was there, one of the little girls showed me some of her paintings. Every time I go back, people say hi from both sides of the street and brag about how well they've maintained the mural. That's the thing about murals: You give them to the community to take care of.
When Eighth Street premiered, some in attendance were West Oakland residents. What was it like to see your work on screen?
Matt did a fantastic job. After the movie a little girl wanted to go home and do art, a little boy said he wanted be just like me, and I got e-mails from people with ideas that were sparked from things that were said in the film. I couldn't imagine a better response. I hope more people get to experience the film and are compelled to live out their calling. Hopefully it becomes a spark that starts fires.
MORE FROM CHRISTIANITY TODAY