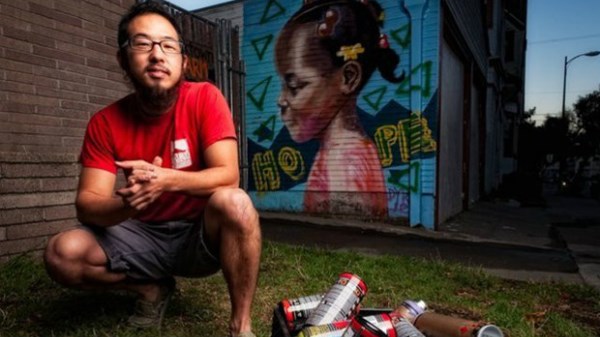 Image: Photo by Matt Beardsley
Shalom at the Tip of a Spray Paint Can
Muralist Dave Young Kim says his art is ultimately his city's, not his own.
8.19.13
All photos by Matt Beardsley.
Earlier this summer, documentary filmmaker Matt Beardsley premiered his film about muralist Dave Young Kim at a sold-out theater. The project came about when a West Oakland pastor asked Kim to paint a mural highlighting the neighborhood's powerful history. Beardsley wanted to make a film about how art can enhance a community, and when he found out about Kim's new project, Eighth Street was born. (The full documentary is available for rental here.)
Eighth Street chronicles the week Kim spent painting and celebrates West Oakland itself. Today it is the home of government housing projects, the BART, and the Port of Oakland. But West Oakland was once a hotbed of jazz and blues clubs frequented by Billie Holiday, Aretha Franklin, and Al Green. It was the center of the Black Panthers in the late 1960s. The mural includes local heroes like C. L. Dellums and A. Philip Randolph (leaders of the first black union), Slim Jenkins and Esther Maybry (blues and jazz club owners), Saunders King (jazz and blues musician), and Marcus Garvey (founder of the Universal Negro Improvement Association).
Laura Joyce Davis, a contributor to the City Project and an Oakland local, attended the Eighth Street screening and spoke with Kim about his story and his public role as an Oakland artist.
How did you come to Oakland, and how did you come to be an artist there?
I was born and raised in LA, went to UC-Davis for college, and then moved to San Francisco with my fraternity brothers. Seven years ago, I was living the high life and had a great biotech job, but my church and community had fallen apart. It was a spiritually dry time.
I started going to a Bible study run by a pastor from Regeneration, a church in Oakland. I saw an interview about the Darfur genocide, and it suddenly hit me that life was about much more than me. I wanted to see what was like Sudan around me. . . . So I quit my job and did a year-long internship at Regeneration. I lived in community, took people to rehab, cleaned the church, read the Bible three times through, and went through a curriculum. It was like being a monk for a year.
MORE FROM CHRISTIANITY TODAY