How to Teach the Bible So Others Understand
Whether you're teaching about God's love or sovereignty, these four steps will prepare you to teach.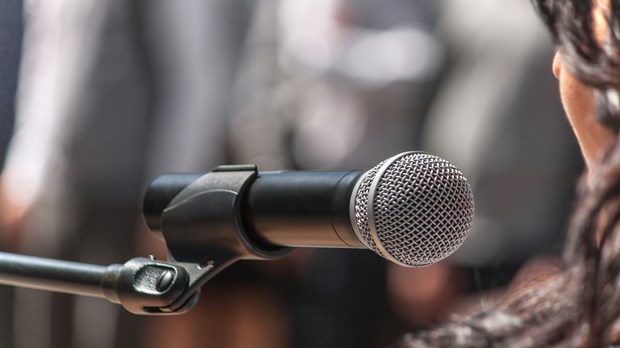 My phone flashed with a text as I began my day. "Hey. Can I come borrow some resources from you?" It was my friend Lisa, and she was preparing to teach a message to a large women's study. I could tell she was nervous. "I'm teaching on the sovereignty of God and I'm overwhelmed. I've read Tozer, Wright, Lewis. Can you recommend anything else?" My first reaction to this thread of texts was sheer delight. I was getting a front row seat to my friend's growing calling as a Bible teacher, and I loved it. My friend was being challenged in her faith and stretching to take on a thorny issue that often is treated with either Christian platitudes or not taught at all. I smiled as I considered how to reply—then decided this conversation would be best face-to-face.
Lisa grabbed a chair in my office for a quick chat. In many ways, Lisa is the perfect picture of a woman with the right stuff to teach the Bible. After spending several years as an elementary school teacher (with a master's degree), Lisa transitioned into a ministry role directing our church's kids programming. After passing off that role, Lisa now volunteered in our women's ministry, taking care of every administration need. As she continued growing, she started leading the teaching team for the women's ministry, a small group of women who take turns teaching each week. She has all the right raw gifts—a thirst for knowledge, the discipline for research, the skills for preparation, and, most importantly, a growing passion for God's Word and its relevance for our modern world. What Lisa was working to gain was both confidence and competence in her ability to translate this ancient text into effective teaching to engage both head and heart.
As I talked with Lisa, I felt myself growing encouraged, knowing that as good as video curriculum can be, growing local leaders who teach the Bible to their own community bring life and vitality and realness. It tells the woman at the bus stop that someone like her reads and believes the Bible. It tells the businesswoman that God's Word has power in her life—it's not reserved just for persuasive, professional communicators.
Varsity-Level Teaching
"Sovereignty of God is like varsity-level teaching," I told Lisa. She nodded in agreement and added: "My head is going in a million different directions. What about pain? What about people who've never heard the name of Jesus? What does our church really believe about predestination?" I laughed and nodded with her, feeling both her excitement and angst.