ADULT BIBLE CLASS
When the church school ceases to attract and teach adults as well as children, it misses one of its most important functions, for adult spiritual illiteracy is a serious problem of the contemporary scene.
Most of us have seen and probably inwardly smile at the sign "Don't Send Your Children to Sunday School—Take Them," but it is more than an eye-catching slogan. In it is to be found a serious warning.
Few church members are instructed Christians. The degree of ignorance among those who bear the name of Christ is appalling. Knowing neither the content of the Christian faith, nor its implications for personal living, Christians give a blurred image of their profession to the unbelieving world because they know so little.
Only Christians instructed in the Bible and with a philosophy based in the living Christ can cope with their personal problems and face the world in which they live.
That many have had no such training in childhood makes the need all the more pressing. That no one ever attains a full knowledge of the Word makes its study a continuing imperative.
No matter how faithful Christians may be in attending regular worship services, they will always need the instruction and stimulation found in regular Bible study, and one of the most profitable sources for such study should be in the adult Bible classes of the Church School.
Having had experience in this field, I can say unequivocally that the topics assigned for the International Sunday School Lessons have for years afforded a wide and comprehensive area of Bible study. Anyone following these lessons faithfully has of necessity acquired a great storehouse of knowledge and inspiration.
The crucial problem is not so much one of the lesson topics as their development from the Bible itself. A teacher with some theological or social hobby can often use any portion of Scripture as a springboard to depart from and never in his teaching get at the true meat of the Word.
On the other hand, the Bible is so rich in spiritual and practical truth that any particular lesson can be a source of enrichment for the soul.
The adult Bible class should be a place where the Bible itself is studied. It can be made a wonderfully stimulating and rewarding hour to all who attend. Whether the regular course of lessons is followed (why not?) or some topic of the book in the Bible made a subject of study, it can be made so interesting that people not only continue to attend but bring others with them.
Again we repeat—the Bible is such an inexhaustible source of truth that any deviation to other sources of materials, other than supporting ones, is unworthy of a properly trained teacher.
Any method of Bible teaching worthy of the name must impart truth, stimulate interest, and result in practical application. The downgrading of the "lecture method" stems in part from disapproval of the oracular approach, and many adult Bible classes have been smothered by orators rather than teachers.
The increasing popularity of the "discussion method" has yet to be proved best in the long haul. Lively interest and the exchange of opinions and ideas is justified only as it leads to the Bible as the final source and authority. Discussion groups have only too often degenerated into heated exchanges of personal opinions with resulting spiritual poverty for everyone involved.
The fruitful method is any system of instruction whereby members of a group are led to study the Scriptures for themselves. A Spirit-filled teacher will be used of God when knowledge of and faith in the Word is imparted to others who themselves go on to search out its riches and apply the truth to their own lives.
One method, found effective, is to take the portion of Scripture to be studied and look at it in the light of its total context and then break it down into its theological, historical, and essential relevance for our own day.
Let it be emphatically said that no one is prepared to teach a Bible class who has not first saturated himself (or herself) with the Scripture and then bathed the entire endeavor in prayer.
Some teachers find it effective to outline the lesson and its basic truths on a blackboard.
Others prepare a set of leading questions which they ask and thereby secure group participation. This can be most effective, and it requires a foundation knowledge of the subject plus the ability to bring discussions to a fruitful and appropriate end.
Adult Bible classes of any given church should be increasingly emphasized in the total program of the Church. Mere attendance at a leadership training course does not necessarily make an effective teacher. Some of the best Bible teachers have never had the privilege of such courses. Others who have had extended instruction are not personally prepared to teach. It is always vital to remember that successful Bible teaching is primarily a matter of submitting to the leading and help of the Holy Spirit and secondarily one of correct methods.
The pastor and church officers need to make inadequate programs of adult Bible teaching a matter of major concern. If responsible leaders cannot realize the importance of such teaching, they must first face up to this need, then promote it vigorously within the bounds of the congregation.
The development of such a program may take time, but it is tremendously rewarding. Church members become instructed Christians, and these in turn become concerned and active churchmen.
Once a particular church finds itself thoroughly infiltrated with men and women who know and love the Bible, many of the other problems are automatically resolved: world missions, stewardship, evangelism, and social consciousness all assume their rightful place in the perspective of the individual Christian and the church of which he is a part.
The adult Bible class can become the center of the prayer life as well as the active ministry of a church.
Realizing its vital importance, one pastor of a large city church, Dr. Charles L. King of First Presbyterian Church, Houston, Texas, conducts a Bible class each Tuesday morning at six, and it is well attended by business and professional men.
At the heart of the emphasis on adult Bible instruction is the basic truth that God has spoken, and we are well advised to find out what he has said.
Happy is the church where men and women are instructed week after week in the depths and riches of the Written Word of God. And happy are they who receive such teaching and in simple faith go out under the power and blessing of the Holy Spirit to obey it and bear fruit for Christ.
L. NELSON BELL
Have something to add about this? See something we missed? Share your feedback here.
Our digital archives are a work in progress. Let us know if corrections need to be made.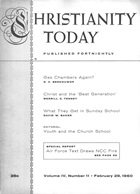 This article is from the February 29 1960 issue.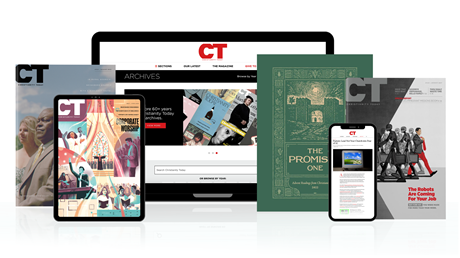 Annual & Monthly subscriptions available.
Print & Digital Issues of CT magazine
Complete access to every article on ChristianityToday.com
Unlimited access to 65+ years of CT's online archives
Member-only special issues
Subscribe
Adult Bible Class
Adult Bible Class