It may be that future students of Protestant Christianity, looking back on this twentieth century, will see in its latter half the emergence of an evangelicalism that combined full commitment to the authority of the Bible with openness to new knowledge and concern for contemporary restatement of the truth of God. In fact, even now there are plain indications of a renaissance of evangelicalism that is cutting across denominational lines with mounting strength.
Three trends in particular point in this direction. They are the coming of age of present-day evangelical scholarship; the maturation, philosophically and academically, of conservative Christian education; and the expansion both in depth and breadth of the Gospel outreach.
First of all, evangelical scholarship is growing up. Within the past 10 or 15 years many more books of scholarly competence and clear biblical conviction have been published than was the case in preceding decades. Moreover, the number of conservative scholars who, with training in first rank universities and graduate schools, are fully acquainted with competing liberal views, has markedly increased. In periodical literature, both popular and academic, the scholarly thrust is also being felt.
Again, evangelical education has been coming out of the shell of parochialism that has hitherto restricted its range. Whereas for years it proceeded unquestioningly along well-worn paths, educators have now begun to think critically about what they are doing and to work out philosophies of teaching and administration in accord with a biblical and theological framework. Slowly but surely the gap is being closed between an accredited secular education, academically respectable but spiritually ineffectual, and a zealous Christian education too little concerned about standards. Today schools and colleges committed to the evangelical faith are with few exceptions agreed that the attainment of academic excellence is not only compatible with doctrinal soundness but also obligatory for education that would glorify God.
As for the outreach of the Gospel, new methods, such as those of the Wycliffe Translators, short-wave radio, and the use of missionary aviation, are opening many doors; while agencies like Young Life, Youth for Christ, and Inter-Varsity, having attained a greater measure of stability, are in their fields keeping pace with the world-wide mass evangelism represented by the Graham Crusades.
But along with signs of advance there is great need for self-criticism on the part of the evangelical movement today. That it has weaknesses is undeniable. Also undeniable is the necessity for a candid consideration of such problems as these: a tendency to eclecticism; a confusion of interpretation with ultimate truth: failure to proclaim the whole counsel of God; and an insufficient awareness, at least by some, of the peril of schism.
The tendency to eclecticism is one of the hazards of contemporary evangelical thought. For conservative theology to be hospitable to new insights into God's truth is laudable, but for it to espouse new positions simply to keep up intellectually with the Joneses is dangerous. An aggregate of various views does not provide an abiding frame of reference. Although open-mindedness means listening to other views, there comes a time when one has to make up his own mind. The trouble with philosophical and theological eclecticism is that it is liable to be invertebrate.
But the coin has another side. The possession of a clear frame of reference must not lead to rigid identification of time-honored interpretations with absolute, immutable truth. No system of interpretation, no exegetical party line, however widely accepted, is to be equated with the ultimate truth of Scripture. This is not to deny the essentiality of sound doctrine. But deductive from Scripture must not be confused with the authority of Scripter itself.… It is the Word of God, both written and incarnate, that is truth.
To identify as another problem of evangelicalism the need to proclaim the whole counsel of God according to the Bible is to risk misunderstanding. After all, has it not been the pride of conservative theologians that they preach the whole truth as it runs the gamut of doctrine from the plenary inspiration of the Scriptures, the Virgin Birth, Justification, the Atonement, and the resurrection and second coming of Christ? These are indeed indispensable truths. Still it is possible to preach them and yet fail to proclaim the whole counsel of God. The Bible is not silent on the subject of love of the brethren. It speaks in trumpet tones against the violation of that love through man's injustice to his fellow man. The same apostle who most emphatically taught justification by faith alone said more about good works on the part of the believer. Love is part of the Scriptures. And if evangelicals willingly sit by in contented ignorance while the integrity of human beings is exploited, they are not declaring the whole counsel of God. Faithfulness to all of Scripture requires speaking with prophetic courage about even the hard problems of our age.
Finally, evangelicals of our time need to remember that the Church of Christ, though existing in various communions, is in organic relation with her Lord. A church may be unfaithful and corrupt. She may fall under the terrible judgment of the living God and her candlestick be removed. Clear warning of error and bold speaking of the truth may indeed be demanded. But there is a difference between reformation and schism. Reformation may be the very work of God; schism, according to the plain teaching of the Bible, is sin. Not even the most burning zeal justifies schism in the community of believers.
In this day when evangelicals face great and expanding opportunities to glorify God through the proclamation of Christ to a lost world, nothing short of speaking the truth in love will suffice. Only as such speaking is rooted and grounded in love can the evangelical movement discharge its responsibility to the risen Lord.
Have something to add about this? See something we missed? Share your feedback here.
Our digital archives are a work in progress. Let us know if corrections need to be made.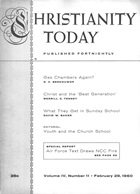 This article is from the February 29 1960 issue.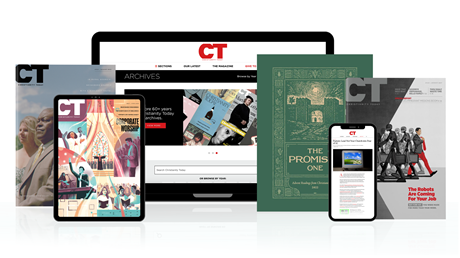 Annual & Monthly subscriptions available.
Print & Digital Issues of CT magazine
Complete access to every article on ChristianityToday.com
Unlimited access to 65+ years of CT's online archives
Member-only special issues
Subscribe
Review of Current Religious Thought: February 29, 1960
Review of Current Religious Thought: February 29, 1960