With joy shall ye draw water out of the wells of salvation (Isa. 12:3).
In middle age Alexander Maclaren discovered that he was wasting hours in deciding what to preach every Sunday. At his wife's suggestion he began doing expository work from a Bible book. This basic idea underlies the present discussion. A minister should plan all his work, according to the times, the local conditions, and his personality. Here we consider only the morning sermons.
Time for a Survey
Start now to make a survey of last year's preaching. During the yearly vacation, as in August, spend a morning hour every weekday on a general plan for next year, with a more detailed program for the first "quarter." Some men plan by the month, but a longer period allows for a larger number of consecutive sermons from a major book. In a month one could not do much with Genesis or Matthew.
This plan follows the Christian year, but not closely. Many nonliturgical pastors find the Christian year helpful as a general guide in what to preach. So we shall begin with December and go on through Easter. If that period seems far away, remember that meanwhile the minister has to do homework in the Bible. Who can find an easy way to do work for God?
After a prayerful study of Isaiah 1–12, two sermons showing how God prepared for the coming of Christ. The bulletin every week to tell the subject of the sermon next Sunday (not the text), and suggest passages for home reading. On the third Sunday a sermon telling the layman what to look for in Matthew as a whole, and then by paragraphs, all about our Lord as Teacher, with lessons about the Kingdom and the Cross. A minister enters the pulpit, not merely to explain a passage, but to use it now in meeting needs.
In such cooperative work a pastor ought to live with a major Bible book three months before he starts to preach. Here the idea calls for devotional reading of Isaiah 1–12 and Matthew. After each study hour put into a folder—either Isaiah, or Matthew—the gist of what the hour has taught about the passage.
Why stress devotional study? A minister should use a teaching commentary or two, with other scholarly helps, such as Unger's Bible Dictionary (1957). Yes, but only as aids in feeding his own soul. How else can he guide laymen in reading a Bible book devotionally? Then he will preach from any part pontifically, profoundly, and impersonally.
In devotional study do not keep looking for preaching materials and texts. At this stage, "No Hunting Allowed"! Later set apart a time to single out here and there passages inspired to meet vital needs today, each time with a brief text to serve as the entrance to a Bible garden plot. In this homiletical garden the Master should have all sorts of seed-thoughts growing for use in later sermons. Each one will profit from time to grow. Often a layman remembers a sermon about as long after he hears it as the minister had had it in mind before entering the pulpit.
In church history almost every effective pastor-preacher has had some kind of homiletical garden, unknown to laymen. Spurgeon and Beecher differed about doctrine, but not about working hard before every sermon. And yet the resulting message seemed to be impromptu! Each man endured "the discipline of the pen."
Spurgeon's Autobiography (four large volumes) shows that he toiled over his sermons, and that he spent a full day or more every week perfecting the form of the message that went into print. T. L. Cuyler, Beecher's pastoral neighbor and friend, in a book reported that Beecher toiled hard over his sermons. Often he held one back for weeks, or months, until it was ready. On the average he wrote out in full one sermon each working week.
While preaching from the first Gospel begin to study "The Acts of the Holy Spirit." While preaching from Acts get ready for a July series with four to five "Testimony Psalms." This calls for "Pastoral Counseling from the Pulpit." As a pastor, when I began to preach this way in midsummer, I saw no slump in attendance, and I enjoyed preaching as much in July as in January. But be ready!
A New Beginning
In September, a new beginning, with Genesis, "The God of the Chosen Family." As with Matthew, a "course" here consists of consecutive sermons from selected portions of a Bible book, with a weekly bulletin notice about only one sermon in advance. Before September the pastor enjoys three months with Genesis, reading in the light of the Gospel and the Acts. With clergy and laity alike, Bible reading begins with the Gospel. Read Old Testament history in the light of the New.
Next summer the plan for the ensuing year will call for less work. The trail may lead to Micah (December) and Mark, one of Paul's major epistles, four to five Prayer Psalms (c. 65 in all), and Exodus, "The God of the Chosen Nation." Chosen here means Covenant. And so on for perhaps ten years, enough for a typical pastorate, with books of increased difficulty after the minister learns how to guide the layman while swimming in deep waters. But only if the minister can make sermons from Job or the Hebrews interesting and clear to a boy or girl of ten or twelve. In two university centers I found that I could do this, my sermon was clear to every professor or student.
So much for method, which should vary with the man. What of the advantages? As a rule they come mainly to be people (Isa. 55:10, 11). Here we may think about the pastor. Obviously, the benefits do not come singly, or in the following order, but in the way the winter sunshine falls on waiting snow, to protect sleeping wheat.
1. In time the pastor gets to know his Bible, as written, book by book; within each book, by the paragraph, or poetic strophe. He learns to deal with each Bible book according to its inspired purpose and character. In recent times, even among seminary graduates, only a minister here or there knows his Bible this way. When ordained, I did not.
2. Gradually a pastor assembles a working library, centered round the Bible. Better still, he knows and uses a standard exegetical commentary or two on every major Bible book, with other scholarly works of reference that will not grow out of date. He ought to keep up with the times, as about the Dead Sea Scrolls, but the Bible books themselves have not changed since B. F. Westcott and J. B. Lightfoot wrote strong commentaries. Often today, the old is better!
3. The pastor enjoys morning hours of devotion, and later hours of study for coming sermons. Never does he have to live from hand to mouth, or preach without prior weeks of prayer and study. Also, he enjoys the time of worship as the best hour of all the week. Hence he wonders why many a noble Christian lad does not covet the joy of living daily with God's Book, and then on the Lord's Day using it to meet the heart needs of men and women, with their blessed boys and girls. What a privilege!
4. The minister learns to enjoy dealing with a definite passage every week, and with a specific subject, instead of conducting a Cook's Tour through the Bible, surveying heaven and earth, but never landing anywhere, so that the lay hearer feels at home at some fertile spot. In short, the pastor learns to enjoy what he does well for God and his people, and to do well what he enjoys doing as their guide in loving the Book.
5. Except during the yearly vacation such a minister remains at home and in the study, as well as in the homes of the people, five days between Sundays. Then he does his own preaching on the Lord's Day. Never does he need to confess: "I have been busy here and there, but my own vineyard have I not kept." To preach this way a man needs to know the people. Still more does he need to know God, through devotional reading and prayer for the people whom he leads Godward.
6. As a by-product of a Bible-loving and people-serving ministry, a man of God learns how to delegate work (Ex. 18:13–26), so that he can give himself to what the Lord expects from the pastor (Acts 6:4). Then he has time and serenity for all of his God-appointed privileges, including first-class care of the minister himself, both soul and body. What an ideal! Also, a reality today, here and there, in churches of assorted sizes, where each minister plans his work in God's way and to His glory.
7. Gradually the pastor should begin to sense the presence of a congregational revival, such as Spurgeon and his people enjoyed year after year in the London Tabernacle. A revival does not depend on special efforts and imported leadership—which prove needful under abnormal conditions—but on "the diligent use of the outward and ordinary means of grace, where lay folk come to church regularly; bring their boys and girls of school age, to sit in the family pew; give gladly for the Lord's work, at home and abroad; and bring to church unsaved neighbors and friends, in the spirit of prayer. All of this, I can testify, follows the right sort of planning the year's pulpit work.
Divine Empowerment
What of the objections to such a Bible-centered plan? They all have to do with human limitations, not with lack of divine power. When God sets a man apart for this holy work, He makes it possible for this honored servant to do all the work needful in study and pulpit, in the homes of the people, and elsewhere in the community. But only if by faith a minister plans as though everything depended on him, and then trusts because he knows that everything depends on his God.
Such a God-appointed pastor expects large things from Him, and then attempts large things for Him, through the laymen whom God loves. " 'Not by might, nor by power, but by my Spirit,' saith the Lord of hosts. 'Who art thou, O great mountain? Before Zerubbabel thou shalt become a plain' " (Zech. 4:6, 7).
For a fuller treatment, informative, not inspirational, see my book, Planning a Year's Pulpit Work, Abingdon Press, 1942.
ANDREW W. BLACKWOODChristianity Today's first issue each month contains The Minister's Workshop (see pages 44-46) with alternating introductory essays by Dr. Blackwood and Dr. Paul S. Rees. A monthly Workwood and Dr. Paul S. Rees. A monthly Workshop feature is Dr. Blackwood's abridgment of exemplary expository sermons.—Ed.
Have something to add about this? See something we missed? Share your feedback here.
Our digital archives are a work in progress. Let us know if corrections need to be made.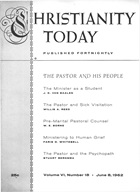 This article is from the June 8 1962 issue.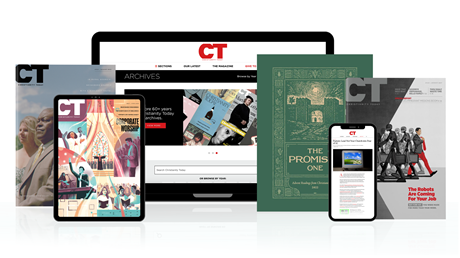 Subscribe to Christianity Today and get access to this article plus 65+ years of archives.
Home delivery of CT magazine
Complete access to articles on ChristianityToday.com
Over 120 years of magazine archives plus full access to all of CT's online archives
Subscribe Now
Expository Preaching: Preparing for a Year of Pulpit Joy
Expository Preaching: Preparing for a Year of Pulpit Joy