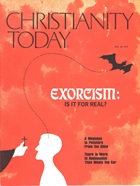 This article is from the July 26 1974 issue. Subscribers can read all of CT's digital archives.
First of two parts
Bob and his family would soon be moving, and I had invited him to my Office for a farewell chat. "Bob," I began, "I can not begin to teil you how God has used you in my Iife."
After I had expressed my appreciation, he replied, "Well, Pastor, every other place I've been I've always had a man—someone I've endeavored to disciple. But when the Lord brought us here he impressed upon me that instead of 'having a man' I should make myself available to you." Bob didn't realize that I, an ordained clergyman, had been "his man"!
For the past four years my life and ministry have been revolutionized by the training of and ministry by lay people. I have seen laymen win souls, follow them up, nurture them, counsel, administer, lead meetings, plant churches, train others, practice church discipline, minister to pastors.
I offer no miraculous formulas: at best we have only taken the first steps in moving from a traditionally pastor-centered, program-oriented assembly into the fresh air of spiritual multiplication through the Body. But I do want to share some of the practical principles the Chief Shepherd has taught me. If you as a pastor are going to see what laymen can do, you must:
1. Know your responsibilities.
When I was first called to Barcroft, no one handed me a job description. I had been called as "pastor," and it was time to start being one. What is a pastor to do?
During my first several years I tried to answer that question from the Word, and came up with four basics under which all the specifics have to be categorized. A pastor is to be: (1) a teacher of the Word, (2) a shepherd of the flock, (3) an overseer of the ministry, and (4) an equipper (outfitter) of the saints. If we do not concentrate on these God-given ...
1
What Can Laymen Do?