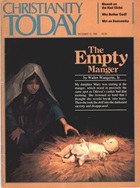 This article is from the December 13 1985 issue. Subscribers can read all of CT's digital archives.
Why is everyone from Falwell to Ortega being called a Nazi?
In this, the fortieth year after the end of World War II, nazism is alive. It is alive most potently as a symbol—a very powerful symbol used as a weapon to cripple the arguments of political and even religious opponents. It is a symbol available to all debaters, whatever their political or theological persuasion.
South African minister Allan Boesak, in opposition to that nation's pro-apartheid government, comments that his country is now led by "the spiritual children of Hitler." Jeane Kirkpatrick, former ambassador to the United Nations, argues that Nicaragua, far from being "another Vietnam," is another Munich—the city in which, in 1938, Neville Chamberlain acceded to the Nazi conquest of Czechoslovakia.
The right-to-life movement sees in the prochoice position a mentality similar to the Holocaust killing of the Jews and mentally retarded. The prochoice people, on the other hand, argue that the restrictions on freedom supported by right-to-lifers are reminiscent of Nazi totalitarianism. Constance Cumbey detects incipient nazism in the New Age movement, which celebrates the emergence of a new humanity adapted to a global civilization (The Hidden Dangers of the Rainbow, Huntington House, 1983). Many liberal church people regard Moral Majority and the New Right as analogous to the "German Christians," who sought to justify the program of National Socialism on Christian grounds.
Used so often by so many people backing very diverse causes, nazism is a powerful symbol in need of examination. Who is using it rightly? In fact, should the analogy between contemporary causes and that terrible era in history be made at all?
The almost irresistible fascination with Nazi Germany ...
1
Our digital archives are a work in progress. Let us know if corrections need to be made.
Everybody's Favorite Symbol
Everybody's Favorite Symbol