Twelve Months Of Sundays
Pity the preachers who have but 52 Sundays a year to cover the essentials.
First, they must acknowledge the church year, with appropriate sermons for Advent, Christmas, Epiphany, Lent, Easter, and Ascension Sunday.
There is also the civil year, obliging them to mention Valentine's Day, Saint Patrick's Day, Presidents' Day, Father's Day, Mother's Day, Memorial Day, Independence Day, Labor Day, and Thanksgiving—not to mention Law and Order Month, Get-Out-the-Vote Week, and National Pickle Week.
Then there are the denominational directives to observe Stewardship Sunday, an annual missions conference, Christian College Sunday, World Hunger Week, Bible Translation Week, and Pension Fund Day.
And depending on its theological stripe, each church has additional expectations.
Solid Rock Separated Saints expect Anti-WCC Sunday, Anti-NCC Sunday, Anti-Evolution Sunday, Anti-Abortion Sunday, Anti-Homosexuality Sunday, Anti-Gun-Control Sunday, Anti-Liberal Sunday, Anti-Moderate Sunday, and Anti-Not-Quite-as-Fundamental-as-We-Are Sunday.
The Church of Earnest Relevance, on the other hand, gets edgy if it doesn't celebrate WCC Sunday, NCC Sunday, Pro-Choice Sunday, Lettuce-Pickers Sunday, Support-the-Sandinistas Sunday, Gay-Rights Sunday, and I'm-Sure-Glad-We're-Not-Bigoted-Like-the-Fundies Sunday.
If you preach at a Cathedral of Unlimited Possibilities, you can't let a year pass without God-Wants-You-in-a-Rolls-Royce Sunday, Where-Is-God-When-Your-Income-Isn't-Six-Figures Sunday, and Impossible-Is-a-Dirty-Word Sunday.
Wow Before You Bow Churches demand Jocks for Jesus Sunday, Criminals for Christ Sunday, Midgets for Morality, puppets, gospel magic, and a Bust Our Bus Attendance contest.
Pray for our pastors. As you can see, squeezing in the whole counsel of God isn't easy.
EUTYCHUS
The Hemingway Tragedy
I was disturbed by the recent article, "Ernest Hemingway: Tragedy of an Evangelical Family" [Nov. 23]. I question whether anyone in the family was truly regenerated in the biblical sense of the word! To say they were "religious" because they attended church would have been more accurate than to call them "evangelicals."
CAROLYN WHEELER
Tucson, Ariz.
The article on Ernest Hemingway was one of the most moving I have ever read. I was moved when I read The Old Man and the Sea several years ago, but didn't really know why. Over all, the article is sad. It should give us all something to think about.
JASON HOLLOPETER, Th.D.
Selingsgrove, Pa.
Hemingway was deprived of life's most fundamental gift—the love and acceptance of parents who model the love and acceptance of Christ. It is little wonder he never "discovered" God. But grace might allow us to think that God never deserted Hemingway, even in his wayward suffering and loneliness.
REV. THOMAS P. EGGEBEEN
First Presbyterian Church
Sapulpa, Okla.
The proper place for an evaluation of Hemingway's life and literary output would have been in the Refiner's Fire column. To devote page after page to pictures and text describing the life of a troubled and tragic man seems to me to be in wretched taste.
WILMA BOSE MITCHELL
Iowa City, Iowa
Please stop feeding us a diet of movie reviews and human interest stories. Most important, stop these articles of godless men (Gandhi, Hemingway) filled with Christian imagery and language. These men have taken thousands to hell with them through the influence of their lifestyles and writings. They do not need additional exposure in a Christian magazine.
REV. ROY E. ROW
Manchester Christian Church
Manchester, Ky.
Individual Versus National Rights
"What is true for the individual should be true for the nation as well," writes John A. Bernbaum ["Oh No! Anything but Central America," Nov. 23], and attacks the "illusion that national self-interest or self-preservation is the primary goal of foreign policy." How inconsistent Bernbaum's use of this principle is. He sounds more like a libertarian than a conservative, a moderate, or a liberal. If he wishes to cling to that principle, he should recognize that it makes mincemeat of his own argument. Individuals have the right to protect their own lives, liberties, and properties against agression. If Bernbaum's "principle" is followed, nations have that right as well.
E. CALVIN BEISNER
Colorado Springs, Colo.
Bernbaum's article is more than my mind can tolerate. Please cancel my subscription immediately.
PHILLIP E. LATHROP
Huber Heights, Ohio
Evangelizing Jews
From August 1976 to November 1977, I was employed by the Anti-Defamation League of B'nai B'rith in their national headquarters. I can say unequivocally that CT [Nov. 23, "Jewish Leaders Attempt to Fight Effects of Evangelism"] greatly understated the weight of organized opposition by significant elements in the Jewish community against the evangelization of Jews. In my personal experience, it was evident that the ADL and other Jewish organizations were not above using dis-information to discredit Jews for Jesus in the eyes of Jews and Christians as well.
DOUGLAS YEO
Baltimore, Md.
The Gospel In Russia
You irk me. In reporting on the Russian Christian scene, an article is headlined "The Gospel Flourishes in the USSR's Second Largest City," [News, Nov. 23]. Without wishing to minimize Protestant believers in Russia, I object to such a statement. The gospel flourished long before any Baptist church was ever in Leningrad; it has been flourishing in Russia since the ninth century. As I leaf through a copy of the Orthodox liturgy, it is safe to say that there is more "Bible" in any Sunday liturgy than was dreamt of in a Baptist service. I dare say that the Russian Orthodox church has provided the Lord with more martyrs in the last 60 years than the church has known in the prior nearly 2000 years. For heaven's sake, since the magazine calls itself CHRISTIANITYTODAY, please don't forget that most of Christianity today resides in those of us who share the Catholic tradition.
FATHER WINSTON F. JENSEN
Church of Saint Alban the Martyr
Superior, Wis.
American Methodism
I want to commend you on your choices of authors to write the articles concerning "American Methodism at 200" [Nov. 9]. You provided a balanced picture. Let's see more input in CT from Wesleyan evangelicals!
REV. J. JASON FRY
First United Methodist Church
Alice, Tex.
I write with considerable consternation about your very negative set of articles about the United Methodist Church. Of the three, Kinlaw's was the only one that showed any balance and fairness. Keysor's article reeks of sour grapes. Robb has a political agenda. The least you could have done was offer at least one favorable viewpoint! However, considering your publication's general distaste for mainline Protestant denominations, I am not surprised.
REV. DALE A. SCHOENING
The United Methodist Church
Knoxville, Iowa
Thank you for the "Methodism" articles. I appreciate Chuck Keysor's "salute" to those of us who remain. I for one remain because God would have me here. I consider myself one of an army of full-time evangelists. Every time my bishop moves me I am placed down in a ripe evangelistic field. My job is to "make disciples," not to collect and coddle someone else's labor.
REV. JOHN M. DUNNACK
Mt. Salem United Methodist Church
Wilmington, Del.
The United Methodist Church with which I am acquainted bears no resemblance to Keysor's caricature. The 1984 general conference strengthened its standards, yet with a charity as big as the great heart of God. I think the article missed the mark and fell short of being helpful to anyone at all.
REV. STEPHEN C. CONTE
St. Mark's United Methodist Church
Council Bluffs, Iowa
As a United Methodist pastor and seminary student, I read with great joy the comments your writers made. Like many others, I too have since transferred to a seminary not related to my denomination. But as Robb mentioned, there is cause for hope. The Spirit of God, at least in the local churches, is still very much alive in our denomination.
REV. LLOYD K. KEIBER
Deerfield, Ill.
Of Partisan Politics
I enjoyed your editorial "Partisian Politics: Where Does the Gospel Fit?" [Nov. 9]. I agree that "Today's polemics can be … overblown." The scare tactics of some members of the right wing seem to be trying to co-opt the Christian church into the John Birch Society for its political aims. I am tired of seeing these people bend the context both of Scripture and of their opponent's statements in a frenzied attempt to prove their points.
PAUL E. MOORE
Parsippany, N.J.
I snort at this editorial. It takes a lot of gall to advocate paralysis and circumspection. The Bible is clear. Sin is wrong.
ROBERT ANDREW SCULLY
Poplar Bluff, Mo.
An Unamusing Cartoon?
I was appalled to see an offensive cartoon in your Nov. 9 issue. One just does not make fun of or print cartoons about the crucifixion, the greatest act of love by God for a lost world.
W. H. HEKKERT
Hayward, Calif.
There is nothing at all amusing, even in an ironic or satiric sense, in the crucifixion of the Lord Jesus Christ. I have always found your magazine edifying and interesting, as well as reverent, and therefore write this as much in sorrowful surprise as in shock and outrage.
JOSEPH WEI
Hartford, Conn.
Have something to add about this? See something we missed? Share your feedback here.
Our digital archives are a work in progress. Let us know if corrections need to be made.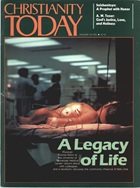 This article is from the January 18 1985 issue.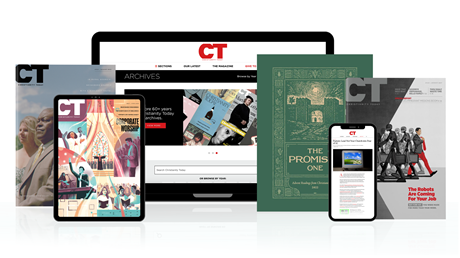 Subscribe to Christianity Today and get access to this article plus 65+ years of archives.
Home delivery of CT magazine
Complete access to articles on ChristianityToday.com
Over 120 years of magazine archives plus full access to all of CT's online archives
Subscribe Now
Eutychus and His Kin: January 18, 1985
Eutychus and His Kin: January 18, 1985