The death of Faith Assembly leader Hobart Freeman has spawned growing speculation about the future of his 2,000-member sect. Freeman, who taught against medical treatment, died last month of severe cardio-vascular disease and mild broncho-pneumonia. His teachings are believed to be responsible for the deaths of some 90 Faith Assembly members and their children in the past few years.
The 64-year-old Freeman, founder of the 20-year-old sect based in Wilmot, Indiana, earned a doctorate in Old Testament and Hebrew from Grace Theological Seminary. He taught there from 1961 to 1963, when he was dismissed because of growing doctrinal differences with the school.
Just prior to his death, Freeman was indicted for contributing to the death of 15-year-old Pamela Menne. The girl died in September of chronic kidney failure, a condition a local coroner said was medically treatable. The girl's parents still await trial. If they are found guilty, they could face jail terms of up to 20 years (CT, Nov. 23, 1984, p. 38). Two Faith Assembly couples already have been convicted on charges related to the deaths of their children.
Freeman's death could lead to changes in the controversial religious movement. But the extent of those changes is unknown.
"In the community's mind, the death of Hobart Freeman constitutes the end of an era, because he was the genius behind Faith Assembly for 20 years," said John Davis, a Grace Theological Seminary theology professor and a former student of Freeman's at Grace. "And there is a sense that Freeman will never be replaced. Yet with Freeman gone, his people will continue, because the doctrines [of Faith Assembly] are so entrenched."
Davis said Freeman's death, while a cause of emotional strain and possibly some attrition in the sect's membership, will most likely not be seen as defeat by most members. Even though Faith Assembly members have been taught to view death as a judgment for sin or the result of unbelief, he said Freeman's death probably will be seen as a way to glorify God in a time of testing and persecution.
Davis and other observers said Freeman's logical successor is his son-in-law, Steve Hill. While Hill is a close follower of Freeman's teachings, Davis told the Warsaw (Ind.) Times Union that a transfer of leadership will most likely "change the character and quality of teaching. I see no one within the group who has the same stature as Freeman in terms of education and communicative skills." Hill could not be reached for comment.
In addition, legal questions remain unanswered. Upon his death, Freeman had not only been indicted in the death of Pamela Menne, but he also faced a civil suit filed by David and Nigal Oleson of Genoa, Illinois. The couple sued Freeman and some of his aides, claiming the Faith Assembly ministers had nearly destroyed their marriage and caused the death of a relative. The trial for the remaining Faith Assembly ministers is set for August.
Evangelicals In Greece Fight Laws That Restrict Minority Religions
Greek evangelicals are being dragged into court under laws that restrict the rights of minority religious groups. In two trials last month and in two others not yet scheduled, the Pan-Hellenic Evangelical Alliance is seeking to overturn those laws.
The restrictive legislation was enacted in the late 1930s during the Metaxas regime. The evangelical alliance is seeking the repeal of the laws. It argues that the legislation is unconstitutional because it was enacted during an undemocratic period in Greece's history. Among other restrictions, the laws require that official permission be obtained for the formation of any new congregation.
In a circuit court trial last month, lay pastor Eleftherios Salonikas appealed an earlier ruling against his congregation's application for permission to meet as a church. Under the statutes being contested, all such applications must be approved by both the police and the area Greek Orthodox bishop. After a two-and-a-half year wait, Salonikas's congregation despaired of obtaining authorization by that route. Instead, they obtained a license to establish an association from the Ministry of the Interior. The congregation held meetings, and Salonikas was arrested and sentenced to four months in jail.
On December 11, a three-judge circuit court panel upheld the earlier ruling, including the jail sentence. In addition, Salonikas's congregation was fined 200,000 drachmas, plus court costs of about 70,000 drachmas, a total penalty of about $1,728 U.S. Salonikas and his church plan to appeal the circuit court ruling to the Greek supreme court.
Costas Macris, president and director of the Hellenic Missionary Union (HMU), said the ruling did not deal with the validity of a church registering as an association. Instead, he said, the judges found the church guilty of proselytizing. Macris himself was the defendant in another trial scheduled for late last month. He was charged with proselytizing because he talked with a youth about personal faith in Jesus Christ.
Two other lawsuits stem from an evangelistic campaign conducted last summer in 29 towns in the Greek state of Macedonia. For the campaign, Campus Crusade for Christ obtained permission from town mayors to show a Greek-language version of the film Jesus in public squares. The film was shown on the first evening of the campaign. On the second evening, 60 young people from HMU presented "cultural events" featuring gospel music and Christian testimonies.
In the town of Kavala, where similar events had been staged for the last three summers, HMU and Macris received legal notice for failing to obtain permission from the Greek Ministry of Cultural Affairs. That notice followed an article in the local newspaper by the town's Greek Orthodox bishop accusing HMU of wrongly taking control of the town square.
Authorities also notified Apostalos D. Bliates, general secretary of the Pan-Hellenic Evangelical Alliance and director of Campus Crusade in Greece, of a suit against him. The village of Alexandropoulis sued him for showing the film Jesus without special permission of the Ministry of Cultural Affairs.
Pan-Hellenic Evangelical Alliance officials say the rash of court cases is being orchestrated by the Greek Orthodox Church through its antiheresy department. Action by the Greek Parliament would be required to rescind the laws used to stifle minority religious groups.
Greek evangelicals say they hope international news coverage will stir world opinion and convince the Greek government to change the laws. American Christians can assist that effort by writing to the Pan-Hellenic Evangelical Alliance. Letters, written on formal letterheads, should indicate the writer's concern that a lack of religious freedom exists in Greece. Letters will be translated and submitted to the courts as evidence of international interest in these cases. The address of the Athens branch of the Pan-Hellenic Evangelical Alliance is 12 Lydias Street, GR-11527, Athens, Greece.
PERSONALIA
The board of trustees of Northwestern College in Roseville, Minnesota, has named Donald O. Ericksen as the college's sixth president. The school's former executive vice-president, Ericksen replaces William B. Berntsen. Berntsen has been named chancellor of the college.
Have something to add about this? See something we missed? Share your feedback here.
Our digital archives are a work in progress. Let us know if corrections need to be made.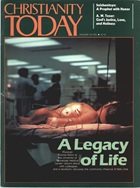 This article is from the January 18 1985 issue.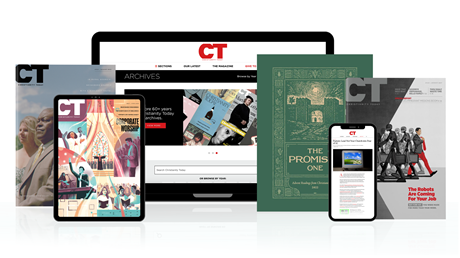 Subscribe to Christianity Today and get access to this article plus 65+ years of archives.
Home delivery of CT magazine
Complete access to articles on ChristianityToday.com
Over 120 years of magazine archives plus full access to all of CT's online archives
Subscribe Now
Leader's Death Gives Rise to Speculation about the Future of His Faith-Healing Sect
Leader's Death Gives Rise to Speculation about the ...