Can we gain more than a glimpse of peace in 1986?
Thrust into A.D. 1986, we each can profitably ask how we can cooperate with God as we pray, "thy will be done on earth as it is in heaven."
Sweeping into its holy embrace everything that satisfies his loving heart, God's will at least demands that in 1986 we recognize the mandate implied in the promise, "Blessed are the peacemakers." Lying behind that New Testament Greek word for peace is the Hebrew shalom. Whatever else it includes, God's will is a demand for shalom—shalom on earth, shalom in history, shalom now as well as in eternity.
The word is richer than its common translation, "peace." Perhaps we should leave it untranslated, as we often do with agape and koinonia. Shalom is an all-inclusive peace, peace between God and men, peace within our soul, peace among neighbors and nations, peace even in nature when lamb and lion lie down together.
Far from being primarily an inward and religious experience, shalom "in its most common use is an emphatically social concept" (von Rad). It is a wholistic state of health and harmony, safety and security, prosperity and piety, justice and joy, well-being and worship, fulfillment and freedom. It spells freedom from poverty, conflict, disease, inequity, and oppression. Where shalom is present, sin and sorrow are absent. Where the sword is at rest, where reconciliation has been completely effected, where righteousness prevails, and where people rejoice together, there shalom reigns. And there, in a society where his will is done, a God-glorifying order of human life prevails.
Psalm 85 beautifully depicts this: "Love and faithfulness meet together; righteousness and peace kiss each other. Faithfulness springs forth from the earth, and righteousness looks down from heaven. The Lord will indeed give what is good, and our land will yield its harvest. Righteousness goes before him and prepares the way for his steps" (NIV).
Rarely in history, even in the history of Israel and Christanity, has that idyllic state of shalom been achieved. Yet here and there across the centuries we catch tantalizing glimpses of it, faintest foreshadowings of that time when by the grace and power of God shalom will become a global reality. Under Solomon the Jewish people enjoyed proleptically a flickering fulfillment of Messiah's government as sketched in Psalm 72. The righteous sovereign whose justice and compassion were like rain upon the mown grass championed the afflicted and the needy, squelched violence, and changed shalom from far-off vision into temporary fact. William Penn founded a New World colony where at first force and fraud were unknown, a sort of peaceable kingdom in which native Indians and white settlers intermingled tranquilly as brothers and sisters of the same human family. But, unfortunately, these hope-inspiring glimpses of shalom faded like desert mirages.
If we begin 1986 determined to develop into more productive disciples, we need not limit ourselves to any goal less than serving as shalom-makers. Malignant marriages need this healing ministry. So do families fractured by discord, and neighborhoods numbed by smoldering animosities. In offices and factories where strained civility camouflages malice, and in churches that belie the Good News of reconciliation, shalom is the longing of God's heart, as it is with countries troubled by fierce tensions and periodic violence. The long, sorry list of our planet's hot spots needs the ministry of those who make shalom. Will we number ourselves among such people?
Impossible Dream?
The mere recital of this overwhelming need tends to induce despair. How can we possibly respond with even microscopic effectiveness to God's demand for shalom? Our puny efforts seem as futile as fighting a forest fire with a water pistol.
What realistically can we do? We can pray. The least—and maybe the best—service that we can render as shalom-makers is to obey Paul's directive in 1 Timothy 2.
"I urge, then, first of all, that requests, prayers, intercession, and thanksgiving be made for everyone—for kings and all those in authority, that we may live peaceful and quiet lives in all godliness and holiness. This is good and pleases God our Savior, who wants all men to be saved and to come to a knowledge of the truth" (NIV).
Paul gives priority to prayer. Using a cluster of terms to present its various aspects, he urges us to engage in it first of all. So to relegate prayer to the edge of our busy lives is to disobey a plain apostolic imperative.
And this service is to be performed for the whole human family—especially for the public officials of every government on the globe.
The result? A civic order that reflects the will of God. Paul does not mean to downplay the need for political involvement and courageous reform. No doubt he would have approved the decision of that distinguished scholar and educator, Frank Gaebelein, who felt bound by conscience as a Christian to join the march to Selma in 1955. But Paul concentrates on prayer, highlighting its practice as the indispensable factor in creating a peaceful society characterized by tranquility, justice, and godliness.
The purpose of such prayer is a surprise: it is evangelism. Paul means it in its full-orbed sense of bringing men and women into the redeemed life that is abundant and eternal. Prayer implements God's passion for our salvation: "The fundamental idea contained in [the word salvation] is the removal of dangers menacing to life and the consequent placing of life in conditions favorable to its free and healthy expansion" (Sanday and Headlam on Romans).
What, then, can we do in 1986 so that God's will "be done on earth as it is in heaven"? We can pray. We can pray with a concern that earnestly brings to God our own needs together with those of our families, our churches, our missionary friends overseas. We can pray, moreover, with a concern for economic and social issues. We can pray with a concern for those who are the movers and shakers of our world, the policy-making power brokers. We can pray that the Holy Spirit will give them wisdom, compassion, and tenacity. We can pray the words of Saint Francis: "Lord, make me an instrument of thy peace." We can ask God to empower us with the qualities we request for "kings and all those in authority." We can pray to become shalom-makers.
Decision
We can. But will we?
Suppose we resolve that in 1986 we will assign to prayer a top-of-the-agenda priority. Suppose that we each dedicate ourselves to a kind of crusade. Suppose that minus flying banners and TV publicity we Christians in the United States join together in a continual ministry of prayer. Many of us in our country are styled "born again" believers; Gallup alleges our number to be in the millions. Suppose we spend no less than five minutes a day in focused intercession for "kings and all those in authority." Suppose we do this doggedly day after day every day of 1986.
Suppose we spend no less time interceding for public officials than we spend in criticizing them. Certainly "kings and all those in authority" are neither infallible nor sacrosanct. They are mortals, tainted with original sin, subject to ambition and arrogance. They can be stupidly short-sighted and deplorably vindictive, bent on wielding power for their own ends.
But Proverbs assures us that in the mystery of God's actions with our race, "The king's heart is in the hand of the Lord; he directs it like a watercourse wherever he pleases" (21:1). So when we pray we can take it for granted that God is working through governmental officials as they form policies. Those power brokers can be his unwitting instruments even though, like their ancient prototype, Cyrus, they may not believe in the true and living God.
And if our faith in an all-controlling Providence falters, we can read Isaiah 45 again and be spurred on to persevere in our intercession. Of that pagan Persian emperor God says, "I will strengthen you, though you have not acknowledged me, so that from the rising of the sun to its setting men may know there is none besides me."
Suppose that, while recognizing the radically different attitudes that prevail among us regarding national defense and arms control, we nevertheless take the psalmist's stand: "Some trust in chariots and some in horses, but we trust in the name of our Lord." Suppose that—whether self-designated evangelicals or fundamentalists or ecumenists—we believe what Paul writes to the Corinthians, and believe it sincerely enough to make his teaching the major resource in our battles for shalom: "Though we live in the world, we do not wage war as the world does. The weapons we fight with are not the weapons of the world. On the contrary, they have divine power to demolish strongholds."
And what is the most formidable weapon in the Christian's armament? Prayer. It is the most potent weapon we have for combating the evil powers that war against shalom. Suppose, then, we fight with this weapon, making prayer the dynamic that energizes all our struggles for peace, justice, and freedom. Relying on God who acts in response to prayer, we can exclaim confidently with Jahaziel, "The battle is not yours but God's" (2 Chron. 20:15).
A hymn by H. F. Chorley concisely voices our aspirations for shalom and our commitment to the task of being shalom-makers:
God the Omnipotent! King, who ordainest
Thunder thy clarion, the lightning thy sword;
Show forth thy pity on high where thou reignest;
Give to us peace in our time, O Lord.
VERNON GROUNDS,Vernon Grounds is president emeritus of Denver Conservative Baptist Seminary (still teaching ethics and counseling), editor of Inter-Varsity Christian Fellowship's Theological Students Fellowship Bulletin, and president of Evangelicals for Social Action.CONTRIBUTING EDITOR
Have something to add about this? See something we missed? Share your feedback here.
Our digital archives are a work in progress. Let us know if corrections need to be made.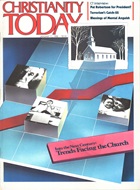 This article is from the January 17 1986 issue.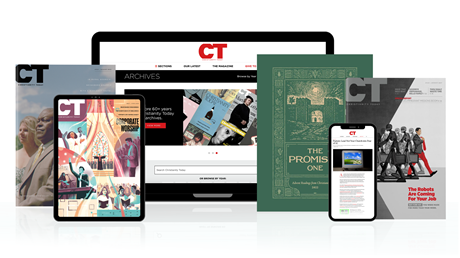 Subscribe to Christianity Today and get access to this article plus 65+ years of archives.
Home delivery of CT magazine
Complete access to articles on ChristianityToday.com
Over 120 years of magazine archives plus full access to all of CT's online archives
Subscribe Now
The Battle for Shalom
The Battle for Shalom