At the U.S. Department of Health and Human Services, Jo Ann Gasper serves as deputy assistant secretary for population affairs. It is her responsibility to coordinate the government's family-planning and teen-pregnancy prevention programs, administered through private agencies. Funded at the discretion of Congress, these programs are at the center of a controversy.
By law, private organizations that offer family-planning services cannot use government funds to provide abortions. But many of those organizations endorse abortion as an option and offer abortion services.
On Capitol Hill, Sen. Orrin Hatch (R-Utah) and Rep. Jack Kemp (R-N.Y.) say the "wall of separation" between funding for abortions and funding for contraceptives and counseling is being violated. They want money for Gasper's family-planning grant program—known in Washington as Title X—to be given only to groups that do not offer abortion counseling and referral. Their measure, known as the Kemp-Hatch Amendment, is supported by Gasper and the Reagan administration. But spokesmen for Planned Parenthood, the American Public Health Association, and numerous other groups say the Kemp-Hatch Amendment would violate their ethical duty to tell a woman with an unwanted pregnancy about all options, including abortion.
A second program administered by Gasper is called Title XX. It began in 1981 after Congress passed a bill derisively called the "chastity law." Sponsored by Sen. Jeremiah Denton (R-Ala.), Title XX provides government grants to people who are researching teenage pregnancy, with an emphasis on prevention through sexual abstinence. Money from Title XX also goes to groups that provide care and educational services to unmarried young women who are pregnant. The American Civil Liberties Union has filed a lawsuit against the program because of its slant toward decreasing teen sexual activity and because some grant recipients are church-related groups.
In an interview with CHRISTIANITY TODAY, Gasper explained what the government intends to accomplish by providing funds for these programs.
What is the Title X program designed to accomplish?
Title X provides a full range of contraceptive services, including natural family planning, to low-income women and girls. We also do some research and provide some infertility services.
Can organizations that deliver Title X services provide abortions?
No. They are prohibited by statute from providing abortion services. We are permitted to provide counseling for abortion and referral to abortion services. But the Kemp-Hatch Amendment would prohibit such counseling and referral. Also, it would prevent us from funding any organization that does offer abortion services or counseling.
Planned Parenthood has vigorously opposed the Kemp-Hatch Amendment. How much of the $142.5 million available through Title X does it receive?
Planned Parenthood receives about 22 percent of the funds as a direct grant recipient. It receives other funds from state health departments.
The Kemp-Hatch Amendment would prevent Planned Parenthood from advising women of all their options. However, the organization says it cannot ethically withhold information about abortion.
The choice is theirs. We have a group of people who would be willing to provide services, but they are unable to do so now because they consider it unethical to offer counseling or referral for abortion.
How do you respond to Planned Parenthood's criticism that the Kemp-Hatch Amendment would also keep the organization from being honest about contraception? Planned Parenthood says the measure is a back-door effort to curtail the availability of contraceptives.
To make a clear separation between contraceptive services and abortion services would help family planning, because contraception is not abortion. Our laws specify that abortion may not be used as a method of family planning. The Hyde Amendment, already in effect, prohibits the use of federal funds for abortion services. Passage of the Kemp-Hatch Amendment would improve the program.
Can Title X grant recipients counsel against abortion?
Our guidelines say the counseling must be done in the context of an unintended pregnancy, and the woman must ask what her options are. If she asks, she is supposed to be told that the options include keeping the child, having the child adopted, or terminating the pregnancy by abortion. The counseling is supposed to be nondirective. If a woman chooses to have an abortion, our counselors are permitted to tell the woman where she can obtain an abortion.
If she is interested in adoption, can the counselor refer her to an adoption agency?
Yes. We don't have the authority to provide adoption services. But Sen. Gordon Humphrey (R-N.H.) has offered an amendment that would require us to operate an adoption clearing-house, and would permit us to provide adoption services.
How many teenagers are served by Title X?
Approximately one-third of the 4 million people being served are teenagers. We provide contraceptive services to about 60 percent of the teens who are receiving contraceptives. So although they constitute a small part of the total program, they are a significant portion of the adolescents who seek contraceptive services.
The existence of the Title X program assumes that those teens are sexually active. Another program you administer, known as Title XX, tackles the problem of teen pregnancy by promoting abstinence. How is that working?
Title XX provides two things. First, it encourages teens and preteens not to become sexually active. Second, we assist young girls who are pregnant by helping them through that pregnancy and encouraging adoption.
Only about 25 percent of teens under 17 are sexually active. It makes sense to encourage responsible sexual behavior as a solution and not simply pass out contraceptives. We know teenagers are not good at using any contraceptive method.
Can you quantify whether teenagers are changing their behavior as a result of the efforts of Title XX grant recipients?
We don't have solid numbers indicating pregnancies that have been averted. Because we are working with very young people, it's going to take a long time for the impact of the prevention program to show up. If it is effective among 12-year-olds now, they will delay sexual activity until they're married.
Is Title XX aimed at preteens?
It is aimed at people 17 and younger. Some very young people are sexually active. In some inner-city communities, researchers have difficulty finding 10-year-old boys who are not sexually active. It's not unusual to have children as young as 11 and 12 coming into our Title X clinics with a pregnancy scare. But this is only a small percentage of all young people.
Does it make a difference when parents talk to their children about sex?
That is a very important part of preventing adolescent pregnancy. Where there is good parent-child communication, the likelihood that a child will be sexually active is greatly decreased. It's not just a result of verbal communication, but also seeing how the parents act—whether the relationship between the mother and father is a good relationship and whether they are caring and sensitive and respecting of other people. That goes a long way toward building self-esteem and good communication patterns in their children. It also decreases sexual activity.
Have something to add about this? See something we missed? Share your feedback here.
Our digital archives are a work in progress. Let us know if corrections need to be made.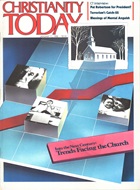 This article is from the January 17 1986 issue.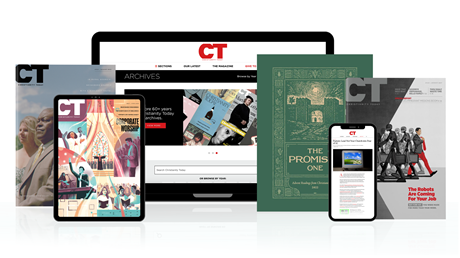 Subscribe to Christianity Today and get access to this article plus 65+ years of archives.
Home delivery of CT magazine
Complete access to articles on ChristianityToday.com
Over 120 years of magazine archives plus full access to all of CT's online archives
Subscribe Now
What Can Government Do to Prevent Teen Pregnancy?
What Can Government Do to Prevent Teen Pregnancy?