The church in East Germany, one of the few Eastern European countries with a Protestant majority, has for half a century sought ways to serve the "city of God" while living in an officially atheistic "city of man." Early on, they adopted a commitment to care for the neediest members of society, especially the profoundly disabled.
Sometimes suffering seems almost devoid of meaning. What meaning is there in a severely disabled child, IQ in the 30–40 range, who lies motionless in a crib, unable to talk, unable to comprehend? Compassionate Christians in East Germany, who have grown up in a society acquainted with suffering, have set an example of reaching out to these least "valuable" or "useful" members of modern society.
A Question Of Meaning
"What is the point of their lives? Do their lives have any meaning?" asked Christian pediatrician Jürgen Trogisch, one of the doctors who works among the severely mentally handicapped. For many years Trogisch could not answer the question of meaning. Although he performed his medical tasks anyway, he had no answer—until he began to observe the gradual changes taking place in the young helpers in his institution.
These young people grew visibly more responsive to human suffering. They began to re-evaluate what was most important in life. They learned to be patient and to appreciate even the slightest sign of progress. "Especially, I thank God that he has shown me that love can achieve more than hate or force," said one of Trogisch's students.
Trogisch ultimately concluded that the meaning of the suffering of his disabled patients was being worked out in the lives of others, those who stood alongside and served. "Could it be that these children have come into this world just for me?" he asks. "Are their deep and insistent questions perhaps God's questions to me?"
That same church, through the remarkable events of the last year, is helping to answer the question of meaning for all of us. The suffering of the persecuted church may be God's penetrating question to those of us in the free and prosperous West. In ways large and small, the East German church has reminded us of the message of a kingdom that resides in human souls and not in centers of power.
Over time, the school of involuntary suffering forever changed the face of the Eastern-bloc church. They had no "power base" as such, none but the power of love and prayer. Banned from many religious activities, such as radio and television broadcasting, they devoted themselves instead to serving the least and the weakest. While some others called for violent revolution, they called for peace and prayer. And when the decisive moment finally arrived, the church led the way.
Die Wende
East Germans look back on October 9, 1989, as die Wende, the "turning point" that led to a change in government, consummating the peaceful revolution. The crucial event took place, appropriately enough, in Leipzig, a bastion of the Reformation where Luther preached in the sixteenth century and Bach played the organ in the eighteenth.
During 1989 four churches in Leipzig (including Bach's Thomaskirche) held weekly prayer meetings every Monday evening at 5:00. The pastors led their congregations in the old Lutheran hymns, addressed them with the Bible in one hand and the daily newspaper in the other, and led rounds of prayer. In so doing, they tried to give meaning and hope to the beleaguered East Germans.
Gradually, the congregations for these prayer meetings began to swell, comprising not just faithful Christians but also political dissidents and ordinary citizens. After each meeting the groups would join together and walk through the dark streets of the old city, holding candles and banners—a most benign form of political protest. News media picked up the story; secret police surrounded the churches, sometimes roughing up the marchers; the Communist hierarchy debated how to stamp out the peaceful marches.
But the crowds kept growing: 15,000, then 50,000, then 150,000, and finally 500,000—nearly the entire population of Leipzig.
Pastor Wonneberger of the Nikolai Church found himself in an unexpected role as de facto leader of the movement. He preached peace and gave practical advice on techniques of nonviolence even as the secret police phoned in death threats and posted lookouts around his church.
On October 9, nearly everyone expected the political pressure to reach a critical mass. Police and army units moved into Leipzig in force, and East German leader Erich Honecker gave them instructions to shoot the demonstrators. The country braced for another Tiananmen Square: Leipzig's Lutheran bishop warned of a massacre, hospitals cleared emergency rooms, and churches and concert halls agreed to open their doors in case demonstrators needed quick refuge.
When time came for the prayer meeting at Nikolai Church, 2,000 Communist party members rushed inside to occupy all the seats. The church simply opened its seldom-used balconies, and a thousand protesters also crowded inside. The Christian Century reports that the service itself was a turning point: party members who attended with the intention of disrupting things realized for the first time that the church was indeed working for peaceful change.
A Mighty Fortress
No one knows for sure why the military held their fire that night. Egon Krenz, the short-lived successor to Honecker, took personal credit for rescinding the order. Some theorize that Gorbachev himself telephoned a warning to Honecker. Others believe the army was simply cowed by the huge crowds. But everyone credits the prayer vigils in Leipzig for kindling the process of momentous change. In the end, tens of thousands of people marching peacefully through downtown Leipzig brought down a government.
"Whether or not prayers really move mountains, they certainly mobilized the population of Leipzig," reported the New Republic. "To hear them sing 'A Mighty Fortress Is Our God' is enough to make you believe it." Several weeks after the October 9 turning point, a huge banner appeared across a Leipzig street: Wir danken Dir, Kirche (We thank you, church).
Have something to add about this? See something we missed? Share your feedback here.
Philip Yancey
Philip Yancey is editor at large of Christianity Today and cochair of the editorial board for Books and Culture. Yancey's most recent book is What Good Is God?: In Search of a Faith That Matters. His other books include Prayer (2006), Rumors of Another World (2003), Reaching for the Invisible God (2000), The Bible Jesus Read (1999), What's So Amazing About Grace? (1998), The Jesus I Never Knew (1995), Where is God When It Hurts (1990), and many others. His Christianity Today column ran from 1985 to 2009.
Previous Philip Yancey Columns:
Our digital archives are a work in progress. Let us know if corrections need to be made.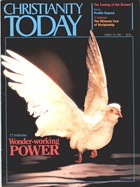 This article is from the March 19 1990 issue.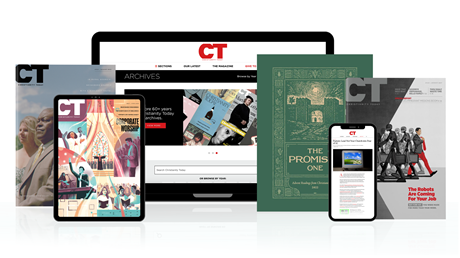 Subscribe to Christianity Today and get access to this article plus 65+ years of archives.
Home delivery of CT magazine
Complete access to articles on ChristianityToday.com
Over 120 years of magazine archives plus full access to all of CT's online archives
Subscribe Now
What Erich Honecker Didn't Know
What Erich Honecker Didn't Know