Near Peoria, where I was to preach, I stood for two hours in sweltering heat opposite the Big Hook, with hound dog Elvis roaring at me continuously. (Who would have thought a little loudspeaker could make so much noise?) I was waiting to see my pastor friend go into free fall at the end of a bungee cord. England's last hangman reckoned to do each job in 11 seconds flat, and John's descent from the bungee cage (jerk-jerk-jerk-grounded) took hardly longer. He said it was worth every cent of the $60. I warned him that some columnist's thoughts had struck me while waiting, and he could expect to meet himself soon in CT. He wasn't worried; so here goes.
First thought: How different God makes us! John had looked forward to his jump for weeks; I would pay $60 any day not to have to do it. One Big Hook for me, however, is the 16 hours of Wagner's Ring cycle, which some of my friends would gladly pay $60 not to have to listen to. Taste in what actually refreshes the spiritual system varies greatly from Christian to Christian, and folk wisdom says that tastes, being purely personal, should not be argued about. Not everyone gets re-created by the same things.
The fact is that God the Creator likes variety: so dispositional differences are there from birth, and they continue after new birth. Not only do those born again become more like each other in character through getting closer to their common Master, they also become more individual in taste. Maturing in Christ makes you more yourself than you were before. Therefore, just as I will not have anyone despising Wagner's music (oh, sure, he was a nasty man, but that is not the point here), so I must take care not to sneer at bungee-jumping or Elvis or electronic music or Coke or anything else I don't like that gives good people pleasure.
Second thought: How grand a gift pleasure is! Calvin in the Institutes caned Augustine for lacking a biblical appreciation of life's pleasures, and the older I get the gladder I grow that Calvin did this. While one must eschew sinful pleasures because of the sin involved, the asceticism that condemns pleasure as such is phony. To scoop out time for activities that are for you re-creative pleasures (music, hobby reading, good conversation, fine food, tennis, trips away, evenings with your spouse, or whatever) is a proper and needful use of Christian liberty; without it, however far you go in Christian expertise and expression, you shrink as a person. We were not made, nor are we redeemed, to live without leisure. All work and no play makes Jack a dull boy, even if he is a sound evangelical.
Also, God intends our pleasures to act as a reminder of heaven, particularly our very intense pleasures (like mine as I flop in a hot tub, and John's at his bungee jump, and that familiar ache of longing that C. S. Lewis called Sweet Desire). Lewis says somewhere that the raptures of earthly lovers will be as milk and water compared with our future enjoyment of God, and he has to be right. Life's pulse-quickening pleasures remind us that heaven's delights are for real and are our proper goal.
Third thought: How exhilarating it is to push yourself in a good cause! This, I know, is dangerous doctrine; such pushing easily becomes an ego-tripping performance that expresses pure satanic pride masquerading as a sense of duty. John, however, was exhilarated as he went for his bungee jump (he called it a "controlled risk"); so was the paraplegic lifted from his wheelchair into the bungee harness (we gave him a big hand as he swooped and dangled, and surely he deserved it); and this exhilaration expressed not pride, but zeal. Zeal for anything makes you push yourself in pursuit of it, and there is exhilaration in rising to challenges. That is as true of Christian life and service as it is of bungee-jumping.
Watching the zeal of the bungee-jumpers, I found myself wishing I saw more such zeal among Christian people. Now and then it appears, but most of us choose to be conventional, play safe, and plod. That, however, is hardly the spirit of New Testament Christianity—is it?
Have something to add about this? See something we missed? Share your feedback here.
Our digital archives are a work in progress. Let us know if corrections need to be made.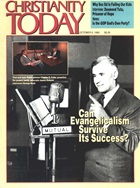 This article is from the October 5 1992 issue.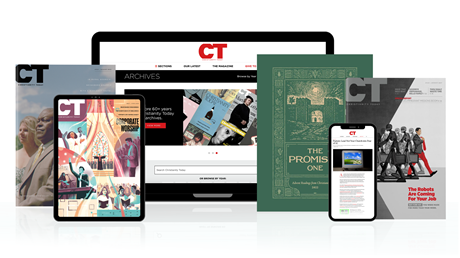 Annual & Monthly subscriptions available.
Print & Digital Issues of CT magazine
Complete access to every article on ChristianityToday.com
Unlimited access to 65+ years of CT's online archives
Member-only special issues
Subscribe
Bungee-Jumping, Anyone?
Bungee-Jumping, Anyone?