An old slogan of the business world claimed, "What's good for General Motors is good for America." Evangelicals might ask if the same can be said of the largest corporations in North American Christendom. Is what's good for Zondervan, Word, and Nelson good for the church? Or what about the 350 smaller companies exhibiting at the recent Christian Booksellers Convention in Dallas, the largest-ever gathering of retail Christian stores and suppliers?
The conservative Protestant industry—now accounting for $2 billion in sales, with products ranging from Bibles to bumper stickers—is dominated by books (about one-third), followed by music and curriculum (about one-quarter each). Coming on strong are videos and computer software.
Since World War II, the growth of Christian "business" has paralleled the growth of independent Christian ministries. These business enterprises, says Allan Fisher, a chronicler of Christian publishing, are "predominantly undenominational, parachurch, lay-oriented, and profit-making." He adds that the geographical center has been Midwestern, made more so by the recent purchase of the venerable New York publisher Fleming H. Revell by Grand Rapids-based Baker Book House.
Revell, which has had five owners in 20 years, represents the old line of independent religious publishing houses. A majority of today's household names in Christian books and magazines began in the 1960s and 1970s. Tyndale (1962), Word (1965), Multnomah (1969), Chosen (1971), and Nelson (1969, under present ownership) all joined the older established Cook (1875), Eerdmans (1911), Zondervan (1932), Baker (1939), and denominational houses like Broadman and Concordia.
Evangelicals' self-consciousness about being a minority subculture drives many of these ventures. These are "our" businesses, publishing our authors and musicians, monitoring the purity and orthodoxy of trustworthy products. (Moody Press advertises itself as "The Name You Can Trust.") This mindset was formed in the years following the bruising fundamentalist-modernist controversies, when conservatives felt locked out of secular publishing firms or even their own denominations.
The newer companies, then, have grown at the expense not only of church-sponsored presses but also of New York publishers like Harper, Oxford, and Doubleday. Nelson is now the largest Bible publisher anywhere. Word is the largest Christian music supplier. Zondervan enjoyed the best-selling title of all books published in the 1970s: Hal Lindsey's The Late Great Planet Earth, while its Family Bookstores, now numbering 125, became the nation's fourth-largest bookstore chain.
Doing well while doing good
The 1970s, in fact, were the peak years for Christian business. Six books sold over 2 million each, among them the Lindsey books, Joni, and Billy Graham's Angels: God's Secret Agents. The youthful converts of the late sixties' Jesus movement, the mushrooming charismatic movement, and awakening mainline evangelicals provided a demanding market for books and music. Christian television burst onto the channels with aggressive fund raising and mind-boggling growth rates. Christian bookstores and supply centers multiplied the retail outlets to near their present number of 5,000.
And neutral investors began to notice. Unlike most radio or television ministries and Christian magazines, the book, music, and curriculum industries are almost all for profit. Their goal has been to combine business and ministry, doing well while doing good.
When Zondervan became a publicly traded company in 1976, and when ABC bought Word in 1974, observers worried that the Christian message in the books and music of these two large companies might get corrupted by the pragmatic bottom-line mentality of the investment world.
The new secular owners assured everyone this would not happen, that pearls would still be pearls whoever cast them, and that pure Christian management would guard the output of these new corporations. The three largest, Zondervan, Word, and Nelson, have gone on to give the church a steady flow of books by Swindoll, Dobson, Colson, the evangelical recovery counselors, and a few lesser luminaries—all "our" people and trustworthy.
But the 1980s witnessed an economic slowing of the Christian industry. In units (actual copies of books), the decade was almost flat; the period from 1986 to 1991 suffered a slight decline. The dollar growth for that period was due almost solely to price increases. We are actually purchasing fewer books.
Until the remarkable success of the Frank Peretti novels (This Present Darkness and successors), no best sellers like those of the seventies won the day. And a number of companies disappeared or were swallowed: Revell by Baker, Multnomah by Questar, Here's Life by Nelson, Wolgemuth and Hyatt by bankruptcy. Many older, established magazines have passed off the scene, being replaced with specialized publications for niche markets; few find their way onto a mass-audience magazine rack. Christian radio and television are chastened and, in some circles, discredited entirely. Christian retail stores have lately held conferences to map a strategy for their survival in the nineties.
At press time, Word is for sale; Zondervan, now a property of HarperCollins under Rupert Murdoch, has been for sale. Rumors speak of Harper buying Word and creating a merger with Zondervan, or that perhaps Pat Robertson will buy Word. No one quite puts it this way, but it is fairly obvious that the investment community has not found the gold it thought it would find in the evangelical field.
Prophets and profits
All this marketplace hustle, is it good for the church?
It has at least been useful and, for many of us, a real godsend. But remember, Christian free enterprise, unlike missions or churches, requires voluntary buyers of products. This tilts Christian "business" toward the felt needs of consumers, which may not be their real needs or their biblical needs. A corporation finds buyers or it disappears. This makes the corporation ill-suited for a "prophetic" role; it rarely even attempts it. Leave prophetic messages to the pulpit or nonprofit organizations or maybe to Western Union. Corporations require profits, not necessarily prophets.
Is this bad? I would say it is simply a limitation we should accept. The Christian industry gave us gems like the NIV Bible and its NIV Study Bible, the Living Bible, some good musicians, conservative Sunday-school curricula when the big denominations gave us liberal, a plethora of great commentaries and reference works, a few good books a year, opportunities for gifted but little-known authors—in short, nourishing wheat along with some chaff we didn't have to buy.
Two cheers, then, for capitalism.
Stephen Board is publisher of Harold Shaw and former editor of Eternity magazine.
Have something to add about this? See something we missed? Share your feedback here.
Our digital archives are a work in progress. Let us know if corrections need to be made.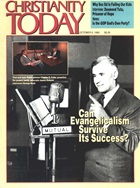 This article is from the October 5 1992 issue.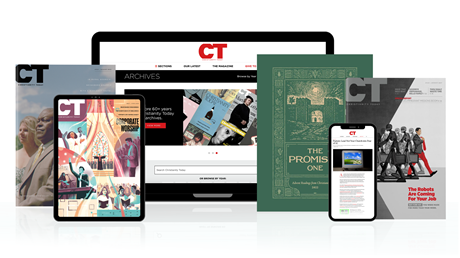 Annual & Monthly subscriptions available.
Print & Digital Issues of CT magazine
Complete access to every article on ChristianityToday.com
Unlimited access to 65+ years of CT's online archives
Member-only special issues
Subscribe
Sidebar: Two Cheers For Christian Capitalism
Sidebar: Two Cheers For Christian Capitalism