Imagine you are 10 years old. You see your parents brutally killed in front of you and then are befriended by fighters who say they will help you avenge your parents' death. They feed and clothe you. You start to clean their weapons. They give you a gun to carry, and they let you fire it once or twice. Soon you begin to get involved in the fighting. Unknown to you they have also been slipping gunpowder into your food. It makes you brave but it is also highly addictive. You go with the fighters and watch as they instill fear into the villagers. "These are the people responsible for killing your parents," they say. With a gun or machete in your hand, all the grief and anger wells up, and before you know it you've crossed the line. Now blood is on your hands too.
Now imagine that you are called to provide healing for this child. This is the mission of the Nehemiah Project in Sierra Leone.
Musa was captured when he was 18 months old after witnessing the murder of both his parents. He was brought up by rebels and trained for five years as a fighter in the nation's capital, Free town. He was violent, hostile, and incredibly traumatized, one of thousands of victims of a recurrent civil war.
Today, scores of children with behavioral problems like Musa's are trying to come to terms with the brutality they have been exposed to in their short lives. Without help they will not only be a continuing threat to society, but will become fathers to another lawless generation. "A second war front has opened to rescue a generation that cannot be incorporated into normal society," says Pastor Richard Cole, a Sierra Leonean working on the frontline for such children. "Young boys who live on the street are violent, lost, and without any hope unless someone shows them love and care."
A 12-year-old boy saw his parents killed, then rebels made him kill his own grandparents.
Sierra Leone's civil war broke out in 1991, lasting until late this year. In its wake, the war left a generation of boy soldiers and traumatized or orphaned children in desperate need.
Meanwhile, a London church group is working with Sierra Leoneans in the heart of the turmoil, helping to transform the lives of some of these young people who have been abused, orphaned, and taught to kill. LifeLine Community Church is part of a network of churches from the United Kingdom, the United States, Africa, and Eastern Europe. As one aspect of its international work, LifeLine serves various rural African churches by training local leaders and supporting literature distribution. Life Line has worked with Cole for many years.
The Sierra Leone government, hearing of Cole's previous success in caring for displaced young people, invited him and LifeLine to set up a rehabilitation project for traumatized children. The Nehemiah Project is named after the prophet who rebuilt the city walls of Jerusalem against great opposition. Local volunteers offer the boys rehabilitation and a basic education, including skills in carpentry, tailoring, mechanics, and agriculture. The aim is to release the boys back into the community as part of the solution rather than the problem, able to support themselves and to pursue further education and training as appropriate.
A 12-year-old boy who entered the program had been with the rebels for a number of years. He saw his parents killed, then rebels made him kill his own grandparents. The rebels gave the boy no choices, so he lacked confidence and decision-making abilities. The staff at Nehemiah began by giving him little choices, like where to sit and what to eat. These led to bigger decisions, like what course of training to pursue. This built his confidence and helped him develop social skills to the point that, today, he has friends and functions normally. He even takes responsibility for some of the younger children.
Skilled staff members have been recruited from Cole's church in Sierra Leone. Many of them have relatives and friends who have died or been maimed at the hands of these children. Rehabilitation for these children, who have no family to return to, involves victimized families from the church taking them in. Cole himself has firsthand experience with what it means to forgive and be reconciled to these young killers. His grandfather, a village chief, was shot by an eight-year-old boy. Cole has witnessed the dismemberment of children and the rape and disembowelment of a pregnant woman at the hands of these young rebels. This, in part, is why Cole places an emphasis on forgiveness and reconciliation as a primary focus of the Nehemiah Project.
"The aim of the project is to provide care and rehabilitation for these children, and the hope is that they will come to experience the love of God, who can bring about major change in their lives," says Avril McIntyre, LifeLine's U.K. coordinator. Sixty young men live at the school. Some have become Christians, been baptized, and given testimonies about how God has changed their lives.
"This is a very serious need in at least seven African nations," McIntyre says. "What do you do with all these orphaned and traumatized children? The Nehemiah Project has started to address the needs of this lost generation. The children in the school are among those who've really seen the most horrendous things. And these boy soldiers are outcasts in the community because of what's gone on."
Lynn Coles, a member of LifeLine Community Church, was one of a group who ran the London Marathon last April, raising over £7,000 [$11,000] for the project, and one of the first to visit the school from the London base. He went to Sierra Leone to help with the project in November 1998. "They are learning to farm the land by the school, and when I was there they were building a little piggery and learning trades. Several of the younger ones held my hand and said, 'I'll take you as my father,' which really brought a lump in my throat. They're still boys and inevitably still get a bit hot under the collar with each other from time to time, but I was seeing the older boys beginning to care about the younger ones and taking a responsibility toward them." Eight-year-old Musa enjoyed wearing a marathon medal Coles had won.
"This is one of the few projects that continued throughout the war," McIntyre says. "These boys have stuck with us. Even though they've been bribed by the rebels to go back, they've chosen not to."
For more information about the Nehemiah Project, visit LifeLine's Web site: www.lifelinenetwork.org.
Have something to add about this? See something we missed? Share your feedback here.
Our digital archives are a work in progress. Let us know if corrections need to be made.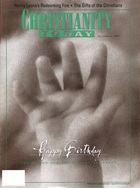 This article is from the December 6 1999 issue.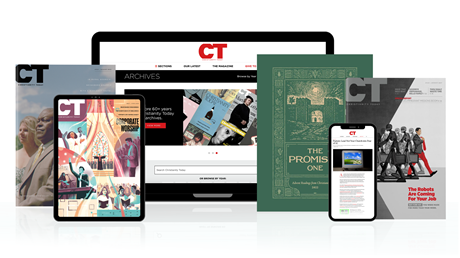 Annual & Monthly subscriptions available.
Print & Digital Issues of CT magazine
Complete access to every article on ChristianityToday.com
Unlimited access to 65+ years of CT's online archives
Member-only special issues
Subscribe
Dispatch From Sierra Leone: Suckled on Gunpowder
Dispatch From Sierra Leone: Suckled on Gunpowder