After ten days of deliberation and five rounds of balloting, the Salvation Army's High Council in London elected Commissioner John Gowans as its sixteenth general on May 15.
Gowans, a 64-year-old native of Blantyre, Scotland, is known informally among evangelicals as the church's "poet laureate," having written hundreds of poems, many of which have been set to music. Some have become Salvation Army hymns. Gowans will succeed Gen. Paul A. Rader, the first American-born leader of the movement. Rader will retire next month on his sixth-fifth birthday to Lexington, Kentucky, where he will serve on the board of governors at Asbury College, his alma mater. The outgoing leader will have served almost five years as international head of the organization, and he, with his commissioner wife, Kay, has visited 72 of the 104 countries in which the movement operates.
Though primarily known for its social services, the Salvation Army is an evangelical denomination claiming a global membership of 1.2 million worldwide, including 786,000 in Africa and 117,000 in the United States.
Along with relief work in domestic disasters, such as the tornadoes that struck Oklahoma and Kansas last month, the organization is feeding refugees from the war in Kosovo, with plans calling for a six-month program of offering 27,000 meals per day, at a cost of $2.4 million.
Salvation Army ministers, called officers, and laypersons, known as soldiers, have been sent to refugee camps in Albania to support the effort.
ORIGINAL VISION RESTATED: Gowans's election comes at a moment when the Salvation Army is under the strain of the increasingly complex demands of providing humanitarian assistance around the world while facing the internal challenge of retaining a spiritual emphasis for Salvationists.
New York University scholar Diane Winston, who has just published Red-Hot and Righteous (Harvard University Press), a book on the movement's American metamorphosis from rabble-rousing religionists to respected social force, says the group aimed different messages at different audiences, reserving religion for the "lower classes" and aiming fundraising at the more affluent people who form the core of its financial supporters.
While disaster relief and social work are important, Gowans, in a postelection phone interview with CT, reports that he will put an emphasis on the spiritual side of the group's work.
"The Salvation Army was created to achieve three chief aims: to save souls, to cultivate saints, and to serve suffering humanity," Gowans says. "My intention is to remind Salvationists not to be diverted from those three main aims and not to allow any attractive side paths to divert them from those highways."
Gowans acknowledges that while the Army is respected worldwide for its social work and fundraising acumen—the group raises more than $1 billion a year in the United States, ranking at or near the top this decade for charities—it has lost some of its distinctive edge in evangelism, ironically at a time when many people could use the brand of Wesleyan holiness the Salvation Army preaches.
"To some extent, we have lost the focus on our first purposes," Gowans says. "One of my goals is to get the Army to refocus." While the movement's adult rehabilitation centers still have vital work in helping reform alcoholics and drug abusers, Gowans says the movement needs to look at other spiritual issues confronting seekers today.
"There are things like apathy, there are things like fatalism, that people need saving from," he says. "[The Army is] an evangelical church with a message of the gospel to proclaim. I need to do something about that." Gowans says he hopes to use video communications and the Internet to convey that message to Salvationists worldwide.
Two days after his election, Gowans selected his longtime friend and musical-composition partner, Commissioner John Larsson, 61, as second-in-command of the worldwide movement. Larsson was another of the five candidates nominated for general in the balloting. "I need someone with the gift of administration, since I don't possess that gift," Gowans says. Gowans will serve until November 2002, when he reaches age 68.
Gowans's wife, Commissioner Gisele Gowans, will become international president of Women's Organizations for the Salvation Army. Gisele Gowans, a native of France and ordained as a Salvation Army minister in 1955, most recently has been in charge of women's ministries for the movement's United Kingdom congregations.
RADER REFLECTIONS: Contemplating five years astride a movement in flux, Rader in an interview at the Salvation Army's National Advisory Organizations Conference in Pasadena, California, acknowledged that he and his wife "moved quickly and kept a strong pace."
"It's been intense, but extremely satisfying." He cites two moves under his administration as keynotes: one in which married women officers received the rank equal to that of their husbands, viewed as a major change; the other, less widely known, involved the strengthening of Salvation Army ties to evangelical groups including the Lausanne Consultation on World Evangelization, the AD 2000 Movement, and the World Evangelical Fellowship. He also spoke with satisfaction of the movement's opening of a work in Vietnam, where the Salvation Army's uniform will be displayed in public for the first time in nearly 25 years. "The Salvation Army has never been more needed than it is now," Rader declares. "There's still a lot of saving that needs to be done."
Have something to add about this? See something we missed? Share your feedback here.
Our digital archives are a work in progress. Let us know if corrections need to be made.
This article is from the June 14 1999 issue.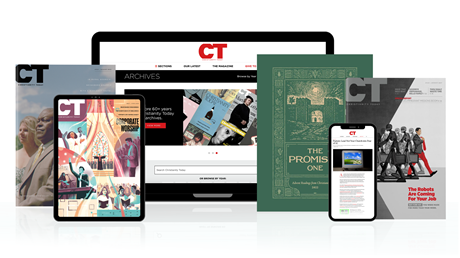 Annual & Monthly subscriptions available.
Print & Digital Issues of CT magazine
Complete access to every article on ChristianityToday.com
Unlimited access to 65+ years of CT's online archives
Member-only special issues
Subscribe
Salvation Army: Newest General Wants to Save Souls
Salvation Army: Newest General Wants to Save Souls